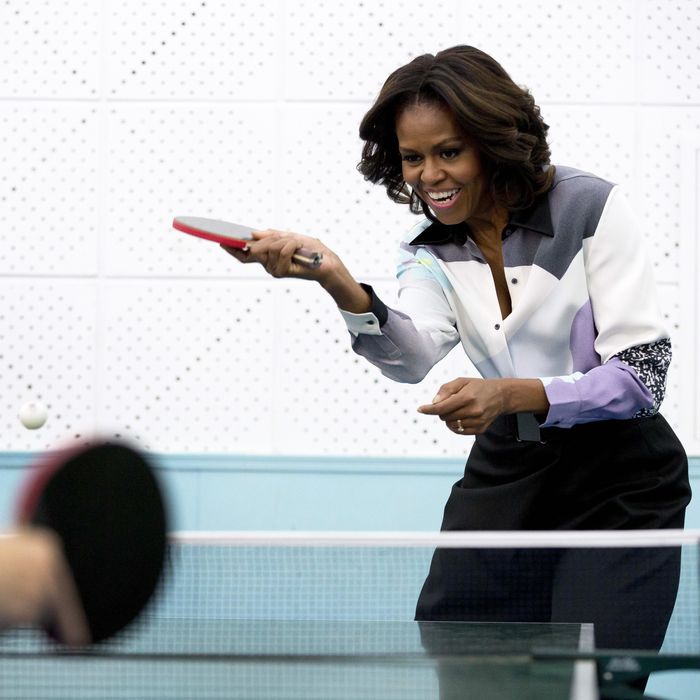 Photo: AFP/Getty/AFP via Getty Images
Many of us may still be stuck inside, our activities limited and our desperation for new hobbies at its peak, but there is at least one sport that a worldwide pandemic can't limit: Ping-Pong (or, to the purists, table tennis). "Everyone is trying to figure out what they can do at home, which involves more than their NordicTrack or rowing machine. You've gotta do something where there are two people involved. Otherwise, you'd go crazy," says Sean O'Neill, two-time table-tennis Olympian and USATT high performance director. "We've always said table tennis is a 'recessionproof sport' because it allows you to play at home. When people don't have disposable income, they don't go out but they still want to have some fun." All you need is the right table, a ball, and two paddles.
When you first start playing Ping-Pong, any paddle will do. But once you get good enough to worry about things like backspin and drop shots (and, you know, winning), those hard-plastic paddles that came with your table will need to be upgraded. A paddle has two components: the blade (the wood base of the paddle) and the rubber that's secured to it. Competitive players typically have specific rubber styles for both the front and back of the blade, depending on their play style (e.g., fast, all-around, aggressive, defensive). O'Neill says there are over 1,000 types of rubber to choose from. "No other sport has this level of customization," he says.
To help you sift through the myriad options, we spoke to O'Neill and three other experts about the best paddles for every level of player. Here are their recommendations, which include recreational paddles and professional blade and rubber combos for when your game is ready for a stage a little larger than your basement.
The best recreational ping pong paddles
Beginners will want to start out using the same rubber on each side of the blade. Will Shortz, the owner of Westchester Table Tennis Center (he's also pretty good at crosswords), recommends beginners look for paddles that cost between $25 and $40. "That's going to be a solid all-around paddle, blade and rubber," he says. "Once you start paying more for rubber, you can get a paddle that has grip, a tackiness, to it which imparts spin and will improve your game." O'Neill agrees. "All the big-four brands — Stiga, Butterfly, Joola, and Donic — make preassembled, high-end recreational paddles that have quality rubber and a nice balanced blade," he says. "For every $10 to $15 you go up in price, you will add more control and spin to your paddle."