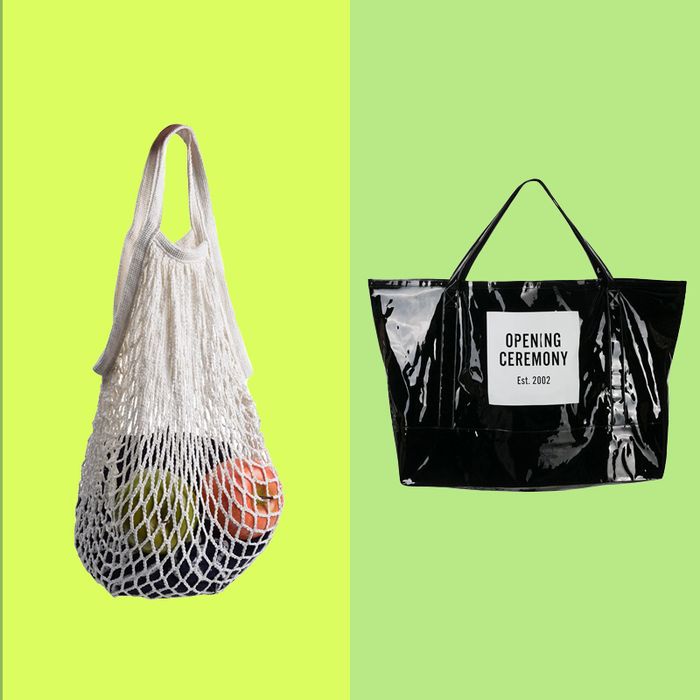 New York's ban on single-use plastic bags was supposed to go into full effect on March 1, 2020, but like most things, it was delayed by COVID-19 until October 2020. But, one place that still asked customers to bring their own bags throughout the pandemic was the Park Slope Food Co-op. In fact, they first discontinued single-use plastic bags in 2008, putting them "about 12 years ahead of the curve," as Co-op general manager Joe Holtz puts it. Co-op members are known to be an eclectic bunch who are particular about their produce, so most members have a specific philosophy about their grocery bags — down to exactly how they're packed. While it's true that some co-op members carry their groceries up and down Union Street in cardboard boxes up-cycled from the store's deliveries, others take their locally sourced produce and bulk dry goods home in reusable bags and backpacks. We asked a dozen such members with particular taste — including the co-founder of Opening Ceremony, the New Yorker writer who penned an ode to the co-op, and a couple of Strategist team members — about their favorite canvas and non-canvas bags, backpacks, carts, and produce bags for their co-op groceries. (And since the co-op is in the much debated process of phasing out plastic produce bags, we also have some picks for the best reusable produce bags, too.)
Best canvas grocery bags
Most of the co-op members we spoke to recommended shopping with at least one canvas tote. Fundraiser Jessica Weakly has been using this Strategist-favorite L.L. Bean tote for the past five years, and when she joined the co-op in 2017 it became her go-to for grocery shopping. "I'm always doing a big shop at the co-op, so it's perfect for taking home a lot of stuff," she says, of the "humongous" bag. Also, Weekly needs a bag that's comfortable enough to hold heavier dry goods on her 20- to 30-minute walk home from the co-op, and this tote's thick straps "can go the distance." Like Chris Black, Weakly got her initials embroidered on the bag, which she thinks is "preppy and stupid, but also fun."
When one of Weakly's equally tote bag "obsessed" friends went down to Marfa a couple of years ago, she brought back this Strategist-certified status tote as a birthday present. "It reminds me of that and makes me smile," she says, adding that the bag's less structured, 100 percent cotton design is ideal for "carrying produce, because it's machine washable."
Alexandra Schwartz, a co-op member and New Yorker staff writer who wrote an article about the co-op in November 2019, says that reusable grocery bags are among her "weird obsessions." During her seven years of membership, Schwartz has mostly used the same reusable bags, and stores them all in a "big heavy tote bag" from the Shakespeare & Company bookstore in Paris, where she once lived and volunteered. The tote isn't rigid, but she says its "heft and structure" prevents boxy things — like cereal or a carton of milk — from "flopping around in a shapeless bag." Her bag has a slightly different design printed on it, but this is the bookstore's currently on-sale bag.
After working a volunteer shift at the co-op with fellow member Shira Entis — the designer and owner of Immodest Cotton, a local, woman-run bags and accessories business — the Strategist's associate director of audience growth Stephanie Downes was inspired to buy the brand's East-West tote in mustard. In the before times she used it to lug items home from the co-op and to the office, since "the outside leather pocket makes it slightly nicer," says Downes, who also appreciates that the bag's thick leather straps "don't dig into your shoulders." Although she usually uses a plastic bag from L-Train Vintage when shopping "grosser" items, like raw chicken, Downes once spilled salad dressing on the East-West tote and says that "after scrubbing it at home it dried perfectly."
Best non-canvas grocery bags
Several co-op members recommended packing liquid or wet groceries in a non-canvas bag, like one made of polypropylene or Tyvek, either of which can easily be wiped down if there's a spill. Schwartz uses this water resistant bag from the New York Review of Books — which she took from the office during her stint as a "heinously underpaid editorial assistant" — on rainy days. In addition to its weatherproof design, which she agrees comes in handy in the case of spills, Schwartz likes the bag's smaller internal pocket: "One situation that many shoppers find themselves in is digging for the thing you need at the bottom of your bag, and this way I avoid that by sticking my shopping list and phone in the pocket."
"I'm from the Upper West Side, and I like to have a little mélange of Zabar's in the Park Slope Food Co-op," says Schwartz, who uses this insulated cooler-bag while shopping for frozen goods, including her Thanksgiving turkey, which she once transported from the co-op to Massachusetts in this tote.
Strategist writer and co-op member of about two years Liza Corsillo also shops with totes from other grocery stores — specifically canvas bags from the Great Barrington Food Co-op and Hawthorne Valley Farm Store — but she also brings a Trader Joe's tote on occasion. She says the durable, square-shaped bag is particularly useful for "loading groceries because you can build a base and make everything Tetris up nicely."
Humberto Leon, a four-year co-op member and co-founder of Opening Ceremony, regularly loads 35 to 40 pounds of groceries in his brand's giant tote, since it has extra-durable handles that are attached "with an ex-stitch, which adds to the sturdiness. I know it won't rip, which is security you can't buy," he says. In the wake of Opening Ceremony's closing and the latest Zizmorcore trend, the brand's classic plaid striped tote is out of stock across the web, but there are clear and black ones still sold on their site. Leon also shops with a Pearl River Mart square-based Tyvek bag that "perfectly fits three cartons of milk or orange juice," and the padded to-go bags distributed by his favorite dim sum restaurant Park Asia.
Best backpacks and carts for your groceries
For biking, or carrying heavy groceries longer distances, several co-op members recommend shopping with a backpack, including Hadestown creator Anaïs Mitchell. She told our colleagues at Grub Street that she buys everything from tabouleh to pear-rosemary compote at the co-op, and packing it all in a "squarish grocery backpack" from ADK Packworks, which was a Christmas gift from her mother. Not only can Mitchell carry heavy items in it without "hardly noticing," but it also has a bunch of other practical specs, like "a fortified plastic bottom, a top flap, and adjustable shoulder straps." She also appreciates that it "folds flat for storage, and then opens wide" for loading in bigger groceries. The Vermont-based "packbasket" is sold as a tote, but can convert to a pannier with bike attachments, or a backpack with the straps above.
After several of her aesthetically pleasing backpacks broke from carrying too much weight, Michaela Weihl, a paralegal who's been a co-op member for two years, went looking for a durable bag with a lifetime warranty, which is how she found this top loading pack from Timbuk2. In the before times, she would bring her "whole life with me" to work, and then "empty it out and put loose oranges or kale directly into it," she says.
When producer Hannah Van Winkle goes shopping at the co-op, where she's been a member for about nine years, she's content to grab whatever totes she has lying around. But, if she brings her backpack on a summer ride to get groceries, it's always this one from Lululemon, since it has one main top-loading pouch that "fits a lot, and I can easily throw it all in there." Plus, the pack has a lot of pockets that she doesn't use for groceries, but finds helpful for travel (the next time that we do that), including a laptop sleeve and pouch for shoes.
When Corsillo takes a backpack to the co-op she opts for the "very modular" drawstring pack from Baggu, and loads "heavy groceries at the bottom, so that produce with leafy parts can stick out of the top because of the drawstring." Corsillo also puts her toy poodle Uli in the backpack and carries her "baby Bjorn style on my front."
A handful of co-op members who we spoke to said they didn't own a granny cart but would like one, including Mitchell, who has definitely "kind of injured my arms by filling tote bags too full of groceries and carrying them too far," and recently told her husband they should get a granny cart. During the pandemic, Strategist contributor Alison Freer (a known granny cart aficionado) shops with this food-safe, wheely bag from Hulken in lieu of a grocery cart entirely, since it's easy-to-clean, totally compatible, and has "unbreakable" handles.