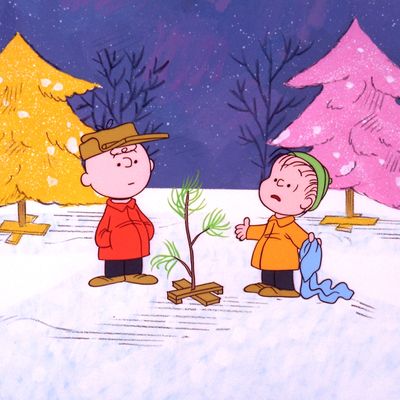 Photo: ABC Photo Archives/ABC via Getty Images
Here at the Strategist, we like to think of ourselves as crazy (in the good way) about the stuff we buy, but as much as we'd like to, we can't try everything. Which is why we have People's Choice, in which we find the best-reviewed products and single out the most convincing ones. (You can learn more about our rating system and how we pick each item here.)
And while we've written about lots of Christmas decorations before — including full-sized artificial Christmas trees, Christmas stockings, and Christmas tree toppers — here, we've rounded up the best artificial tabletop Christmas trees, as praised by the most enthusiastic reviewers on Amazon.
Best-rated tabletop artificial Christmas tree
This four-and-a-half-foot tree with pre-strung multicolored lights stood out to reviewers, who say it actually looks real. "EVERYONE who has walked into our home thinks the tree is real," writes one reviewer. Although it didn't come that way — she admits that "this bad boy takes some TLC to look like a real tree." Another reviewer agrees, saying that "fluffing the tips was tedious and took a long time." But once it was all done, the tree is "beautiful and elegant." One reviewer even says it "looks like a tree you'd see in Macy's or Nordstrom." Aside from the (eventual) realistic look, reviewers appreciated that they didn't have to string the lights themselves. "So many lights and not having to drape them myself was a wonderful gift," one says. "And once I got the ornaments on, it's even fuller."
Best-rated (less expensive) tabletop artificial Christmas tree
For $10, people were blown away by how realistic this 18-inch tree looks. One reviewer liked these "surprisingly great" tiny trees so much that she bought four for her office desk. She says she inspired "several" co-workers to purchase their own. Another reviewer appreciates the "excellent balance of a bushy yet conical shape," which "looks utterly adorable covered in dollhouse-scale ornaments." If you don't have dollhouse-scale ornaments, another customer, who thinks this tree is "nice for a desk or mantle," offered this suggestion: "I plan to use a quick spritz of white spray paint, from above, to get a light snow look. Then I'll decorate with small crocheted snowflakes and fairy lights."
And now for some micro-picks for every type of tabletop artificial Christmas tree you might be looking for.
Best tabletop artificial Christmas tree with white lights
Reviewers thought this tree looked more sophisticated than the multicolored or fiber-optic options out there. One guy, who didn't "want or need a six-foot Christmas tree" this year, picked this tree because it looks as "traditional" as possible. "You won't find one that looks better anywhere. You can even decorate it a little if you want," he says. For her decorations, another reviewer chose ornaments and bows —"to jazz it up," she says. "It's absolutely perfect." Another bought this because she thinks "it's the perfect size for small little corners that need some Christmas spirit and is very durable." Like dozens of others, she likes "that it comes with lights attached, which made it all the more easy to decorate."
Best tabletop Christmas tree with pine cones
"I like the natural look with pine cones and the burlap wrapped around the bottom. It is a sturdy little tree for a tabletop," writes one reviewer. Another, whose spirit couldn't be contained by the calendar, "decided to have Christmas all year round" and purchased two of them. Although he does warn that "up close it looks a little cheap," he says that you can solve that by walking a little farther away. "For the price, you can't beat this," he says. "When you stand four feet from it, wow! It looks really nice." A third reviewer thinks it looks great from any distance. Especially compared to most artificial trees, which "always look decidedly fake." She says that the "pine cones and needle length makes it have a more upscale feel," and the natural, rustic look means the tree "doesn't need tons of ornaments or lights."
Best tabletop artificial Christmas tinsel tree
This tiny tinsel tree doesn't look at all natural, but that's exactly what reviewers love about it. One describes it as "easy to decorate, looks like a store window display, and it's reasonably priced too." She also reminds you to fluff the branches. One customer who bought this for her small apartment shelf says, "It's really, really cute. With the ornaments on it it looks really cheery and festive." And she loves the eight different color choices, although maybe not as much as another reviewer, who bought three of them — in pink, blue, and red. "They work great in small spaces," she says. Many think because it's so small, you can't do much decorating of your own, but one reviewer offers this assurance: "It is full, sturdy — even after having put 140 purple lights on it."
Best Charlie Brown Christmas tree
It might be a joke for some buyers, but not all of them. "I am 54 years old and this brings back sweet childhood moments for me," says one reviewer. Another calls it "absolutely precious. If you don't know the meaning behind Charlie Brown's Christmas tree or why Linus's blanket is wrapped around the base, you are missing the point of this darling tree." Another, who "bought this as a half joke, half not a joke," brought it to her parents' house expecting people to roll their eyes. But they did not: "It was a HUGE hit. We just set it on a table and laughed and danced to the Peanuts Christmas Music. It brought levity to a less-than-ideal situation for Christmas."
Best fiber-optic tabletop artificial Christmas tree
"How can an itty bitty tree bring me so much joy? All I have to do is take a peek at it and I get an instant smile on my face and the warm fuzzies," says one reviewer, who has "wanted a fiber optic tree for a long time." What exactly does she like so much about it? The "tree feels high quality in every way," and she "can't believe how many colors are on it." She even updated her post three years later to say it's "still going strong." Another customer "loves fiber optic trees, and the display this one puts on is out of this world." Another reviewer agreed, so much that she didn't even need to "hang ornaments on this tree as it is beautiful just out of the box." If you want to decorate it, however, she confirms that "the branches are certainly sturdy enough to support the weight of any normal ornament."
Best fiber-optics tabletop artificial Christmas tree with a star
Much like the previously mentioned fiber optic tree, reviewers say this one has a great light display. But they all keep coming back to the star. "The tree is full and well shaped, and the branches distribute the ever-changing colors evenly throughout the entire tree and star on top," says one reviewer. Another says "the colors are awesome," but their favorite part is that "the star on the top changes colors with the rest of the tree." Some people love the star so much they don't even feel the need to decorate. One reviewer calls this mini tree "a beautiful conversation piece" and says "there is no need for added ornaments." Another says that "it looks like a new box of crayons" because it's "VERY colorful and bright." Especially when it's dark, according to a customer who says the "colors rotate in a cool, mesmerizing pattern." To fully enjoy her tree, she puts on some music "and watches it with all other lights off."
Best tabletop artificial Christmas tree with multicolor lights
This tree looks real, and the preinstalled lights make decorating easy. "I've always been a live tree purist, but physical limitations have made it increasingly difficult to shop for a tree of manageable size, bring it home, lug it in, fight with the tree stand and the lights, water it, and then dispose of it after the holidays," writes one reviewer who decided on this four-and-a-half-foot tree instead. He writes, "Now that it's up and plugged in, you'd have to look closely to see that it's not real. In fact, it looks more real than some of the live ones which have been pruned into an inverted cone shape." Another reviewer was looking for "a realistic tree with multicolored (not LED) lights." He found this one. "The needles look real and it is a full tree. It opens so nicely and is very easy to assemble and to shape," he says. But how much does he really like it? "I am in LOVE with this tree," he says. A third reviewer is more pragmatic than affectionate, saying that "once you fluff all the branches out, it is full and beautiful."
Best plain tabletop artificial Christmas tree
One third of all five-star reviewers call this tree "full," which is impressive for a fake tree. Because of the fullness in the branches, customers say it looks just like the real thing. That it doesn't come with lights is a selling point to many people. Like this one, who says: "I LOVE the fact that it does not have lights already installed on the tree. Previously pre-lighted trees stopped working after first Christmas." Another reviewer wanted the tree to look perfectly full. After spending two hours spreading "all limbs out just so," she says you couldn't even tell it was fake, especially once was decorated. "My husband came home from work and I kid you not, he looked at the bottom of the tree three times to make sure it was not real," she says.
The Strategist is designed to surface the most useful, expert recommendations for things to buy across the vast e-commerce landscape. Some of our latest conquests include the best acne treatments, rolling luggage, pillows for side sleepers, natural anxiety remedies, and bath towels. We update links when possible, but note that deals can expire and all prices are subject to change.
Every editorial product is independently selected. If you buy something through our links, New York may earn an affiliate commission.