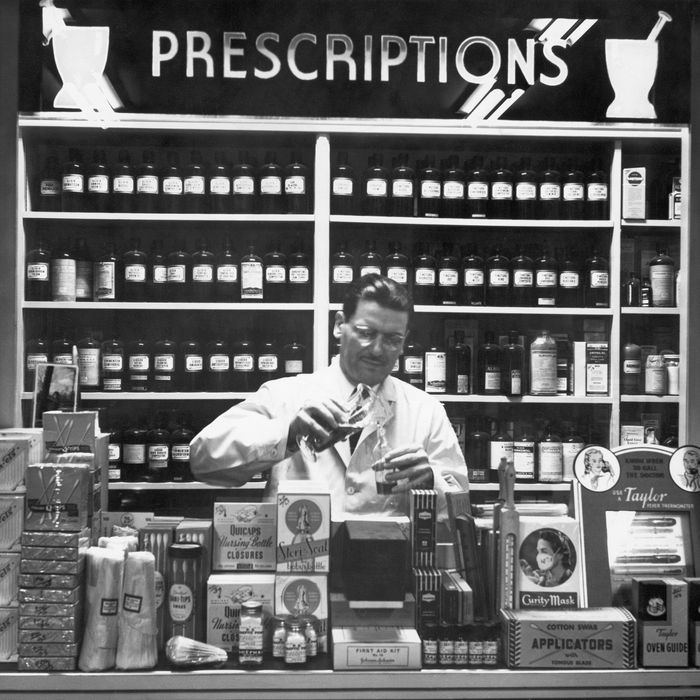 Photo: Bettmann Archive/Getty Images
Even though most cities and states are beginning to ease their social distancing mandates, it's still a good idea to avoid crowded spaces where you may be exposed to the coronavirus — like a doctor's office for a non-urgent condition. Many doctors are offering telemedicine services during the pandemic, so there's a good chance you can set up a video visit with your own doctor for a new or recurring health issue. However, if your doctor isn't taking virtual appointments, or you need to see a new specialist during this time, or you don't already have a doctor, there are a whole crop of services that'll let you see a licensed provider and get a prescription from home.
The laws governing telemedicine vary by state. Generally, you'll be able to get a prescription through a video visit (some states require only a phone call or online chat) with a locally licensed health-care professional. Click here for an interactive map detailing each state's individual laws. Due to the COVID-19 outbreak, some restrictions on telemedicine — like the ability to prescribe controlled substances — have been temporarily lifted. To check if a medical professional is licensed in your state (all of the services below will provide the full name of your clinician) check with your state's medical or nursing board.
If don't need a doctor but are looking to avoid a trip to the pharmacy, try a service like Capsule (available in NYC, Boston, Chicago, and the Twin Cities) or Pill Pack (nationwide). They deliver medications your doctor has already prescribed.
Best online service for general health
Availability: Nationwide; age requirements vary based on condition, but the service is generally available for adults 18-year-old and older.
Conditions treated: Acne, sinus infections, birth control, erectile dysfunction, high cholesterol, flu, depression and anxiety, smoking cessation, cold sores, migraines, and more. There's even an at-home COVID-19 antibody test coming soon.
Consultation Process: Depending on your state, you'll have a video or phone visit with a doctor. Some prescriptions require blood tests or blood pressure measurements beforehand. (You can check your blood pressure at a pharmacy or with an at-home monitor, and Lemonaid has a partnership with Quest Diagnostics to order any necessary blood tests.)
Price: Most consultations cost $25. Prescription prices vary based on medication, but Lemonaid clinicians will prescribe low-cost generics whenever appropriate. Lemonaid has its own mail-order pharmacy but you'll also have the option to have your prescription transferred to a local pharmacy if you prefer.
Insurance: Lemonaid virtual visits aren't covered by insurance, but they're generally cheaper than an in-network co-pay. Lemonaid's mail-order pharmacy doesn't take insurance, but you can have a prescription transferred to a local pharmacy that can check and see if it's covered by your plan.
Best online service for migraines
Availability: Adults 18 years old and older in 34 states. You'll need to contact the company to see if yours is covered.
Conditions treated: Migraines
Consultation process: After you fill out an online consultation form detailing your symptoms and medical history, a doctor reviews your information and either prescribes you medication or schedules a video visit. If your doctor suspects another cause for your headaches, you may be referred to an in-person specialist for further testing. Cove offers medication both to prevent migraines, like the anticonvulsant topiramate, and treat acute migraines, like prescription-strength naproxen pain relievers. After a few weeks of treatment, you speak with your prescribing doctor again to see if your medications need tweaking.
Price: Cove charges a $4 monthly medical fee, plus the cost of your prescription, which typically ranges from $10–$40 per month.
Insurance: Cove's service and medications are not covered by insurance with the exception of Nurtec ODT, a new migraine pain reliever for which there is not yet an affordable generic version. If you're prescribed Nurtec ODT, Cove will automatically transfer the prescription to a local pharmacy that will process your insurance. You can also choose to transfer other prescriptions to a local pharmacy to see if they are covered under your insurance.
Availability: Nationwide for adults 18 years old and older.
Conditions treated: While you shouldn't be embarrassed to see an in-person doctor about any health issue, Wisp specializes in conditions you may be more comfortable discussing online, such as oral and genital herpes, yeast infections, urinary tract infections, and bacterial vaginosis.
Consultation process: Like most of the services above, Wisp has an online questionnaire that you complete before receiving your prescription. Depending on your state of residence and the nature of your condition you may also then chat with a prescribing physician. Wisp providers can prescribe medications for preventing and treating herpes outbreaks (like generic Valtrex), as well as treatments for non-recurring conditions like antibiotics for bacterial vaginosis.
Price: Prices range from $15–$60 per month, including medication, consultation, and shipping.
Insurance: Wisp is not covered by insurance, but you can have a prescription transferred to a local pharmacy to see if it's covered.
Best online service for men's and women's health
Conditions treated: These sibling brands feature some of the same medications (tretinoin for acne and anti-aging, the beta blocker propranolol for performance anxiety, and generic Valtrex for treating genital herpes), but also address sex-specific issues. At Hims, you'll find medication for hair loss and erectile dysfunction, while Hers offers treatment for yeast infections and low sex drive as well as birth control pills. (For additional birth control options, check out The Pill Club for 100+ pill brands or Twentyeight Health for a variety of pills plus the patch, ring, and emergency contraception.)
Availability: Nationwide for adults 18 years old and older.
Consultation process: Hers and Hims follow a similar process as the above services: a questionnaire followed by an online consultation.
Price: Medication prices range from $20 for two packs of a three-day yeast infection treatment to $520 for a month's supply of brand-name medication such as Cialis. The medical consultation fee is included.
Insurance: Hims and Hers do not take insurance but it's worth checking with a local pharmacy to see if your plan covers a specific medication. Birth control, for example, is free with most insurance plans, but costs $30 per month from Hers.
Best online service for mental health
Availability: Adults 18 years old and older who reside in California, Florida, Georgia, Illinois, Maryland, Michigan, New York, Ohio, Pennsylvania, or Texas. Cerebral plans on expanding to more states in the future. (If you don't live in one of these states, you can get some of the same services and prescriptions from Lemonaid, above.)
Conditions treated: Anxiety, depression, and insomnia.
Consultation Process: After filling out an online form, Cerebral assigns you a prescribing provider (the doctor who will write your prescription) and a "care counselor" (a mental-health professional, like a therapist), with whom you'll discuss your progress and learn coping strategies. Cerebral is a monthly subscription service and you'll have to speak to your provider and care counselor each month to get prescription refills.
Price: Cerebral offers several different plans, from $85 per month for ongoing visits with your provider, monthly visits with your care counselor, and medication shipping, to $325 per month for all of the above plus weekly visits with a therapist. Medication is billed separately but shipping is included.
Insurance: Cerebral is in-network for some Cigna plans in California. Otherwise, they offer an automatic claim processing for out-of-network reimbursement (the amount you get reimbursed will depend on your plan). Because medication is billed separately, it may be covered by your insurance. Cerebral is FSA/HSA eligible.
Best online service for skin care
Availability: Adults 18 years old and older, and teenagers between 13 and 18 with parental consent. Curology is available in most states, as listed here.
Conditions treated: Acne and aging skin.
Consultation process: After answering an online questionnaire about your medical and skin-care history, uploading photos of the affected areas, and meeting virtually with a provider, you'll receive a personalized prescription cream with a mix of ingredients that may include clindamycin (a topical antibiotic), tretinoin (a retinoid), or azelaic acid or tranexamic acid (acids that help with hyperpigmentation and acne scars).
Price: A 30-day supply costs $20; a 60-day supply costs $40; and a 60-day supply of your medication plus Curology's cleanser and moisturizer costs $60. Shipping costs an additional $5 per order and all plans include medical consultations.
Insurance: Curology is not covered by insurance but may be FSA/HSA eligible depending on your plan.
The Strategist is designed to surface the most useful, expert recommendations for things to buy across the vast e-commerce landscape. Some of our latest conquests include the best acne treatments, rolling luggage, pillows for side sleepers, natural anxiety remedies, and bath towels. We update links when possible, but note that deals can expire and all prices are subject to change.