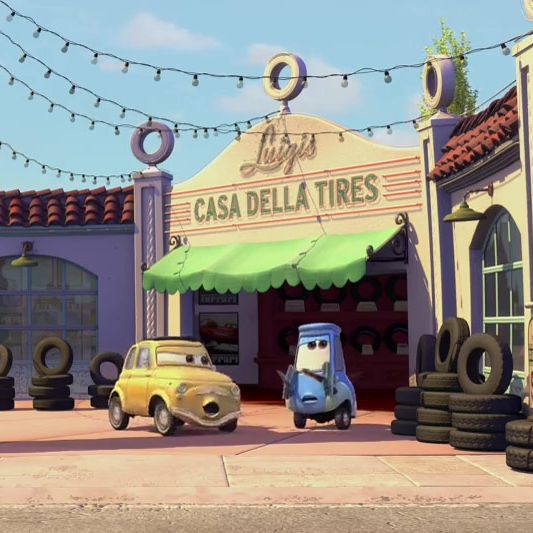 Whether you've owned a car for years or you just bought your first one during the pandemic, at some point you're going to need new tires. And you need them to be the right tires, not only for your vehicle but for where and how you drive and the conditions you drive in. We talked with five tire experts, including retailers, driving instructors, and enthusiasts. They offered advice and insight that will help you choose your next tires with confidence — and as little stress as possible.
The first thing to do is look at the markings on the side of your tire. (If you can't find this information on the tire, look on the inside edge of the driver's door.) You'll see a series of letters and numbers formatted like this: 205/55R16. The first number, in this case 205, is the tire's width in millimeters. The second number, 55, tells you the sidewall measurement — the distance between the inside edge of the tire and the tread — and is expressed as a percentage. So in our example, the sidewall height is 55 percent of the tire's width. A bigger number, then, means a taller sidewall, and a smaller number indicates a tire with a slimmer, lower profile. The R is for radial, a type of tire construction that's standard on most road tires. And the last number, 16, indicates the diameter of your wheel in inches.
Once you know your tire size, think of the type of driving you are doing. Tom Williams, senior vice-president of customer experience at Discount Tire, says, "You want to really consider how you use your vehicle the most, not what you want to do. Why buy a tire for something that's only 5 percent of your driving?" Nate Tennis, lead instructor at DirtFish, a rally-enthusiast brand and driving school in Snoqualmie, Washington, says it's important to consider where you drive, too. "If you live in Phoenix, it doesn't make sense to invest in an aggressive wet-weather tire. If you live in the northern climates, where you are potentially going to run into inclement weather, you may go for an all-season," he says.
You might think you could buy an all-season tire that can handle anything, but Tennis warns that it is still a compromise. "A summer tire is going to give you the best performance in dry conditions. An aggressive wet-weather tire is going to handle rain better, but may not deliver the same performance that a summer tire can. And if you're on a summer tire when a rain squall hits, you'll be wishing you had all seasons."
The biggest consideration, however, is snow. "All seasons will get you through the first snow," Tennis says. But only "so you can get to the tire store to change to winter tires. They're that much better." As Williams explains, "a winter tire remains more pliable when it's below 45 consistently. The more pliable the tire is, the more it's going to be able to grip and handle." All of our experts said winter tires were worth the expense. They also all reminded us that if you do get winter tires, you should make sure you change to an all-season or summer tire once temperatures go back up consistently; otherwise, you'll quickly wear out the softer winter rubber.
One encouraging note from our experts is that you don't have to spend a lot to get good tires. "There are good guidelines with what can be sold in the U.S. You can't get a bad tire anymore," Tennis says. "The difference is longevity, or the number of miles you can get out of them, and their wet-weather capabilities."
Here are our experts' picks for the best tires for nearly every type of driving.
The best tires for most people
If you're looking for an affordable, well-performing tire to run most of the year, Tennis suggests these. "I've been turning this performance all-season tire. I've been impressed with its dry-weather performance, but it's also for spirited driving and stability in wet weather. The big selling point, though, is they are remarkably inexpensive for the standards they meet."
Editor's note: If this is not the correct size for your vehicle, click here to see other options.
The best performance tires for everyday cars
"For a performance-oriented daily driver tire, I'm looking for grip and performance, but I also want it to last a little longer," says Zach Jobe, a car enthusiast and host at Donut Media. He likes this Continental tire because it lasts pretty long, grips quite well, and is generally quiet and comfortable, all at a relatively affordable price point.
Editors' note: In order to compare prices across retailers, we selected a common tire size for each tire in this list. If your size is different, you can search for it at each retailer. In most cases, that will also affect the price.
The best high-performance tires
For a supremely high-performance tire for your Mercedes or Porsche, Ronald Petruska, owner of Veluxity Exotic Car Rental in Mt. Kisco, New York, calls this Michelin option "the best tire I've experienced." According to Petruska, the Sport Cup 2 is a street-able track-and-competition tire that he's found to perform best in hot, dry conditions. "They were designed to provide faster circuit times and consistent performance lap after lap on a track, so they definitely turn most any exotic car into a weekend warrior on the back roads," he says. "The massive amount of grip can't be compared to most other tires on the market once they're warm." Erik Eisensmith, director of operations at Overland Experts, a driving school for civilians and military operators, also recommends these tires, which he uses on his Audi in the summer.
The best (less expensive) high-performance tires
These tires come recommended by Jobe. "It's a max-performance sticky tire that boasts a low price point and loads of grip. And with their treadwear rating, they may last long enough to make it onto the daily," he says.
The best winter tires
This tire comes recommended by both Tennis and Eisensmith. "In Connecticut, where I'm located, we don't have a lot of deep snow or long periods of cold, but we do have freeze and thaw ice conditions," Eisensmith says. Tennis like that this company is based in Finland, where they know about winter conditions. "If you're a connoisseur, these are a special tire," he says.
The best adventure tires for light trucks, SUVs, and crossovers
The K02 will treat you well on the highway, while also being ready to crawl down dirt roads. "It's our go-to tire," Eisensmith says. "It's great for someone who may drive 2,000 miles on the road and 1,000 miles off-road. It will drive on the highway, get a decent tread life, and will work in wet, dry, sand, and snow." Although he points out that it's not ideal with mud or rock, Eisensmith says this tire will hold up to sidewall slices, calling it "a very good all-around tire."
The best mud tires
If you're going to regularly off-road your vehicle through deep-mud, Eisensmith recommends this tire. "The MT2 is quieter than other mud tires, but it's still noisier than all-terrain tires," he says. "It won't last as long as an all-terrain tire," but when you're not splashing through mud puddles, "it's still something that you can live with on an everyday basis."
The best tires for weekend cars
If you have a dedicated car for weekend fun, Jobe says this Bridgestone is great for ripping it down windy canyon roads. "It has seemingly endless amounts of grip and performs well in the canyons, on the track, and on the freeway," he says. "They deal with rain well, and they can take some serious abuse before they start complaining."
The best tires for drag racing
"The Toyo Proxes TQ is the best drag-racing radial we've found," Petruska says. They were developed with high drag performance in mind, but they're still versatile enough to handle the drive to the track and back.
The Strategist is designed to surface the most useful, expert recommendations for things to buy across the vast e-commerce landscape. Some of our latest conquests include the best acne treatments, rolling luggage, pillows for side sleepers, natural anxiety remedies, and bath towels. We update links when possible, but note that deals can expire and all prices are subject to change.