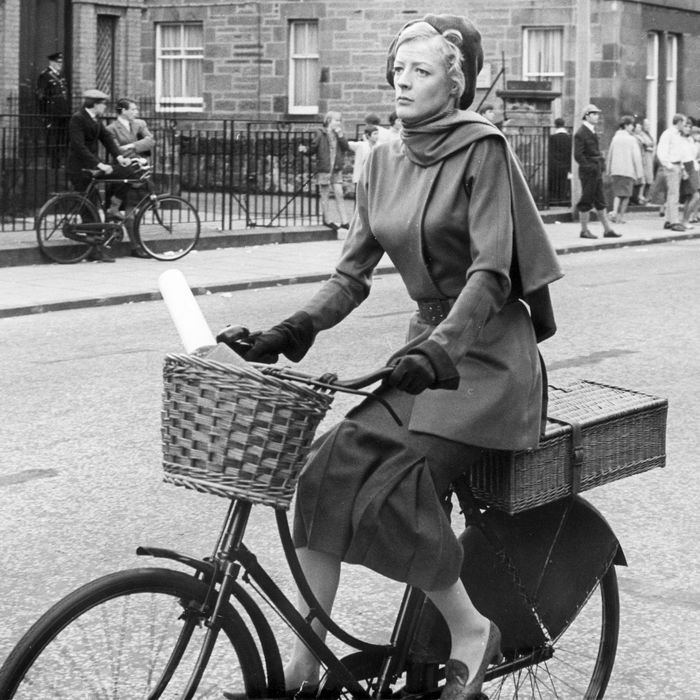 Photo: Evening Standard/Getty Images
I'm a Citi Bike enthusiast. Even on brutally freezing, gusty days, I might unlock a bike and take it from the East Village, say, to Chinatown, or, if I'm feeling really ambitious, to the Upper West Side. Which can, of course, wreak havoc on my makeup. No matter how "long-lasting" or "smudgeproof" the formula is supposed to be, it's often no match for the pelts of wind, grime, and construction dust I've faced during winter-evening commute hours on Park Avenue South, where speed-demon food-delivery guys hog the narrow bike paths. That's why I've developed a keen appreciation for the colors and concealers that actually do see me all the way through. The following products — which range from a dense liquid foundation to a stainlike cheek powder — have all withstood the test of a worst-case-scenario, minimum-20-minute Citi Bike ride for me this season. Bonus tip: When you finally reach your destination, before you leave the docking station, I recommend a quick touch-up with Armani Power Fabric Foundation Balm, Glossier Balm Dotcom, and Armani Smooth Silk Eye Pencil. The handlebar basket can serve as an ad hoc makeup table. (Hey, Citi Bike, how about installing mirrors at your docking stations?)
Normally for daytime cold-weather use, I rely on my Confidence in a Compact Foundation with SPF 50+. But for crossing the Brooklyn Bridge (easily the coldest, most blustery, headwind-prone spot in New York, with its steep inclines and narrow riding track beset with tourists), after applying my CeraVe Mineral Sunscreen SPF 50 Sunscreen Lotion, I turn to my Crunchi Beautifully Flawless Foundation. The trick with this thick, dense liquid, which stands up to the most biting East River winds and speeding-by cars, is applying just a few droplets. It spreads easily and generously. When I dock the bike at Brooklyn Borough Hall, my complexion is as smooth and even-toned as when I started out.
The other day, I was riding down Second Avenue in the early afternoon, when the sun's glare is at its strongest, with no sunglasses to shield my eyes. What's called for in this situation is an under-eye concealer that stays put through all the ensuing squinting and tears. The easy-flow e.l.f. 16HR Camo Concealer is perfect for the job. It melts right into my lower lids and stays put (without creasing) past the bike ride for much of the day, and it comes in 26 nuanced shades. Also, I love the generously sized spongy applicator.
Here's the thing about eye shadow for oil-prone upper eyelids like mine: They melt any color I put on them. So, especially for tackling killer hills (like the tortuous 90-degree rise along Sakura Park in Morningside Heights, which can make you sweat even when the air is freezing), I rely on Face Stockholm's Cream Eye Shadow, which I apply close to my lash line (after an initial layer of Smashbox 24-Hour Photo Finish Shadow Primer). But here's the big news: I use this same eye shadow as an extremely durable eyeliner, not only for Citi Bike rides, but even for multi-hour midsummer hikes, instead of my usual pencil liner or a liquid liner (the latter is too harsh for my mature complexion). It's got some kind of mysterious budgeproof power. Plus, its 15 wide-ranging, beautifully muted shades are readily blendable — allowing me to achieve the perfect complementary outline for my hazel eyes. Important to note: That cream eye shadow needs a brush applicator — and the best I've found, one I've used for 10 years now, for both eye shadow and eyeliner application, is the MUD #200 Shadow Blender Brush. Its short, squat, oval-tipped vegan bristles create a smudge-ably smoky line.
Charming as they are, New York's cobblestone streets are of course murder for bike riding. When I'm on relentlessly cobblestoned Greene Street from Houston to Canal, I usually give up and walk my bike on the sidewalk. But if I'm in a hurry, I endure the bumps. In the past, my mascara paid the price, shedding and coming apart with my nonstop blinks and tears. Now, I trust the truly smudgeproof Givenchy Phenomen'Eyes Mascara. Never mind that its ingenious scepterlike applicator looks like the tiniest imaginable dishwashing brush. It's designed that way to cover even the shorter side lashes. And wielding this brush, I'm able to apply just a minimal amount of mascara — which is the way I prefer it for my mature features.
One fantastic plus about bike riding is the high color it leaves on my cheeks. But I pre-apply blush anyway — just the slightest hint — which I use mainly for contouring. Let's say I'm heading to a West Village restaurant for a wintertime dinner. I'm typically apt to get there on a challenging Citi Bike ride (letting me feel less guilty about ordering dessert). But my trusty Nars the Multiple blush isn't quite strong enough for what my face has to endure through snarling, stop-and-start crosstown rush-hour traffic. Instead, I rely on Lorac Pro Hi-Res Lip & Cheek Powder, a new discovery for me. Though long-lasting and stainlike, it's so weightless and whispery, the color is almost nonexistent. That's exactly what I value most in a blush. (Paradox … I know.) What's more, packaged in a cylinder with a sponge applicator, it also makes for terrific, natural-looking lip color. My shade of choice is petal-pink Wallflower, which goes on darker than it looks.