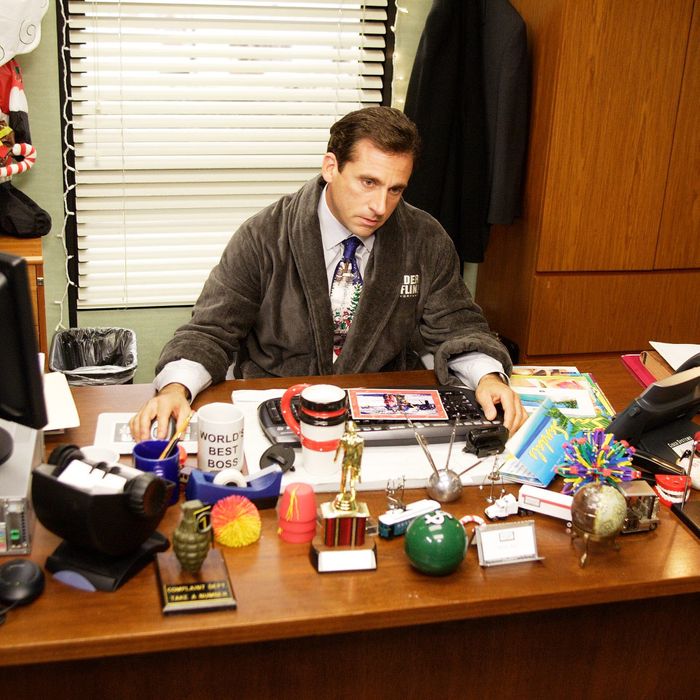 If you've been working from home during the pandemic, at this point you've probably accumulated most of your WFH essentials — an ergonomic chair, a standing desk. But what about the personal stuff? Something fun like a mini humidifier can bring a little joy to your day. Good lighting can make you more productive. And the perfect organizer can reduce clutter. All of these things together can change a dreary office space into a place you can actually enjoy getting work done. Below we've collected some of the best inexpensive desktop accessories you can find online. You may not necessarily need them, but you'll certainly appreciate them.
Lighting
I've been using this lamp for almost a year, and I can't imagine being without it. It has four light settings which range from the sterile blue light you often find in offices to that classic orange light, which I find to be perfect for rainy days. It also has a wide-ranging brightness setting which helps you adjust the light throughout the day. My favorite part is the USB charger at the base, which allows you to charge up your phone or tablet.
There's not as much adjustability (or a USB charger), but cute little lamp looks like the Pixar mascot.
Organization
If random pens, erasers and pieces of scratch paper are littered across your desk, clean everything up with a convenient desk organizer.
Tech
If you want to make your office or your crib feel at least 40 percent cooler get some smart plugs. I used mine to make a remote-control fan. It's plugged into a smart outlet on the other side of the room, and when I need a little air, all I have to do is say, "Alexa, turn on the office fan."
This is the style of fan I use with my smart outlet. With more than 14,000 reviews this tiny desk fan has been praised for its ability to keep a room cool despite its small size. And this guy loves it: "Let me start off by saying this: Before this fan I was sweating enough to get us out of the California drought. With this fan now I am cool as a cucumber. I have not drippity, drop, dropped a single sweat in my room ever since I plopped this puppy on my desk."
In my experience, Apple chargers tend to break under the faintest sign of pressure. Bend them once they start to fray like a pair of old denim jeans. This right-angle cable from Aukey managed "to last more than 10,000 bends," according to Strategist contributor Steven John.
Stands
As someone who can't help but lean forward as he's typing, I found a laptop stand to be especially useful. The added height puts your eyes at the same level of your screen, forcing you to sit up a little straighter, so you can avoid unnecessary trips to the chiropractor.
I tend to keep my iPad out all day to use while researching ideas. (I like to take notes with my Apple pencil.) I find it especially useful during zoom calls, too, when I can set the stand to the perfect height beside my monitor, so that I can keep Slack up on my screen. (Not that I would ever distractedly multitask during a meeting.)