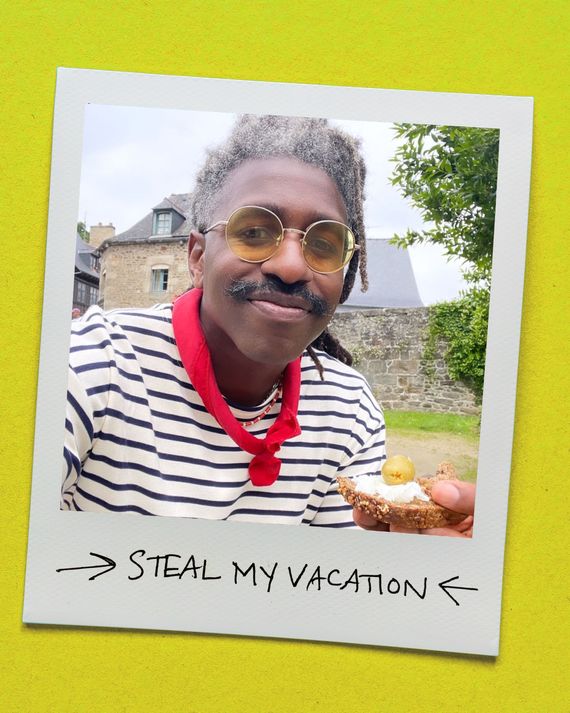 Photo-Illustration: The Strategist; Photo: Brad Ogbonna
Everyone knows that person who spends weeks sniffing around travel blogs, going deep into Tripadvisor rabbit holes, collecting Google docs from friends of friends, and creating A Beautiful Mind–style spreadsheets to come up with the best vacations/itineraries possible. In this recurring series, we find those people who've done all the work for you and have them walk us through a particularly wonderful, especially well-thought-out vacation they took that you can actually steal.
Last summer, the photographer Brad Ogbonna had just returned home to New York from a shoot in Ghana and Nigeria when he got a message from a friend in France: "I hope you have no plans next week, because I've booked a trip for us, so get to Paris by July 4." Around that time, a lot of people in Ogbonna's orbit were going to Marseille, so he packed for a trip to the south of France and flew to Paris — where he found out that he'd be driving to Brittany, the historically Celtic, northwesternmost coastal region of France. "When Laurianne gave me the address for the hotel, I was like, Oh, that's the complete opposite direction from where I thought we were going. And she was like, 'Everyone is going to Marseille, why would we go there?' " Ogbonna and Laurianne Melierre, a TV anchor and journalist in Paris, hit the road for a meandering 11-day trip — consolidated here into eight days — spread across eight towns. Here, Ogbonna shares where to eat Michelin-star barnacles, take cinematic coastal walks, and shop for Breton-striped shirts.
Day 1
8 a.m. Land in Paris, hit the road
During the pandemic, I got the Criterion Collection app and got really into the French director Eric Rohmer. After that, I was saying that I wanted to check out the more rural parts of France, and then Laurianne told me to get to Paris. I was coming off a project and didn't even open the itinerary she sent me, but I booked a Delta red-eye and got to Paris around 8 a.m. She doesn't drive, so I handled getting the rental car through Budget. Then we hit the road, heading west through Normandy.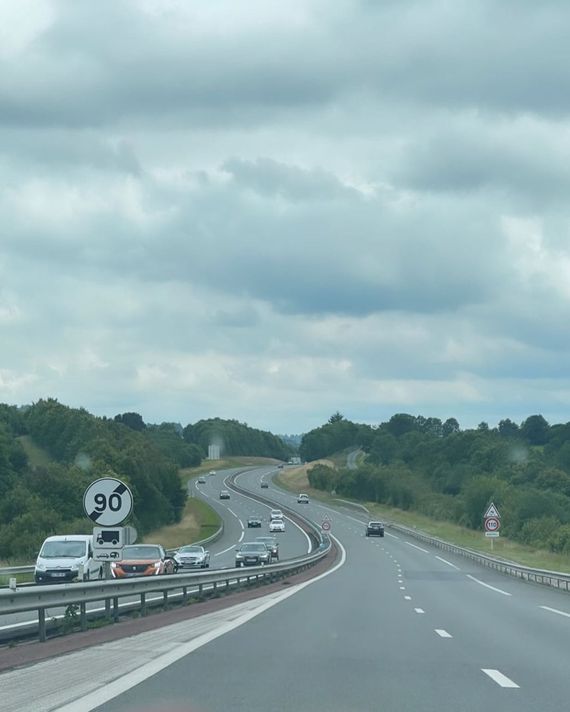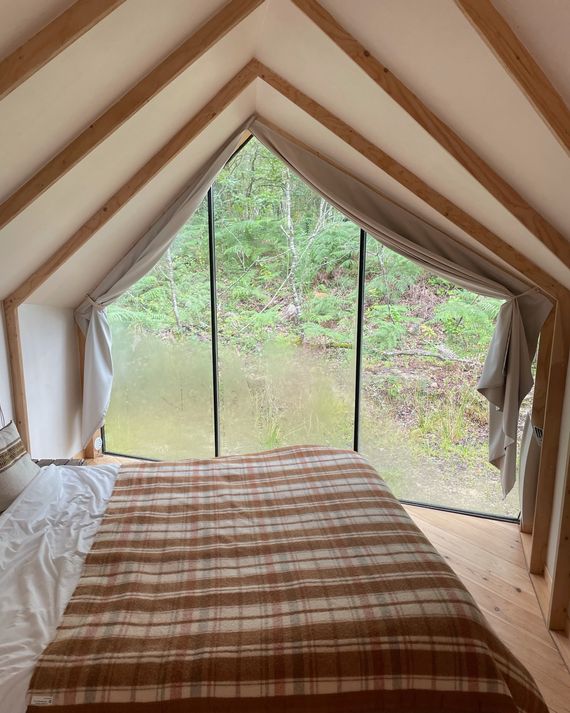 4 p.m. Check into an ecohotel in the woods
When we got to Brittany, it almost reminded me of the Pacific Northwest; it's cold and kind of misty. It's a five-hour drive to a town called Ploemel. Laurianne found this hotel, La Belle Folie (from $68, Kergo, 56400), that's off the beaten path and run by a really young team. It's in the woods and built with wood and is all about sustainability. They're really into natural food and wine and make their own cider. I was kind of worn out from driving after a red-eye, so we ate at the hotel and laid low. Everything is farm-to-table there, and we ate things like a beautiful mussels dish with a salad with a light mustard dressing and asparagus pasta.
Day 2
10 a.m. Wake up to pastries outside your door
We took a very leisurely approach to our trip, and every morning we woke up late, sleeping in until 10 a.m. The hotel would leave us pastries and coffee outside the door. We'd each read a book, go on our respective walks or get exercise, then head out for adventures around noon.
1 p.m. Eat oysters alfresco
Laurianne really loves oysters. We drove to this restaurant on the water, Les Huîtres d' Evariste (Kerivaud, 56740), and sat outside for a couple hours. I enjoy oysters but didn't have that love for them, and then I realized I'd never had any like these before. They were so fresh, right out of the ocean, really affordable. We ate them with mussels and fish cake, and I had a glass of the Muscadet and then the Sancerre.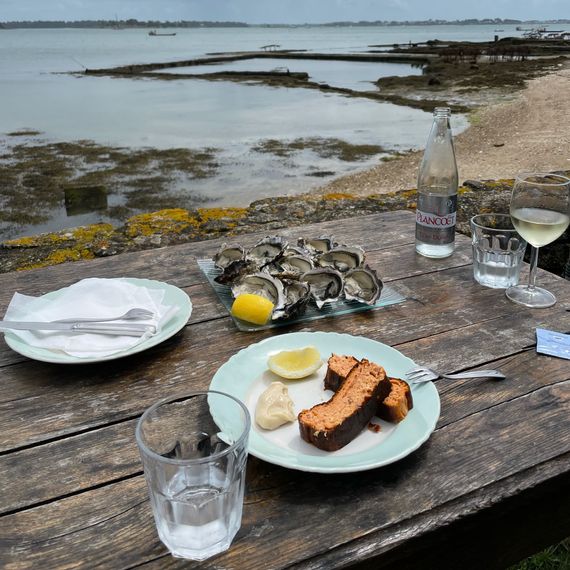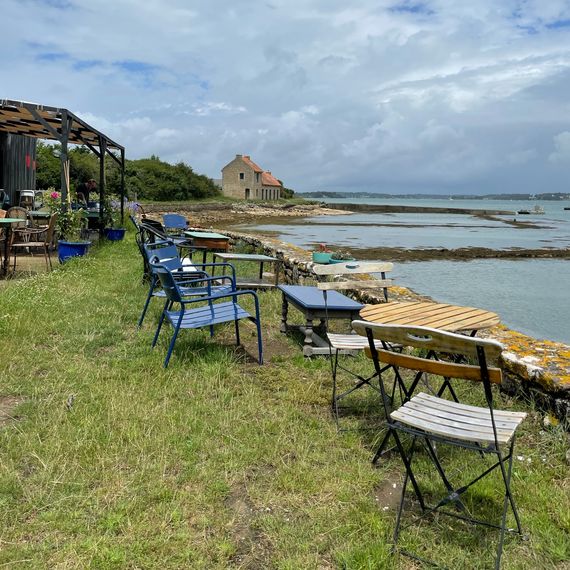 4 p.m. Shop for a new Breton wardrobe
After that, I really needed to go get clothing. It was hard to enjoy myself because I was wearing Birkenstocks and had packed clothes that didn't make sense for the area. We drove to a Saint James store (multiple locations) in a town called Quiberon, where you find the quintessential French look — super-Parisian yellow raincoats, the wide-stripe shirts. I loaded up on a bunch of clothing, including a yellow rain jacket, a long red coat, this funny hat, a striped shirt, a really nice wool sweater that kept me warm the whole time, and a winter cap. Basically, a whole new wardrobe that's all very nautical. When I wore that stuff back in Paris, people were joking around like, Did you just come back from Brittany?
6 p.m. Go for a Portrait of a Lady on Fire walk on the coast
We decided to drive to the ocean. There was a big marker on Google Maps for this cool, rocky arch on the coast, and I recognized it right away because it's the same coastal area where they filmed Portrait of a Lady on Fire. We drove there, parked, and walked a mile along the beach on a walking path. We chilled there for a while, and I got out my Super 8 camera just to capture footage of us on the trip. It took about an hour and a half to drive back to the hotel, so we left around 8 p.m. and went back there for dinner.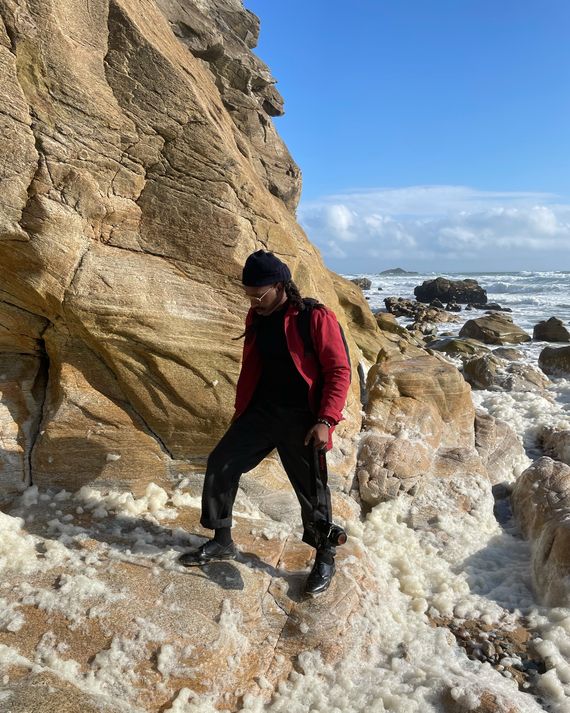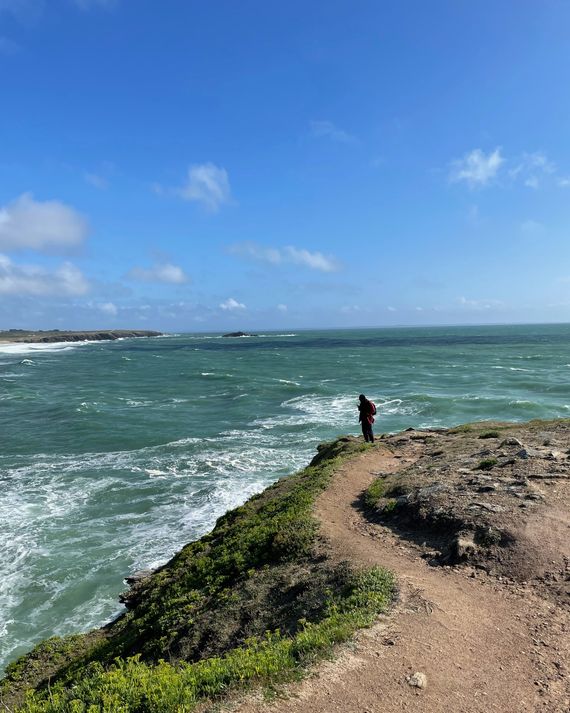 Day 3
12 p.m. Peruse a seaside farmers' market
We drove to a nearby town called Carnac, a beautiful coastal place that almost looked like it was in Ireland. We found a farmers' market selling goods from the region, so I bought some wine from Brittany and some caramel. Brittany is known for caramel and cider. Laurianne bought a really great tuniclike shirt. We ate a seafood lunch at a bistro called La Calypso (158 rue du Pô, Carnac) that has got a whole maritime vibe.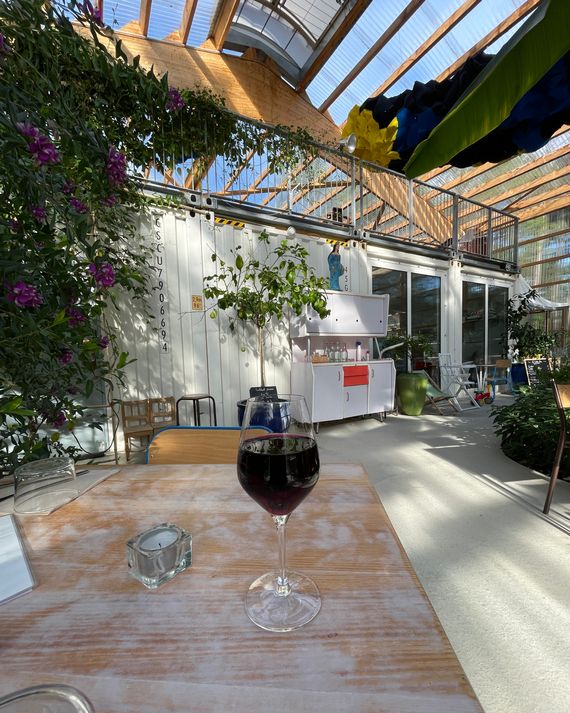 5 p.m. Sip a glass of wine with the hotel chef
We kept it simple that night and ate at the hotel again, which has a restaurant in a covered outdoor area that looks like a greenhouse. It's such a small place that every night you get just a few options: a meat option, a vegetable option, or a seafood option. Laurianne usually had the meat option, like this one pork dish or rabbit. I usually opted for the seafood, like the blue lobster and a white-fish dish. The chef would come out after every service and sit down, have a drink, and ask us about where we were from and what we were up to.
10 p.m. Mingle with farm cows
There's a farm near La Belle Folie, so we went on a late-night walk and about a mile away came across a field with cows. We brought some music out and had all these cows walking up to us because — I've heard — cows love music. They're super-curious. In July in France, it doesn't get dark until 11 p.m. There's a photo of me standing in that field with a glass of wine, and you can see how light it is; it was taken at 10:30 p.m.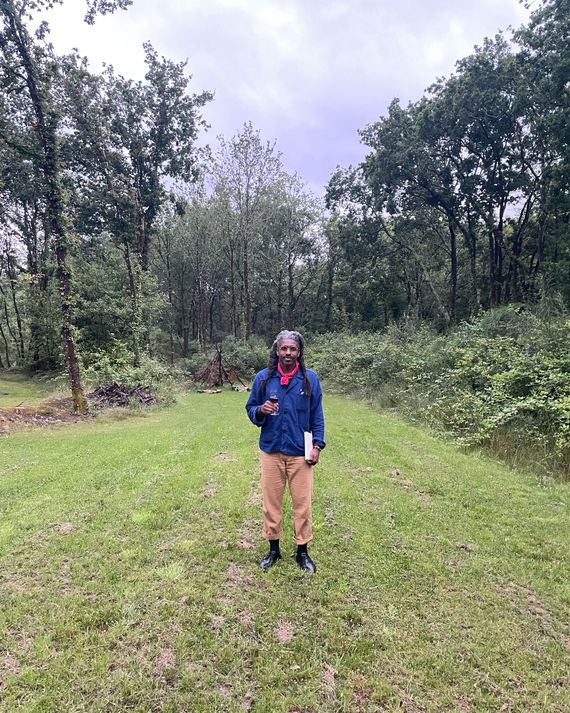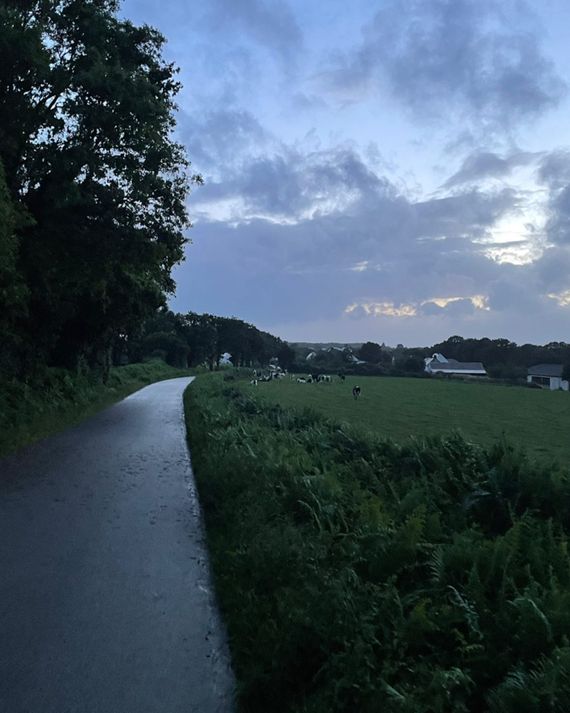 Day 4
6 p.m. Dine on Michelin-star sea barnacles and grilled oysters
We didn't do much during the day. But on this night, we went to Le Petit Hôtel du Grand Large (11 Quai Saint-Ivy, 56510 Saint-Pierre-Quiberon), a Michelin-star restaurant known for super-high-quality seafood and natural wine and a beautiful view of the ocean. It's right next to the docks. You need a reservation, but I got the impression that it's such a chill, relaxed, sleepy town that you could walk in and get a bar seat. I've also been told that because of the weather Brittany doesn't get a lot of tourists.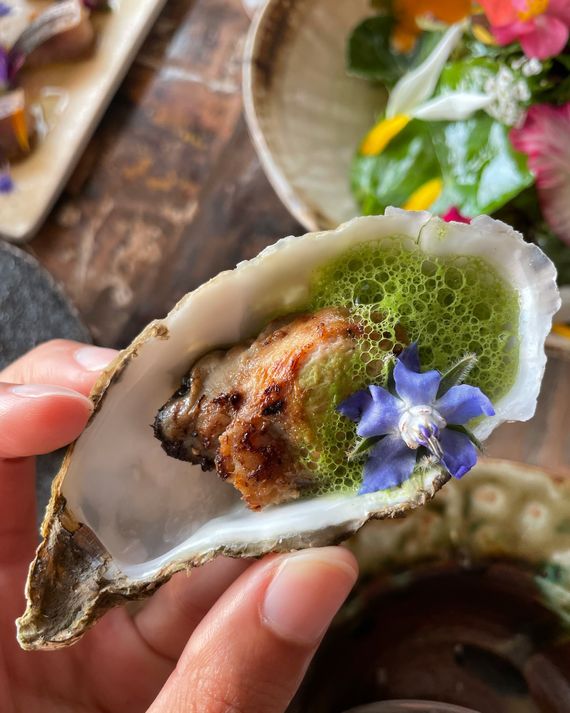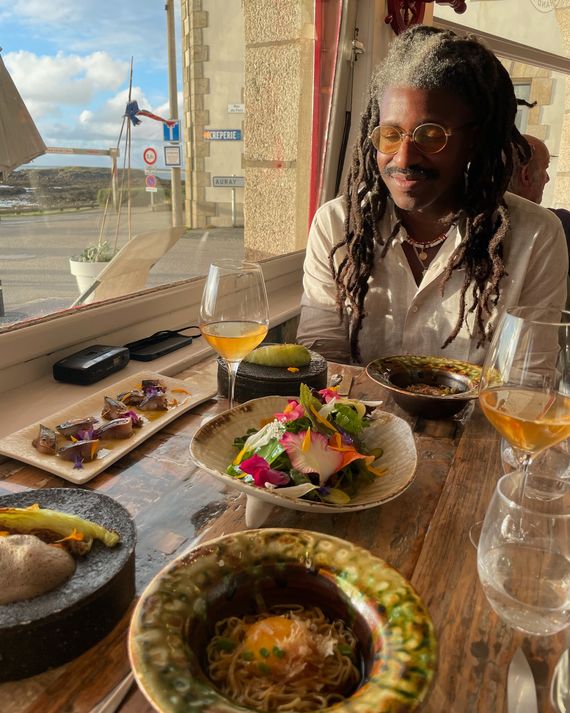 We ordered everything, around six courses. We started with sea barnacles, and at first I was kind of like, Yo, what is this? I've had barnacles once before in Senegal, but this was a very different presentation. They had it in some kind of white-wine sauce, and it was extremely tasty. Then there was this great sea bass with egg. The grilled oysters with seafood foam were incredible, and there was another fish lightly seared with soy sauce. I've eaten at other Michelin star restaurants that were good, but this felt really worth it. It was so innovative. Like, a flower stuffed with vanilla ice cream?
Day 5
12 p.m. Check out of the hotel, check into a French country manor
In order to see different parts of Brittany, we moved from the ecohotel to La Passerelle, this manor house (from $172) in the countryside near the town of Corseul. It was about a two-hour drive to the north. It's an Airbnb that's usually shared by the owner, but the guy who owns it had to run because he had an emergency, so we got the whole place to ourselves. It feels like a mixture of farmland and green pastures, but you're really close to the water.
7 p.m. Drive to town for dinner
The first night, we got dinner at Colibri in the town of Dinan, and it wasn't the best meal we had, but the place was fun and the music was great. We switched gears from fresh seafood and ordered more chicken and meat.
Day 6
11 a.m. Eat tinned fish, watch the ships go by
Dinan is a really old town, and there are these banks where you can watch ships go by. We went to the Biocoop Dinan Lanvallay market and bought bread, sardines, anchovies, cheese, and jelly and had a picnic on a bench by the water.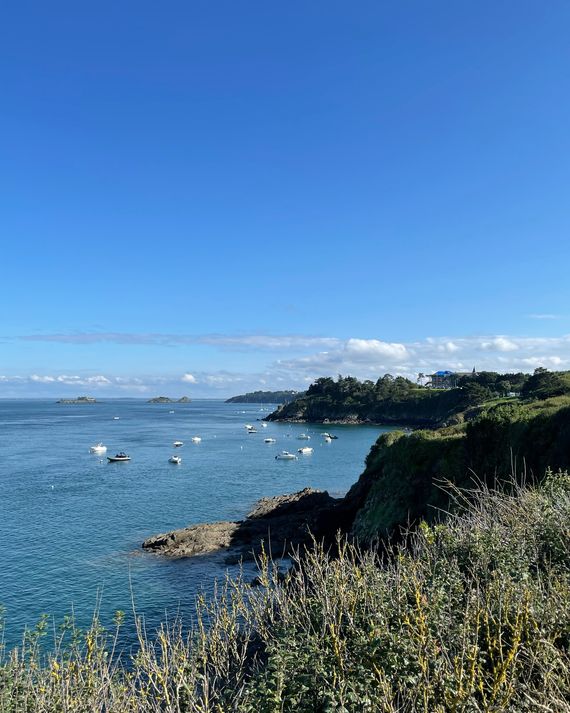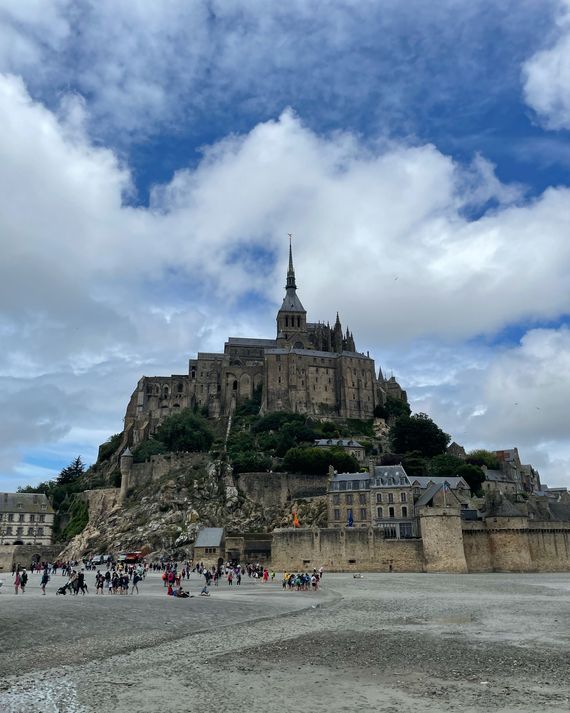 1 p.m. Visit a medieval abbey on an island
We went to check out Le Mont-Saint-Michel, which is essentially a castle on the water. It's pretty surreal, you have to park in this lot and then take a little bus ride or walk out to reach it. It's a little city with an abbey and restaurants and a village. It's a tourist trap, but regardless, it's extremely beautiful and feels epic. And I'm going to be frank with you: I tried some mushroom chocolates before going over, so it felt even more surreal walking up to the castle. We walked around the perimeter, which was beautiful. Just to see the stonework of it was majestic. You can take tours and go into the vaults, but that sounded claustrophobic to us, so we walked.
3 p.m. Order a famous omelet
We stopped and ate omelets at La Mère Poulard (BP 18 Grande Rue, 50170 Le Mont-Saint-Michel). People around town made a big deal about this restaurant, saying to be sure we ate the omelets, because it's where omelets originated — although I'm not sure I believe it. When you go inside, there are like, pictures of Ronald Reagan, Queen Elizabeth, and every other famous person who has been through there. They make these fluffy old-school omelets in a cast-iron skillet. It was delicious, but it was also 40 euros for the omelets.
5 p.m. Pick up oysters, crab, and sea snails from the fish market
Then we drove to Dinard, another beautiful town. People told us it was a former getaway hot spot in the 1960s. It isn't anymore, but there are remnants, like Le Sunset Bar (Prom. des Alliés, 35800 Dinard), which overlooks this infinity pool on the coast. We chilled there, and I practiced my French by ordering wine.
After that, we went to a local fish market, La Perle des Grèves (4 Pl. de la République, 35800 Dinard), and picked up fresh oysters. The Breton-coast oysters have a distinct, mineral taste to them — almost kind of sweet, in a sense. We also bought crab, shrimp, and whelks, which are little snails, but not like escargot, which you eat in a broth. For these, you take a toothpick and eat them. It's crazy but so good. We also had olives and cucumbers from the market, so we went back to the manor and basically set up our own raw bar. We shucked the oysters, steamed the crab, and had some of the Brittany wine from the farmers' market.
Day 7
12 p.m. Go thrifting around Megrit
We drove to a thrift store called Brocante La Tremigonne (2 bis Rue du Prieuré) in Megrit. (It's now showing up as temporarily closed on Google, but there are others nearby.) A lot of people had signs up saying to give them a call if you wanted to go inside. We called one woman, and she said she'd be there in 25 minutes. So we roamed around town and met a man who invited us to his backyard and poured coffee and tea for us. He showed us around his space, and we told one another about our travels. He said Americans used to come to the area to go antiquing. At this point, though, everywhere we went, people were astounded to see tourists. Once we finally made it into the shops, I bought one of those antique circular makeup mirrors just to have as a trinket. And Laurianne bought plates for her apartment.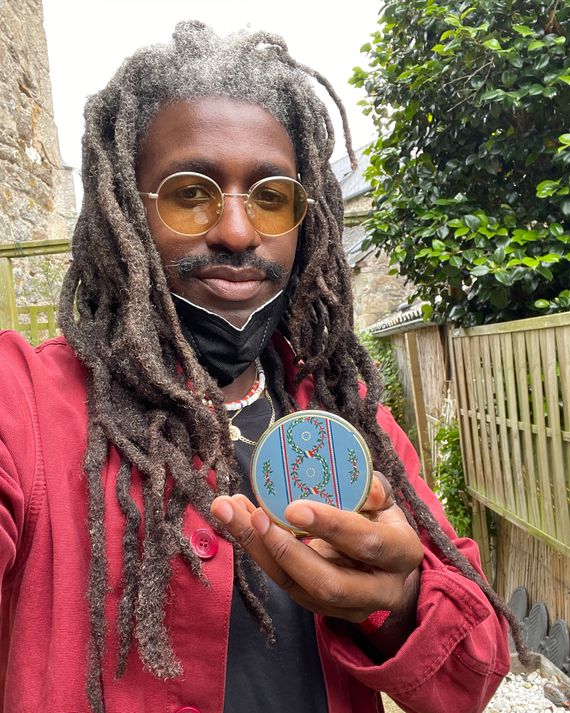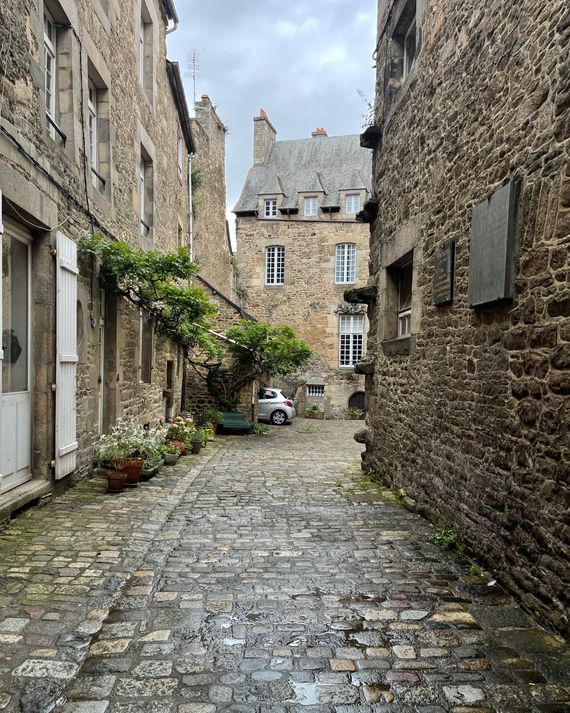 6 p.m. Eat dinner in a gothic port town
That evening, we went to a town called Saint-Malo, which is a port city with a barricade on the sea wall and gothic-style architecture. We walked around the town, near the sea walls, passing cafes, catching the vibe, and taking photos. It comes to life in the evening and is a little more bustling. Laurianne's friend, a chef in Paris, said that if we were in Saint Malo, we had to go to Texture (8 Rue des Cordiers, 35400 Saint-Malo) for dinner, so we ate there that night. We had a ceviche dish and a fried-yam sort of thing.
10 p.m. Walk out to an illuminated fortress
At night, the city lights up around the gates of Fort National, which is this 17th-century stone fortress on the water. While we were looking out at it, we saw kids hanging out on the fort, so we got a bottle of wine to go from a restaurant and walked up to it. The kids — by which I mean 20-year-olds — were playing music and chilling by the rocks, so we went and hung out with them. From there, you have a really cool view of the city.
Day 8
12 p.m. Drive back to Paris
We took a last walk around the grounds of the Airbnb and then ate bread and other snacks left over from the farmers' market in Dinard. Then we drove the five hours back to Paris. I stayed in Paris instead of flying immediately back to New York, so we got in, refreshed, and had dinner at Le Paname Art Cafe (14 Rue de la Fontaine au Roi), where they were showing the Euro football championship between England and Italy. Italy won.
Brad's Brittany Packing List
I love being able to take instant photos to keep for myself or to leave behind with new and parting friends.
Don't you dare visit Brittany without getting a classic Bretagne Rain Jacket.
One of my go-to all-purpose, all-season moisturizers. Has yet to fail me! Has been great for my hair, scalp, face, and body. Also smells great.
Great for cutting up snacks and opening wine: the perfect combination. And you just feel super-rugged carrying a practical knife that could rise to many occasions.
The Strategist is designed to surface the most useful, expert recommendations for things to buy across the vast e-commerce landscape. Some of our latest conquests include the best acne treatments, rolling luggage, pillows for side sleepers, natural anxiety remedies, and bath towels. We update links when possible, but note that deals can expire and all prices are subject to change.