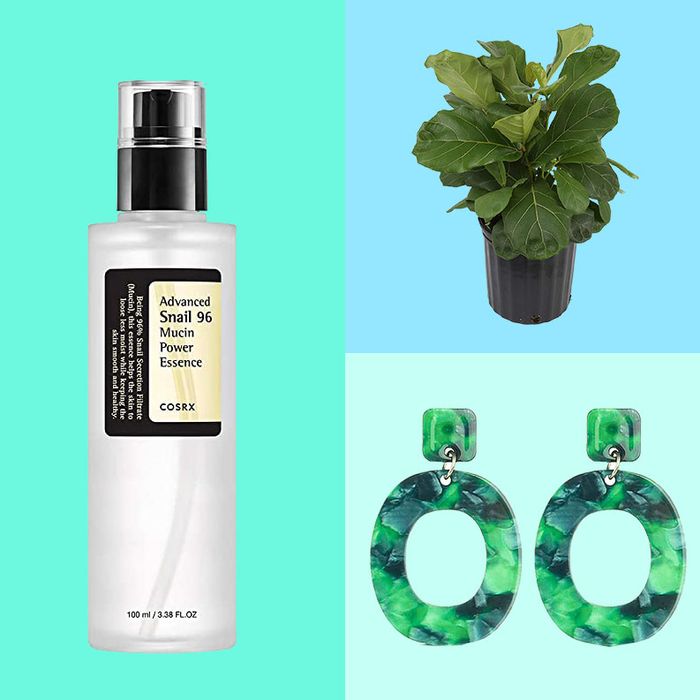 Photo-Illustration: Courtesy of the retailers.
Getting a gift for mom can be a challenge, especially if you're on a budget. Below, we rounded up a bunch of gifts under $30 that will delight a range of moms — from the outdoorsy mom to the foodie mom to the cool dog mom — to help you find the perfect thing for the mom in your life without breaking the bank. While all of the things on this list are available on Amazon, we've found many of them elsewhere, too, for those who like to shop around.
If her porch or apartment gets great light, and she needs something a tad high maintenance to take care of, now that her children have flown the coop, try a fiddle-leaf fig.
Pair it with this expensive-looking ceramic planter.
If your mom is constantly finding herself out of basil, we recommend this self-watering, stacked herb garden that's good for small spaces. It's particularly easy to use — according to Sara Gatanas, general manager at Urban Garden Center, all you have to do is "transfer an herb from a four-inch grower's pot straight into the container, and before you know it you'll be enjoying some fresh mint in your mojito." And it comes in a few different colors (lime green, tangerine, turquoise, matte black, and gray) that'll match most any décor.
A pair of graphic acrylic earrings for any mom who favors Rachel Comey and No.6 clogs.
Introduce your mom to the wonders of K-beauty with a Rio-approved face mask, which has three kinds of hyaluronic acid and comes in a pack of five.
From Grub Street contributor Priya Krishna, Indian-ish is a cookbook inspired by her own mother's Indian-American home cooking.
A powerhouse insulated mug that will keep her hot drinks hot and her cold drinks cold all day long.
If your mom has managed to master Co–Star and is ready to move on to something slightly more advanced, consider this astrology book by Jan Spiller that focuses on the north node, which, according to What's Your Sign? podcast co-host Julia Loken, "basically explains the overarching themes and lessons you need to learn in order for you to feel fulfilled on a soul level."
If your mom keeps pilfering from your private stash of snail mucin, get her a bottle of her own.
Since spa treatments outside the home are on hold for the foreseeable future, gift your mom this Black+Decker power tool, which is technically meant for polishing cars but has become cultish for it's ability to provide a shockingly good back massage (and is an extremely cheap alternative to pricey handheld massagers).
Make it a themed gift and throw in this coconut-and-vanilla-scented bath soak.