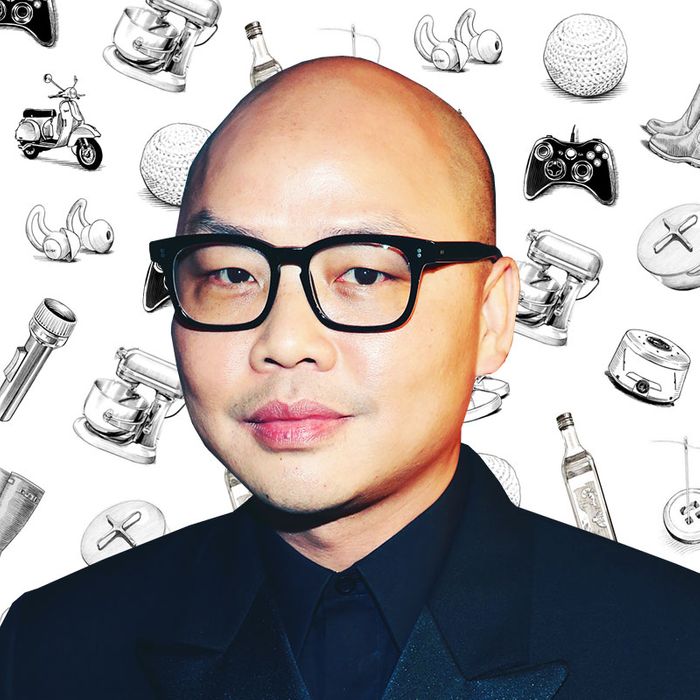 Photo: Randy Shropshire/Getty Images for InStyle, Illustration: Joe McKendry
If you're like us, you've probably wondered what famous people add to their carts. Not the JAR brooch and Louis XV chair but the hair spray and the electric toothbrush. We asked makeup artist Daniel Martin — the global director of artistry and education for beauty brand Tatcha — about the water bottle, luggage, and sneakers he can't live without.
I bring this bottle with me everywhere. It gives me peace of mind knowing the built-in UV light is killing everything inside and I'm drinking clean water. You just press the top — you know it is on when it turns blue. I think it takes something like 22 seconds to purify what's in the bottle. When it's done, the light turns green. The only thing you have to remember is to recharge the top because that's what holds the UV light and it will die after a while.
I was born in the '70s so the show is nostalgic for me. My grandmother and I would watch it together. On Saturday nights, I would stay over at her house and we'd always watch. I think she knew I was gay before I knew. My favorite episode is "Henny Penny - Straight, No Chaser," from season six. It's the one where they do the talent show and dress up. It's so funny. Watching the show now, I understand the jokes better — and I can tell that a bunch of queens wrote them. Golden Girls will never get old for me. I always find something new and different and hilarious when I rewatch it, which is kind of a lot.
I use it as a makeup kit because it's very secure and solid. None of my tools or makeup get damaged inside whether I'm on a flight or just lugging it around. It has gone everywhere with me, from Marrakech to Miami to L.A. to Paris to London to Singapore and beyond. I've never had to replace any parts, but I did have to replace the suitcase once. My first one was stolen by an Uber driver, with all of my makeup products inside. The police didn't believe me when I told them how much all the makeup was worth. It cost more than the suitcase itself.
I burn a lot of candles — to the point where my husband asks me to stop. But I'm super-sensitive to scents. Diptyque candles are the only ones that don't make me stuffy or allergic. Byredo makes beautiful scents, but after an hour of them burning I start to sneeze and react. I like Diptyque's Figuier the best because it's clean and fresh. I prefer citrusy, green scents. Anything that smells like food, like vanilla and whatnot, makes me throw up in my mouth. I just can't.
It doesn't smell like a synthetic fragrance or a hand sanitizer. It has always been the one I've used. With this particular formula, you can actually spot treat zits, too. I have used it for that. It helps because it's antiseptic.
I'm very afraid of losing my AirPods or them falling out of my ears. At first, I didn't understand the point of the AirPod chain, but then I got one and I was like, "Oh, this is actually kind of cool!" It has magnets at each end where you put the earbuds; when you take the AirPods out, the magnets connect to make it kind of like a necklace. It has been very helpful.
Editor's note: Tapper lists all prices in Euros, so the price shown is an approximate conversion in U.S. dollars.
Someone once gave me a gummy vitamin that was coated in sugar, so I stayed away from them. And I don't typically like chewy candy. But I have a hard time digesting pills. I was in Whole Foods once, about to leave for a work trip to the Bahamas, when I saw these Olly gummies meant to help with sleep. I usually don't sleep well the first couple of nights on work trips, so I thought, "Why not?" The first time I took them, they knocked me out. I was like, "Oh my God, these are amazing." They have no sugar and I actually really like the taste. I'm obsessed.