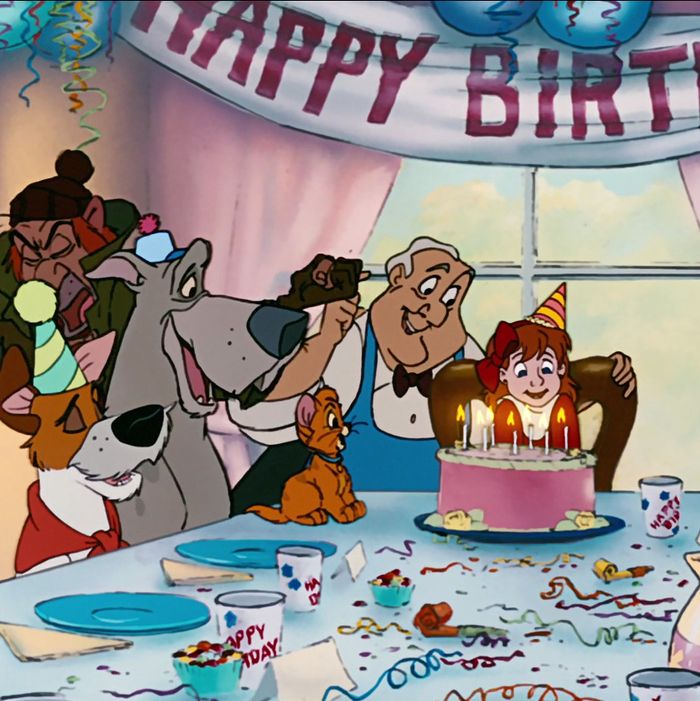 Photo: Walt Disney Pictures
Dog birthday parties are serious business. The hashtag #dogbirthday has more than 350,000 posts on Instagram alone; a casual scroll through them shows that the affairs can be just as elaborate as the parties one might plan for a two-legged pal, and anyone who has explored the cottage industry that is doggy party supplies knows there is lots of stuff to choose from. Whether you're grooming your pup to be a dogfluencer or just want your special pooch to have its day, we've combed through Amazon to find some of the best dog-birthday things — including décor, party favors, and cake mix — to help make the soirée as celebratory, and stress-free, as possible (this is a birthday party for an animal after all). Read on for everything you need to give your best furry friend the birthday blowout of its dreams — and if you're a cat person, well, just pray your benevolent dog-owning pal sends you an invite.
Invitations
The first way to ruin a dog birthday party is to take it too seriously! These punny, illustrated invites will set the perfect tone before the first guest even arrives.
Clothes
If it's a more formal affair, this tux — which comfortably slips over your dog's collar — is sure to impress.
And if you're celebrating a birthday girl, this supercute polka-dotted number looks just as put together.
For a more casual bash, or for larger dogs who want to dress up for their special day, you can't go wrong with these playful bandannas.
A set of inexpensive birthday hats will ensure that your pup's party guests don't feel left out.
But why stop with hats? This affordable set of dapper-looking bow ties would make guests look even more put together (think of the group-photo ops!).
The dog of honor, though, probably deserves something a little more unique, like this birthday-cake hat.
Décor
This all-in-one décor kit offers a lot of bang for your buck: It includes 30 latex balloons, 33 feet of gold ribbon, and four 16-inch foil balloons that spell out "woof."
If the above isn't enough décor, supplement it with a pack or two of these graphic, paw-print balloons.
And if you really want to go paws to the wall with décor, here are some removable paw-print vinyl decals (which can be stuck just about anywhere) to jazz up your party space even more.
No great party is complete without a piñata (to really wow your guests — both canine and human alike — stuff this with your dog's favorite treats).
These eco-friendly plates — made from compostable green palm leaf — feel unexpectedly sophisticated.
For a truly un-fur-gettable tablescape, pair the above plates with this tablecloth. It's made from durable (read: spill-proof) polyester, making it great for either an indoor or outdoor celebration.