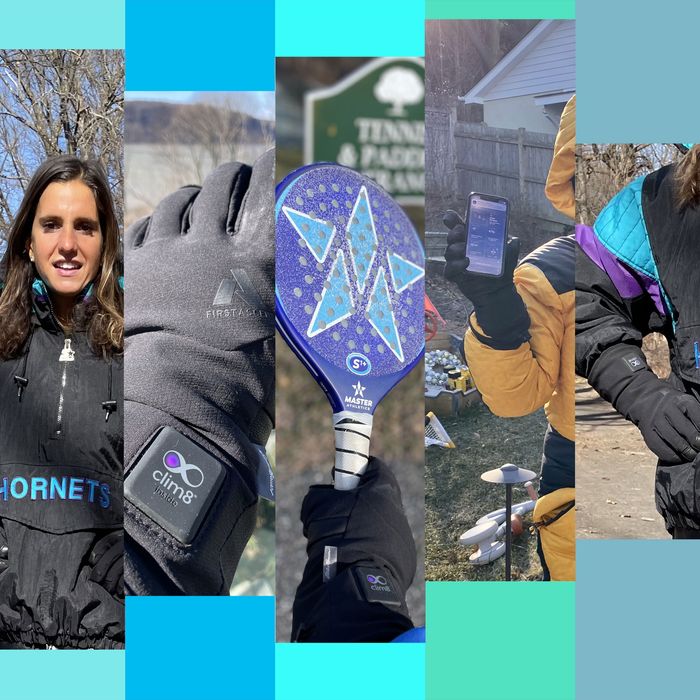 Photo-Illustration: The Strategist; Photo: Jessica Silvester
When Eddie Bauer launched a pair of artificially intelligent, heated winter gloves back in the fall, a Strategist editor thought I might be the right guinea pig to try it. I hate the winter but love to get all my exercise by walking outside. I have even gone so far as to purchase a North Face Expedition suit; without it I would have no other way to escape my two young children when it gets below 20 degrees, even if that means looking like a Yeti as I trek the Croton Aqueduct Trail near our home. An AI-enabled set of gloves seemed like a fitting companion piece for this getup, albeit a bit futuristic for my taste.
Of course, it's much more boring than a conversation with Bing-slash-Sydney: The Clim8 system includes an app, Bluetooth connectivity, and adjustable temperature settings just like with other battery-powered gloves on the market. The difference with these is the proprietary "intelligent technology," which collects data and responds to your environment and body temperature in real time in order to keep you at your ideal level of warmth. These are supposedly "the first AI-assisted heated gloves to come to the outdoor industry market in North America."
Walking is one of the main activities you can select when setting up your gloves in the Clim8 app. The other choices include hiking, skiing, and snowshoeing. And for someone like me seeking the former, more subdued level of outdoorsiness, there is a "lite" version of the glove available, along with two other more robust styles.
In my case, I received a press sample; now, I just had to determine whether they could improve my precious winter trail time enough to be worth $250 of my own money — a question that might've been quicker to answer had the winter not turned out to be quite so springlike in the New York metropolitan area. My "week" of testing, as a result, spread out over the course of more like two months as I waited and waited for the days that were actually cold enough to call for serious gear.
Day One
The product arrives in a long-stem-bouquet-style box, and I open it to find a far bulkier set of gloves than what I was expecting; they conjure my family ski trips in the late eighties. This may be my fault, as I am a petite woman and should have asked to be sent a size extra-small rather than small. Even so, when I slide my hands into them — Primaloft insulation, a waterproof nylon shell, and smooth leather palm — I immediately feel much more dexterous than I look (a fact that will strike me again and again throughout the testing process).
To set them up, I charge the batteries and click them into the designated zipper compartment of each glove. Then I open the Clim8 app to select "walking" as my activity and follow the prompt to slide my left hand into the glove. As I wait for about a minute, built-in sensors calculate my ideal body temperature, which is determined to be 78.8 degrees. (If I were so inclined I could take it all the way up to 95, but this would compromise the battery life.) Now, apparently, every time I put on the gloves, they will heat me up until I reach that point.
Day Two
Although I wanted these gloves for nothing other than walking, for their inaugural outing, I decide to play paddle. I am new to the sport, and it's just 12 degrees outside, but a couple of fancy European people who apparently belong to the same golf-and-racquet club as me needed a masochist to join a doubles match with them and the club pro. It's Christmas Eve and a punishing meteorological phenomenon called a "bomb cyclone" has caused coastal flooding and rapid freezing, followed by dire wind-chill alerts for 110 million people across 36 states; temperatures in New York City dropped 50 degrees over a 24-hour period.
As I step on the court, a lavalike flow of warmth radiates up from my wrists to each of my fingertips until I can no longer feel it in any one place but more in an ambient, surround-sound sort of way. Over the better part of 90 minutes and three sets, I am not thwarted by all the extra fabric encasing my hands. This is maybe only my seventh time ever attempting this game, and I'm actually getting more height than usual with my lobs and hitting my serves with an extra kick of spin. Doug, the club pro and a 30-year veteran of all-weather paddle, keeps checking to be sure no one is developing frostbite. Maybe it's the glaring layers of Moncler the woman is wearing, but I get the impression that this opposing couple has built up their tolerance for cold in places like Gstaad. As for me, I may have paralyzed toes and lockjaw that makes me sound like I've suffered a stroke whenever I make an attempt to talk, but my hands feel fine.
Unfortunately, I'm not sure exactly when, but at some point the battery in one glove goes out. I notice my right hand fingers feel dead and look down to discover that the neon purple battery light on that glove is no longer illuminated. This is puzzling because I thought I'd charged both batteries equally, and the batteries are supposed to last between two and eight hours, but perhaps one of my kids unplugged one of them when I wasn't looking.
I push through the final 30 minutes of the paddle session. For the subsequent two hours after I return home, I cannot type a single text message without my right pinky finger aching down to the bone. (My left hand, however, is entirely fine.)
That night, after my boys went to sleep listening for Santa on his sleigh, my entire body was seized with the flu, and I couldn't even help my husband set out the presents under the tree. I wouldn't even be able to make it down the stairs for Christmas morning. I can't help but assume this illness happened because I subjected my body to elements that it would not normally have been able to withstand — and even if this is not actually how the flu works, the suggestion of such a perverse AI effect felt very sci-fi.
Day 3
After the flu and a heatwave, I'm finally back to the test in mid-January. With 11 mile-per-hour winds, it feels like 25 degrees outside and I'm headed to the grocery store to buy arepa ingredients at the request of my Encanto-loving 5-year-old.
It's about a 15-minute walk into town, and I've decided to initially keep my hands bare, so that the gloves will have extra work to do once I finally put them on. After just a blustery few minutes it feels like my fingers are going to crack; once tucked safely inside the gloves, it's like they never got cold in the first place. And I repeatedly find this to be true. I can periodically take off a glove to type a note on my phone, and while this normally would be a reckless move — as soon as the chill has entered my fingers nothing can save them — within a minute of getting back in the Clim8 cocoon my ideal state is restored. My hands no longer experience a point of no return. My toes, on the flip side, are tingling toward paralysis in SmartWool socks and my shins suffer windburn in cashmere track pants.
On the walk back from the store, it does not feel cumbersome to hold my shopping bag of masa harina and coconut flour and arrowroot starch. I am continually surprised at how much range of motion my hands can have even when stuffed in veritable down comforters.
Day 4
Another few weeks have gone by, and I'm just home from the hospital after abdominal surgery to repair stomach muscles that separated during pregnancy. I can only walk with a snail's pace and geriatric posture, but a polar vortex is upon us and in the name of service journalism I force myself onto the trail to test the gloves again.
The freeze in my body is hard to localize. It's a raw 22 degrees out, though my weather app says it feels like ten degrees with the windchill. Because of the general anesthesia, I'm yet to regain sensation from the top of my left shoulder all the way down to the fingertips. A walk that normally takes me 25 minutes requires more than an hour in my hunchback state. But somehow the venture is still actually pleasant—I never appreciated how much more you can relax when you're not constantly being nagged by cold extremities. And even though tiny needle jabs have begun to seize my feet, my warm hands make the sensation less bothersome.
Up until the last ten minutes, that is. Yet again, I look down to see that one of the indicator lights has gone out; again, it's the right-hand battery. I might have noticed this coming sooner had I set the app to send me a notification when the battery gets down to 20 percent, or if I'd simply looked down at my wrist, where the indicator starts slowly flashing at 5 percent. But otherwise it doesn't appear as though I've done anything wrong; the battery was securely plugged into the glove.
Unfortunately, I am physically incapable of speeding up, and by the time I reach home my right hand has become just as numb from the cold as the left one is from the anesthesia. I learn from the Clim8 support page that it's not unexpected for one battery to die sooner than the other because they "heat independently, so the battery life of one glove can sometimes vary slightly depending on use." It stands to reason that because I'm right-handed, the battery has to work harder to keep that more active side at a steady temperature.
Day 5
So then why is that on this walk, the very next day, following the exact same route, it's now the left glove that dies sooner? And this time the battery craps out after only 20 minutes. It's a day of record-breaking windchill: -109 degrees in Mt. Washington, New Hampshire, if a much less life-threatening -7 degrees where I am in Westchester County. Still, this weather calls for my Yeti suit.
Normally when I wear this thing every part of my body stays warm except my extremities, but at the outset of today's expedition it's just my toes that are pained as the chill penetrates my Bogner boots and two pairs of merino wool socks. My hands are positively cozy — a generalized sense of comfort piping in from everywhere and nowhere at once.
Then: I notice the left indicator light's outage, while this time the right has remained strong. I have to blame surgery brain here, because I don't remember how long I charged the batteries before the walk and I never pre-checked their capacity in the app. Meanwhile, the anesthesia is still dulling the sensation on the left side of my body, so the contrast between my right and left hands is not as stark as it might have been — but still, it makes you appreciate the fact that, although the proprietary materials like "performance leather" may make these gloves easier to maneuver, they would be virtually unwearable in these temperatures without the AI heating system.
Day 6
My in-laws are staying with us to help out with the kids as I convalesce, and my father-in-law sees me plugging in the batteries to charge. I give him the elevator pitch on what the gloves are all about. "Wow," he says, "how much does something like that cost?" To which I enthusiastically and inexplicably respond that the price is a very reasonable $85. I have no idea where I got that number from. I never knew the price to be anything other than $250. But maybe, under the lingering effects of anesthesia, my subconscious is making a point.
Day 7
My last day of testing the gloves is also the relatively warmest day, at 31 degrees without much wind. I walk along the aqueduct trail to the Stop & Shop in the next town over, for a roughly two-hour round trip. This time — I'm guessing because the milder air outside has eased the pressure of the Clim8 regulating system — neither glove dies. (Although it should be mentioned that according to the Clim8 literature, the battery life is allegedly not much affected by lowered air temperatures; when it goes from 77 degrees to 32 degrees outside, the capacity only drops by 5 percent.) And even though I've worked up some prickles of neck sweat by the time I ascend the final hill to my house and am inclined to remove my hood, I have no such urge to liberate my hands. Their temperature is just right.
The Strategist is designed to surface the most useful, expert recommendations for things to buy across the vast e-commerce landscape. Some of our latest conquests include the best acne treatments, rolling luggage, pillows for side sleepers, natural anxiety remedies, and bath towels. We update links when possible, but note that deals can expire and all prices are subject to change.