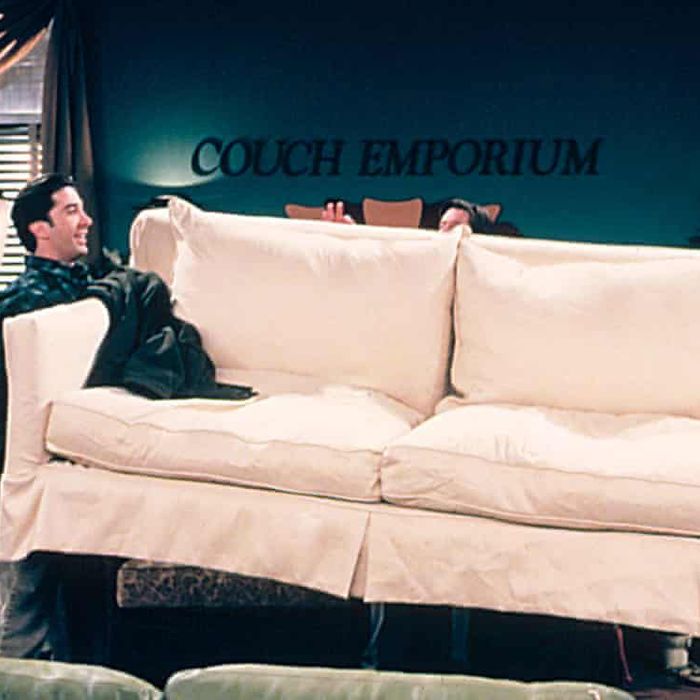 If you already own a white slipcovered sofa (or want to get in on the resurgent '90s-era trend), one thing you probably think about a lot is stains. The beauty of having a removable slipcover for your sofa or chair, though, is that you can wash it. As slipcover-maker Karen Powell explains, most styles "made with cotton, denim, canvas, linen, polyester, and hemp can easily be machine washed at home with good results." But before you throw yours into the washing machine, Powell — and several other slipcover-makers we spoke to — say it's crucial to find out whether the slipcover is preshrunk. "If the fabric wasn't preshrunk, don't wash a slipcover, especially if it's a natural-fiber fabric," Powell warns. "It will shrink!" She says sending a slipcover to a dry cleaner is a safer option if you can't confirm whether it's preshrunk, but notes it's best to talk to the cleaner about the method they use before dropping it off to ensure that it doesn't come back smaller. Certain slipcovers, Powell adds, should only be dry-cleaned, including "lightweight novelty covers with decorative trim, lined slipcovers, silk and wool slipcovers, and, of course, any slipcover that is labeled 'dry-clean only.'"
According to our experts, those seriously concerned about extending the life of their slipcover can do even more to keep it pristine. Applying a fabric protectant can help ward off stains between washes, and spot-treating any stains that do stick can help lift them in the washing machine. (Slipcovers made from performance fabrics like Crypton and Sunbrella can only be spot-cleaned, the experts say.) Below, Powell and four other slipcover-makers and cleaning professionals share their favorite products and tips for keeping slipcovers — whether they be white, off-white, color, or patterned — looking straight out of a Pottery Barn catalogue.
Treat your slipcover with a fabric protector
If the thought of removing your slipcover to wash it is too daunting, a few of our experts told us that applying a fabric protector would be a good way to fight off stains for longer periods of time. Both Jeanne Liberkowski and Kimberly Aravena, two New Jersey–based slipcover-makers, recommend Scotchgard because it acts as a shield against spills and essentially waterproofs a fabric. But as Aravena notes, "When you add stain repellent to washable fabric, it will lose potency over time, so you'll want to Scotchgard it every time you wash it." Between washes, "You can tell if it's still effective on the fabric if you drip a little bit of water on it and it beads up and kind of rolls around," explains Liberkowski. According to the manufacturer, Scotchgard is safe on cotton, polyester, silk, wool, acrylic, nylon, and most other washable fabrics.
Spot-clean it first if you have to
If you're dealing with a tough stain, the experts suggest using a spot-cleaner to treat it before throwing a slipcover in the wash. Powell's favorite is Tech's Stain Remover, which she calls "the most reliable and versatile stain remover I've ever used on natural-fiber slipcovers." She explains that it's "safe to use on all washable fabrics — meaning it won't discolor a textile or leave a ring around the spot when it dries," adding that the product is "odorless and doesn't contain any harsh chemicals like bleach, alcohol, or solvents." According to Powell, the stain remover works best when you treat soiled spots or stains as soon as they happen: "This is important because the longer you leave a stain untreated, the harder it will be to remove it with Tech or any other type of spot-cleaner." To treat stains, she places a dry cloth under the slipcover where they appear and blots the stained surface with a terry-cloth towel moistened with Tech, then throws the slipcover in the wash to remove any residual product and stain. "I've easily removed red wine, blood, coffee, and even dog drool and crayon from my slipcovers with this product," she says.
If you want to go a more natural route, Sonny Cohen, the owner of New York–based PureGreen Carpet & Upholstery Cleaning, says you can whip up a homemade spot-cleaner by mixing equal parts hydrogen peroxide and baking soda, a solution he says is effective at removing organic stains left by things like bodily fluids, grass, or coffee and tea. "You can spray or blot this on the stains," he says, but never rub it (or any spot-cleaner) in, "because that can cause pile damage or color loss," he says. After applying, Cohen says to "let the cleaner sit for 15 to 20 minutes and then spray it down with distilled white vinegar to neutralize the solution." Then he advises to put the slipcover in the laundry. But Cohen notes that if you're going the DIY route, it's always a good idea to "consult with a professional first to avoid the possibility of damaging your textiles."
Wash your slipcover on cold and let it air-dry
If your slipcover is machine washable, the best way to wash it, according to Liberkowski, Powell, and Albert Nakash of New York–based upholstery and interior-design service Bettertex, is on a cold cycle with a mild detergent that's free of bleach and bleach additives. Powell's favorite is Seventh Generation Free & Clear Detergent. Once the wash is done, nearly all of our experts recommend letting a slipcover air-dry after putting it back on your couch. "You always put your slipcovers on slightly damp, so that way they kind of form back into the shape of your sofa," says Liberkowski. Powell agrees, adding that "this method prolongs the life of a slipcover and helps maintain the fit." (Powell, though, is the lone expert who prefers tumble-drying a slipcover on a warm setting — "never dry on high heat" — because air-drying can leave slipcovers feeling "too stiff and wrinkled," she says.) Nakash gave us a few more helpful tips: If you have separate slipcovers for a sofa's cushions and frame, wash every piece at the same time to reduce color variations (do separate loads to avoid crowding if you have to) and zip all zippers closed to prevent damage. When in doubt, "your best bet is always to check the fabric manufacturer's recommendations," Liberkowski reminds us. (Or ask your slipcover-maker if yours is custom-made.)
Another capable slipcover cleaner, according to Cohen, is Dr. Bronner's liquid soap — which, of course, can be used to wash many things in addition to linens, from sex toys to floors to dishes to human skin. "Dr. Bronner's line of products is self-neutralizing and safe to use with virtually all fabrics," Cohen says. "It is one of the most effective and versatile products I've found without toxic chemicals."
To get a white slipcover extra bright without using bleach, Powell suggests adding a whitener to the wash. "For white slipcovers only, I like to add OxiClean White Revive with my detergent," she says. "The whitener is chlorine free and helps keep a white slipcover looking fresh." Liberkowski is also a fan of OxiClean because she avoids bleach at all costs.
The Strategist is designed to surface the most useful, expert recommendations for things to buy across the vast e-commerce landscape. Some of our latest conquests include the best acne treatments, rolling luggage, pillows for side sleepers, natural anxiety remedies, and bath towels. We update links when possible, but note that deals can expire and all prices are subject to change.