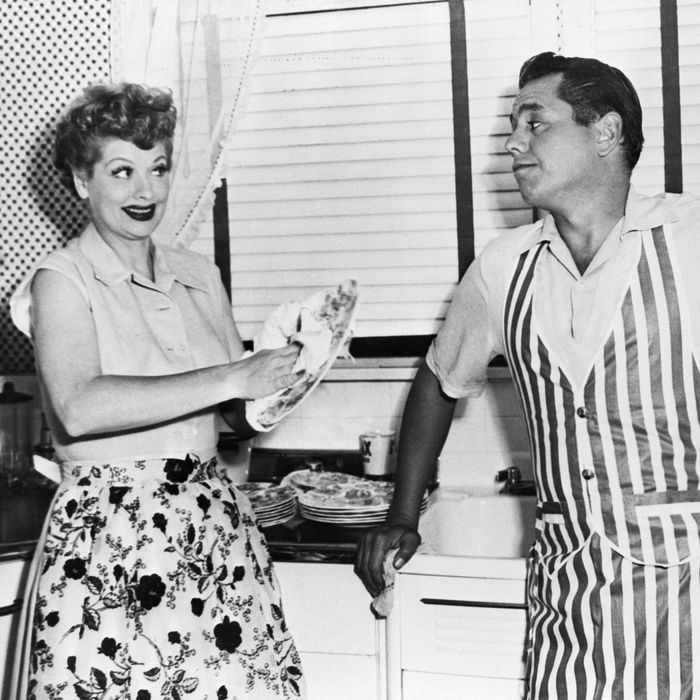 Reusing means washing.
Photo: Bettmann/Bettmann Archive
As someone who considers a "hand-wash only" label on clothing a deal-breaker, I find myself in a quandary when it comes to ecofriendly, reusable products like stainless-steel straws and bento boxes. I want to do the right thing for the environment and not just throw containers away, but I'm also too lazy for elaborate cleaning. According to Jennifer Zamudio, owner of reusable goods brand Dot & Army, I'm not alone. "A lot of people get nervous because they're like, 'It's going to be more work, and I'm already busy enough,'" she says, "but I think we overthink things. You're already doing laundry; you're already washing dishes — it's just a few extra items. Your extra set of cloth napkins is not really going to make that much of an impact to the laundry you're already doing."
To demystify the cleaning process, I asked Zamudio and three other ecofriendly product experts for their advice on how to clean our reusable things. They all offered extra-simple tips and affordable solutions that even I can handle.
Best products for cleaning water bottles
Because it's been a while since I've washed either the stainless-steel bottle that lives on my desk or the one in my gym bag, it was a wake-up call hearing Angelica Mastronardo (office manager at Black + Blum, makers of some of our favorite Bento lunch boxes and steel thermoses) say that "bottles should be cleaned on a regular basis, at least once a week, to avoid bacterial growth, especially in hot weather." She says the most natural way to clean bottles or thermoses is to fill them with a tablespoon of dry rice and a tablespoon of water, and then shaking vigorously. "The rice acts as an abrasive and should get them gleaming again," she says. "When done, swill it out into a little sieve, and the rice can then be composted." Follow up by rinsing with hot water and soap.
Beads like these, made from stainless steel or copper, will do the same job as rice, and they can be reused.
To sanitize your bottle, Mastronardo says to fill it with a mix of boiling water and a teaspoon of sodium bicarbonate, wait an hour or two, and then rinse it out. She adds that dental cleaning tabs will also sanitize and deodorize.
Best products for cleaning beeswax wraps
Instead of going through rolls of Saran wrap for lunch sandwiches or baked goods, beeswax wrap — which adheres to itself with a bit of rubbing — is an ingenious natural alternative, and luckily, beeswax isn't that hard to clean. Zamudio rinses hers with lukewarm water and Common Good dish soap. "I like using it because it's a little more liquid-y, and not as thick," she says. "It's nice and natural-smelling and is plant-based." She does recommend replacing your wraps every six months, but the old ones can be composted or cut into strips and used as a fire starter.
For stubborn food bits stuck on the wraps, Bee's Wrap founder Sarah Kaeck turns to a gentle, but effective, scrubber. "We use the Twist scrub sponges at the office," she says. "They're made from plants, dye-free, and biodegradable."
Best products for cleaning cloth bags and napkins
Produce stored in cloth bags lasts longer and doesn't get slimy like vegetables kept in plastic, and cloth bags are also among some of the easiest ecofriendly products to clean. "Put them in the washing machine, cold, and then take them out and line dry," says Sharon Rowe, founder and CEO of Ecobags Products, Inc. "You can put them in the dryer if you want, but they do shrink." Rowe, whose company sells produce bags, shopping totes, and lunch sacks, says she likes using detergent from Seventh Generation because "they're concerned overall with the environmental impact of their products." The same detergent can also be used to hand-wash bags if a washing machine isn't an option.
Cloth napkins and "unpaper" towels can also be simply thrown in the washing machine. Zamudio is a fan of Common Good's detergent. If a napkin has a tough stain, she'll rub a few drops of detergent on first before putting it in the wash.
Best for cleaning straws
If you're ready to give up plastic straws and don't want to go the Twizzler route, glass and stainless-steel versions are classic-looking and ecofriendly alternatives. And if you buy a quality straw, they aren't that difficult to clean either. Kim Erickson, director of marketing at Simply Straws, says that "the nice thing about glass [straws] is that they are so strong and durable that they are fine in a dishwasher." As long as they're on the top shelf or grouped with utensils, she says she's never had any issues putting them in the dishwasher, and that the same process will work with stainless steel. Like Rowe, Erickson likes Seventh Generation because it's natural and nontoxic, with no synthetics or fragrances.
For hard water stains and mineral buildup on glass straws, Erickson recommends washing them in a vinegar bath — a solution of one part water and one part vinegar. Organic and nontoxic, apple-cider vinegar naturally disinfects glass while its acids break down buildup.
Most reusable straws you buy will come with their own brushes, but how to clean them? An apple-cider vinegar bath, once they've done their job, is the expert-recommended solution.
Keeping your straw in a sleeve protects it from getting dirty or damaged in a crowded bag — and is also a sustainable way to carry a used straw if you don't have time to clean it on the go. Erickson says the Simply Straws sleeves are also machine-washable.
Best for cleaning Bento boxes
Because the high temperature of dishwasher water can warp and distort Bento lunch boxes, Mastronardo recommends hand-washing them instead. For food stains, she says that "the first wash should always be with cold water. It sounds strange, but hot water will make the residue cling on even more. Once most of the oily residue has been removed, you can then use hot soapy water." She likes this environmentally friendly soap made from biodegradable, plant-based ingredients.
To prevent future stains, Mastronardo advises eating with reusable wood cutlery instead of metal, as "metal cutlery will scratch the surface of the box and those tasty, colorful juices will sink into these scratches and will be almost impossible to remove."
The Strategist is designed to surface the most useful, expert recommendations for things to buy across the vast e-commerce landscape. Some of our latest conquests include the best acne treatments, rolling luggage, pillows for side sleepers, natural anxiety remedies, and bath towels. We update links when possible, but note that deals can expire and all prices are subject to change.
Every editorial product is independently selected. If you buy something through our links, New York may earn an affiliate commission.