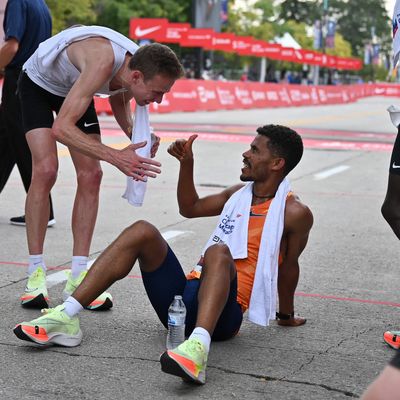 Photo: Getty/Getty Images
From scheduling speed sessions to fine-tuning their nutrition and hydration, runners know a great deal of planning goes into training for a marathon. But the hard work doesn't end at the finish line. How you recover from a marathon is incredibly important for reducing soreness, preventing injury, and getting you back into training shape for whenever you're ready to race again. "Your body and your immune system just took a big hit from that marathon," says Nike global running head coach Chris Bennett, so you'll want to do everything you can to stay healthy in the hours and days to come.
Something you may not want to hear just after running 26.2 miles: Don't stop moving. "​​Standing or sitting immediately after a race can make a runner feel lightheaded or even pass out because blood will pool in the legs," says sports physician Brett Toresdahl. "Walking keeps the muscles in use and blood circulating." The long finishers' chutes in major races (where you'll typically receive your medal, water, and some snacks) will force you to walk for at least a few more minutes. You'll want to keep up the light movement in the days to come. "Instead of collapsing on the sofa for the immediate days afterwards, opt for a gentle walk," says Peloton Tread and strength instructor Becs Gentry. "A couple of days later, go for a very short, very easy jog to shake out the legs and help reduce your lactic-acid buildup."
All our experts advise you to listen to your body to determine when you're ready to get back into tough training. "If you feel amazing after a few days, you may be able to jump into some hard workouts more quickly, but if you feel sluggish and tired, it's a good indicator to back off a little more," says ultramarathoner Trevor Fuchs. Read on for more advice for bouncing back post-marathon from professional runners, coaches, sports doctors, and physical therapists.
Drink electrolytes
"Rehydrating and replenishing electrolyte stores are both super important things to do as quickly as you can after you finish a race," says Gentry. "When these levels are correct, your body is in homeostasis, or its happy place." She recommends drinking water with electrolyte tabs as soon as possible after the race to replace all the sodium, potassium, and magnesium your body lost through sweat. Nuun electrolyte tabs, a longtime favorite of this marathon-running writer, offer the balance of minerals runners need without a lot of added sugar. While some runners cross the finish line ready for a feast, it's totally normal to not have much of an appetite immediately after the race. Instead of rushing into a big meal, Fuchs and Bennett recommend easy-to-digest snacks like smoothies, protein shakes, or bananas to quickly get some nutrients in. "You'll want to consume a few hundred calories, focusing on a 4:1 carb-to-protein ratio within 30 to 60 minutes after the race," says Fuchs. "Replacing your glycogen stores and kickstarting muscle protein synthesis in this window of time will greatly improve your overall recovery."
Stretch and massage your muscles
In the days following the marathon, you'll want to spend time on your yoga mat doing some light stretching to keep your muscle from tightening up. Ultramarathoner Mike McKnight recommends 15 to 30 minutes of stretching a day with a focus on the quads, hamstrings, and groin. "Everything should be gentle the week after a marathon," says Alison McGinnis, physical therapist and clinical director at Finish Line Physical Therapy. "Keep stretches dynamic to get things moving instead of static stretches that place too much tension on already injured fibers." Dan Geller, a sports podiatrist and advisor for Kane Footwear, says a yoga class is a good idea because it "allows you to go through a plethora of stretches to make sure that you're targeting all the different muscles, ligaments, and joints around the body." A stretching strap can help you get deeper into your stretches without forcing anything.
Most of our experts recommend self-massage with a foam roller to relieve post-race muscle tension. Geller explains that massage is useful for increasing blood flow to the muscles, breaking up adhesions, and identifying any sore spots you may want to focus on. As with stretching, it's crucial to keep things gentle following the marathon. "You may be a little too sore for a couple days to put all your body weight down onto a roller, but it's great to get back into it when the soreness eases up a little," says Fuchs. "I like to use a traditional foam roller for my bigger muscle groups, like my calves, quads, and hamstrings." As for how to use your foam roller, McGinnis advises you "to move slowly and in small sections along each muscle, or simply put pressure down without rolling anywhere and just take a few relaxing breaths to get the muscles to relax."
If the thought of getting on a foam roller seems too painful, professional runner Mike Wardian (a Nathan-sponsored athlete who ran the Chicago and Boston marathons on two consecutive days this past weekend) suggests a massage stick for a gentler treatment. Geller is also a fan, calling the stick "your body's personal rolling pin."
For harder to reach areas like abductors and around the shins, Fuchs likes the Roll Recovery R8 massager. This handheld roller is also a great gift for runners, according to Jonathan Beverly, editor-in-chief of PodiumRunner and author of Your Best Stride. He tells us, "The spring-loaded rollers dig as deep as I want, with a gripping massage that feels like strong hands. I keep it next to my desk and use it nearly daily."
A percussive massage gun, like the Hypervolt (one of Gentry's favorites) or Theragun (McKnight's pick), can also help muscles recover after a marathon. Gentry says the Hypervolt "really helps my legs regain lightness and mobility after a race." Wardian agrees that "the massage guns are incredible. They can make a big difference."
Use compression
Another way to speed up recovery, especially in the calves and lower legs, is to wear compression socks. "Wearing them for at least the first 30 to 60 minutes after a race can help prevent the immediate pooling of blood in the legs and helps to move blood into the lymphatic drainage system to be recycled back to the heart," says McGinnis. "Compression works to compress and narrow blood vessels, causing the blood within them to flow faster. This speeds up the exchange between muscles and blood vessels to get old stuff out and get new stuff in. Those then can continue to be worn for the next few days based on how you feel." McKnight says that compression socks help "begin the healing process faster," and Toresdahl likes them for managing the swelling that some runners experience in their lower legs post-race. Geller says to look for socks that offer graduated or gradient compression, like these CEP ones; that means they're tighter around the ankle and get looser higher up the calf to help promote upward blood flow to minimize inflammation and fluid retention.
For even more compression, Gentry and McKnight like using pneumatic boots, like the NormaTec or Rapid Reboot, that fill with air to squeeze and massage the muscles in the legs. "The compression sleeves work to increase blood circulation and therefore flush out lactic acid that leads to feeling sore and stiff," says Gentry. Often found in physical therapists' offices, these devices aren't cheap, but they're the next best thing to having an on-demand masseuse.
The Strategist is designed to surface the most useful, expert recommendations for things to buy across the vast e-commerce landscape. Some of our latest conquests include the best acne treatments, rolling luggage, pillows for side sleepers, natural anxiety remedies, and bath towels. We update links when possible, but note that deals can expire and all prices are subject to change.