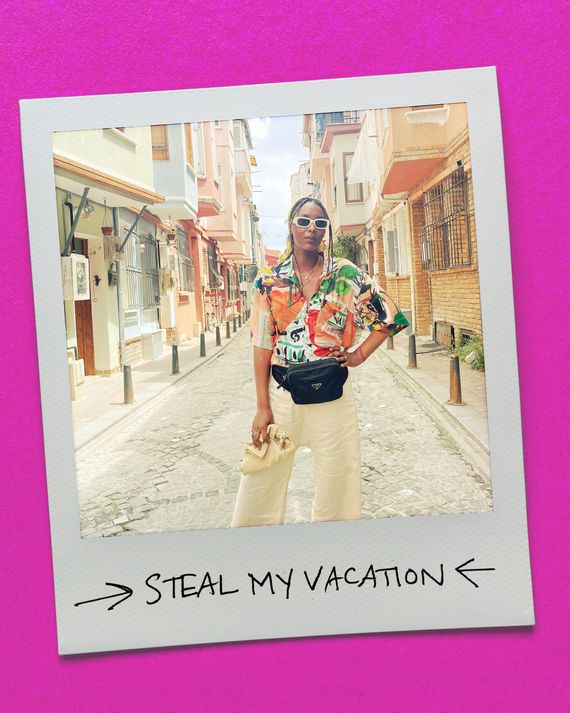 Photo-Illustration: The Strategist; Photo: Brooke DeVard
Everyone knows that person who spends weeks sniffing around travel blogs, going deep into Tripadvisor rabbit holes, collecting Google docs from friends of friends, and creating A Beautiful Mind–style spreadsheets to come up with the best vacations/itineraries possible. In this recurring series, we find those people who've done all the work for you and have them walk us through a particularly wonderful, especially well-thought-out vacation they took that you can actually steal.
Host of the Naked Beauty podcast and @nakedbeautyplanet and creator marketing manager at Instagram Brooke DeVard has been traveling back and forth to Turkey since 2014 — first on her own, and then with her now-husband Umut Ozaydinli, who grew up there. "I love going both as a tourist and with someone who lives there," she says. "It's not one of those cities where if you don't know the right people it can be challenging to navigate." For Ozaydinli, Istanbul matches New York's energy and pace, but what DeVard sees as its biggest draw is that it otherwise resists comparison to other cities: "If you travel a lot, some cities start to seem very similar. I think Istanbul is so special because it's a unique combination of old-world and new that really feels distinctly its own." This summer, she returned to Istanbul with her husband and new permanent plus-one, 13-month-old son Mavi, for whom it was the first trip abroad. Her priorities when she's traveling (and, frankly, when she's home in New York) are the same: "I love food, beauty treatments, and shopping, so they are always top of my list to experience wherever I am."
We often stay in Kanlica, where my husband's family lives. Their house is right on the Bosphorus, so you wake up to this amazing view of the water. Kanlica is the Asian side — it's the quieter and more residential side of Istanbul — and it's connected to the European side by bridge. If you want an area that feels much less busy and low-key, there are some hotels on the Asian side or you can book an Airbnb. But it is farther away from many of the attractions, so just be prepared to spend more time in traffic or on water taxis (which I'm obsessed with, anyway). If we're staying on the European side, we like to stay at Soho House in Beyoglu or the Four Seasons. At Soho House, you're really just in the thick of it, with tons of art galleries, restaurants, and shopping walking distance from the hotel, which also has a beautiful pool on their rooftop. If you're going in the summertime, that's a nice place to pop up to for a drink. For a luxury experience, I love the Four Seasons, which has gorgeous views of the water.
8 a.m.: Breakfast before anything else
We always start with a traditional Turkish breakfast, which includes simit bread — The best! Like a bagel, but way better — white cheeses, fruits, eggs, jams, and maybe even sucuk (Turkish sausage). Most hotels and restaurants will serve Turkish breakfast in the morning (the Four Seasons has an amazing one), but Migros, a grocery store with locations throughout the city, is a good one-stop shop to get everything if you want to make your own. Or there's a fancier version of Migros called Macrocenter. I really like visiting grocery stores when I'm traveling abroad.
9 a.m.: Start in Old Town
I believe in doing the tourist attractions first and then relaxing on the back end. We started by going to the old town center and visiting the architectural marvel that is the Hagia Sophia. I like going as early as possible because it's less crowded and it's easier to get through it all. It is a Muslim country, so when I'm in the historic areas of Istanbul, I tend to cover up more. But all across Istanbul when you go to tourist places and you're in a tank top, they usually have little shawls at the entrance that you can just drape over your shoulders.
10 a.m.: Stop at Topkapi Palace
A five-minute walk away is Topkapi Palace, where you can easily spend three or four hours. If you want a guide, you can find English-speaking ones on the grounds. There's a separate ticketing kiosk to visit the palace's harem quarters, and I recommend paying a few dollars extra to do that. You'll see rare artifacts, like the Spoonmaker's Diamond (the fourth-largest diamond in the world at 86 carats), and it's an amazing way to learn how the sultans of the Ottoman Empire lived. I'm African American and I had no idea that there were Black eunuchs that played this big role in the sultans' life. There's a small community of Afro Turks, Black Turkish people, that can trace their lineage back to these people working in the palace with the sultan.
3 p.m.: A late lunch and spice shopping
Topkapi Palace does have a nice outdoor restaurant, but we took a ten-minute taxi or tram ride to the spice market instead. There, you can have a late lunch at the famous Pandeli restaurant (Rüstempaşa Mah), which has been there since the early 1900s and serves incredible Turkish food. Start with piyaz, a dish of beans and onions, and köfta (meatballs); these were the original two dishes on the very first menu of the restaurant. You can also order the hünkar begendi, translated as "sultan's delight"; a divine slow-cooked lamb served on charred eggplant purée; döner kebab; and, for dessert, the classic kazandibi, a milk pudding with minced chicken … which sounds weird, but is actually delicious. After our meal, we wandered around the spice market before it closed, where I love loading up on fragrant teas and lots of dried jasmine flowers.
7 p.m.: Walk the Galata Bridge at sunset
We were tired after all of the day's adventuring, so we strolled over the famous Galata Bridge taking in the scenery and watching the fishermen, then took a ferry back to where we were staying in Kanlica, which is the best and most accessible kind of boat tour. It's under $1 per person, and while people use it to commute, you get the most beautiful views, especially at sunset. If you have any stamina left, you could also visit the Galata Tower, one of the oldest towers in the world with its own showstopping views of Istanbul.
10 a.m.: Get subterranean
The Basilica Cistern is entirely underground, and it's really one of the most fascinating sites in the world. It's definitely cooler down there, so plan your outfit accordingly. The Cistern shows how water traveled through the city in the Byzantine era. There's mood lighting and classical music (they even have concerts there sometimes), so the overall vibe is surprisingly kinda romantic. We never get a guide, just wander around ourselves.
12 pm: Fuel up with kebabs
We stopped at Şeyhmuz Kebap for kebabs, which, if you're a meat eater or love Anthony Bourdain–style local spots, you have to definitely get. It's from the city of Mardin, and it's a combination of lamb or beef that's put on this spit and roasted and there are different ways it's served: adana kebab, which is spicy, or sarma beyti kebab. I really like the Şeyhmuz kebap with pistachio; it's basically almost like a flat meatball with pistachios and is usually served with grilled peppers, tomatoes, onion, and fresh parsley, and sometimes with rice or pita. Or sarma beyti is also amazing; that's kebab wrapped in pita bread with yogurt and red sauce on top.
1 p.m.: Buy vintage caftans and argan-oil soap at the Grand Bazaar
I never miss a chance to go to the Grand Bazaar; if you like shopping, it's a must. There are 4,000-plus shops, so you could spend ten hours there and still not see everything. The experience requires focus, planning, and some negotiating skills, but that's all part of the fun. Over the years, there's been more and more counterfeit stuff; you walk in and it's like Off-White and Gucci, Balenciaga, and Bottega, even that Prada headband that Amanda Gorman wore at the inauguration. For shoppers that are impatient, they may enter the Grand Bazaar, see all the counterfeit stuff, and be like, There's nothing really here for me. I always just veer away from the main area and head to the outskirts. My favorite things to shop for are vintage caftans, Turkish towels, rose water (it's used in a lot of beauty treatments there), and natural soaps at a specific place called Kash. I got argan-oil soap, goat's milk soap, and even pistachio. On this trip, I also got really into donkey's milk, which is a big thing there; it's very rich and hydrating and great for people with eczema.
6 p.m.: Sunset rooftop drinks and dinner
We showed up early for our dinner reservation at Neolokal to get drinks on the rooftop, which has panoramic views of all of Istanbul and an incredible bar. Neolokal has been voted the best restaurant in Istanbul, and it has a set menu so you don't have to think about what to order. We had beef cooked in duck juice with various yogurts that I'm still fantasizing about.
9 a.m.: Meander around the waterfront
We took a water taxi to Ortakoy, an area along the water, where we really enjoyed taking Mavi in the stroller for a walk; I think he appreciated the view. The literal translation of Ortakoy is the "middle village," and it's a cute area full of shops, restaurants, cafés (we love House Café there), and a gorgeous mosque that creates the quintessential Istanbul photo backdrop. We did a family photo there.
11 a.m.: Get in a little more shopping
We walked to the nearby Nisantasi neighborhood; it's a very chic area, and if you love shopping, you can spend a day exploring here. I start at Vakko, which is kind of like their Barneys, and then make my way up and down the streets popping into little shops. I discovered a new store there on this visit called Gizia, a great shop with only Turkish designers.
1 p.m.: Wine and people-watch
We paused to grab lunch at Foxy Nisantasi; order the eggplant with molasses and a glass of local wine, and then just sit outside and people-watch while you eat.
3 p.m.: Sweat it out at the hammam
Turkish bath culture is huge, and I always do one day at the hammam when we're in Istanbul. We went to the hammam at the Ritz-Carlton this time, which isn't the most traditional place to do it, but it was wonderful. You're still on the marble slab with the warm water, and they exfoliate your whole body with that kese mitt and soap you down and follow up with an oil treatment. The marble treatment rooms at the Ritz are beautiful and because they're used to tourists, they will let you take a photo covered in bubbles before the final massage. You can also book a couples room there if you're with your boo so you can get scrubbed down and bathed together.
7 p.m.: Have an epic meal
We brought a change of clothes for dinner along with us to the spa, so afterward, we set off to have one of the best meals of our life at Mikla. The tasting menu is phenomenal and is all about traditional Ottoman cuisine in newly imagined ways. We had the most delicious braised lamb and their take on manti, which are traditional spiced-meat dumplings.
9 a.m.: Walk and coffee
We took a long walk (about an hour) from Kanlica to Balat, which is this very cool, creative neighborhood. There are coffee shops everywhere in Istanbul, and they open early and stay open until like 11 p.m., but a lot of people go to Balat just to drink coffee. Turkish coffee is so strong and very thick. I can't really drink it without having a mild seizure … it's just too much for me. But if you like strong coffee, then it's a literal dream. What I love is that you can have a piece of Turkish delight with it, a sweet square of sugary gelatin that offsets the taste if it's too intense for you.
11 a.m.: Instagram ops and glassmakers
Everything is super-bright in Balat, with all the houses painted different colors (green, yellow, blue), and there are cobblestone streets. It's fun and vibrant. All the colors means there will be many people taking Instagram pictures; there were literally lines to take pictures! We found some lovely shops specializing in glass objects, like these really pretty delicate straws. We didn't end up buying any because I was worried they would break in transit. Then we meandered over to nearby Fener to visit a historic school sometimes called the Red Castle, the oldest Greek Orthodox school in Istanbul, and the beautiful Church of St. George.
12 p.m.: A moment for mezes
We stopped for lunch at Agora Meyhanesi, a famous Greek tavern that's over 100 years old. They don't have a proper menu, but the best move is to get mezes and share a piece of fish.
3 p.m.: Watch the whirling dervishes
We ended the day in Taksim Square with a whirling dervish show. The dervishes are religious people, but more on the mystical side, who sing and dance and wear these tall hats and outfits that twirl as they move. The skirts they wear as they spin create this amazing illusion, and watching it feels almost meditative. It's one of the coolest cultural experiences I've had, and it's so specific to this region. I've really never seen anything like it.
8 p.m.: Try Turkish tapas
On our way back to Kanlica, we stopped in Bebek for a late dinner. There's a whole genre of restaurants in Turkey called meyhane, which just means "wine house," and they all specialize in a version of small plates. It's almost like tapas, and it's all meant to be shared with the table. The meyhane place we went to, and loved, was Sisko Perihan, which has a very fun vibe and great food; we had great kokorec (a type of intestines) on toast, all of the small dips with white cheese, and kofte.
Brooke's
Istanbul
Packing
List
Sun hat
It's foldable, so it's easy to roll up in your bag. Mine has little ties so you don't have to worry about the wind blowing it off. It's also chic and goes with everything.
[Editor's note: While this hat doesn't have ties, it's similar in style to the one Brooke has.]
Lip gloss