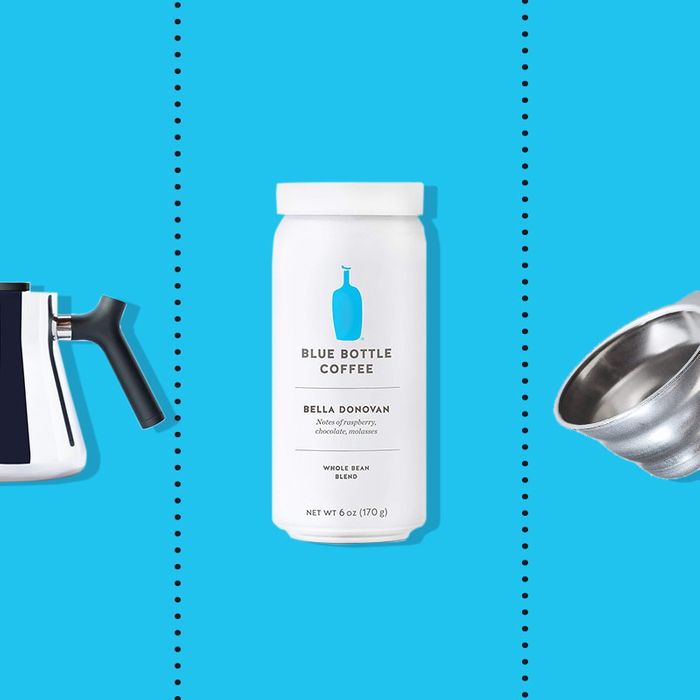 A bundle for coffee lovers that's impressive (and under $100).
Photo: Courtesy Retailer
There are plenty of solid gift ideas for the home cook in your life, like a fancy cookbook or a brand-new kitchen gadget, but if you really want to wow them, consider gifting a little bundle of cooking gear for the holidays. And if you want to go the extra mile, make it themed: a rolling pin, parchment paper, and a Dorie Greenspan book for a baker, for instance, or a spiralizer, a Magic Bullet, and a Yonanas frozen yogurt maker for a health nut. To help take the work out of such DIY gift baskets, we've concocted 11 gift bundles for every type of home cook in your life, all of which are under $100 but will seem a lot more expensive (and a little more thoughtful).
For the coffee lover
Total: $90
It's hard to say if the highlight of this bundle is the shiny new pour-over kettle from Fellow (which has become a perennial Strategist holiday favorite) or the coffee beans from Blue Bottle, sold in an airtight metal canister that preserves their freshness longer than a bag. Add in a little metal measuring spoon for grounds to really upgrade their coffee-making setup.
For the carb-obsessed