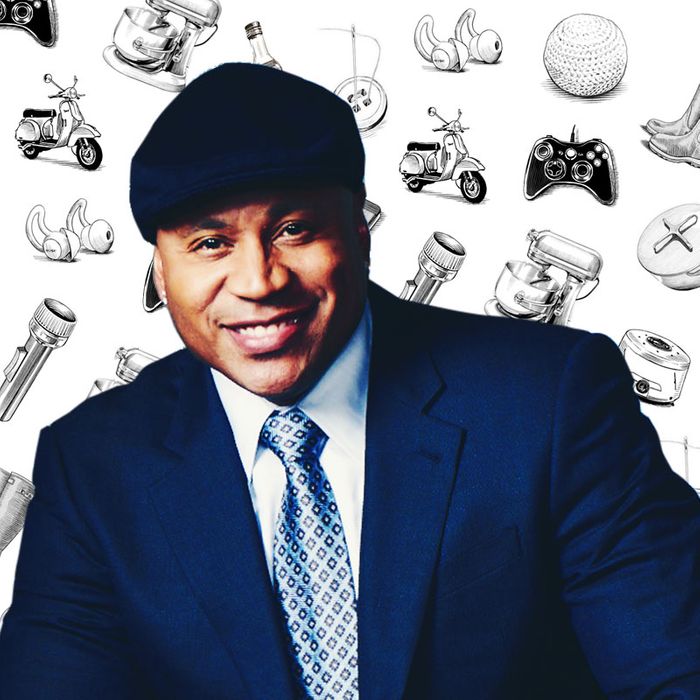 Photo-Illustration: Peter Yang
If you're like us, you've probably wondered what famous people add to their carts. Not the JAR brooch and Louis XV chair, but the hair spray and the electric toothbrush. We asked rapper and entrepreneur LL Cool J — whose brand Rock the Bells recently launched a digital platform dedicated to celebrating classic hip-hop culture — about the electric toothbrush, pre-workout powder, and beanie he can't live without.
I've always licked my lips, that's always been a habit of mine. I never want my lips to be confused with a pair of crocodile shoes or something, so I make sure I keep ChapStick on my lips. When I was 8 years old, I had a habit of licking my lips even when I was a little boy and I remember going to school one year and my lips were so split up from walking to school in the wintertime. My mother put a ChapStick in my pocket, and from there it stuck. Now I always have it with me. I keep it in my pocket and they're all over the house. It's a part of my lifestyle.
I've got old models of this in the house, too. That's right there with the ChapStick. It's like, get your choppers right, let's get up in that mouth, make sure that mouth is right. Let's get that tongue really, really working, then pop some bubble gum, put the ChapStick on, now you're good to go. I kind of developed a phobia because I had a math teacher in like junior high school who had the worst coffee breath in the world. It used to drive me absolutely insane. It made me hate school. Like, when you have a teacher whose breath is so bad you hate school?
With my trainer, Scooter, we'll always use different pre-workout energy drinks to get ready. I'm not a huge coffee drinker, but I do need energy and it's nice to have a little boost of caffeine in the morning when you're going to the gym, just to get you over the hump and get you rolling. I drink the C4 in the morning — pop that in a funnel, throw it in a bottle of water, and rock it. Then I'm ready to go and bouncing off the wall. It's like putting my Iron Man suit on. And it doesn't really make me crash. I keep the dosage at a scoop or two, so I'm not like so hyped up — it's not like a scene from Scarface, you know what I mean? I'm not like slapping myself in the face.
It gives me access to many things. I can get on there and go to YouTube, or go to iTunes if I want to watch a movie or TV shows. It's a great portal for me to get wherever I want to get. Recently, I've been watching a lot of YouTube videos and a lot of documentaries. The last show I watched was Peaky Blinders. And I like just having access to different stuff. If I want to surf YouTube and watch a John D. Rockefeller documentary, I could find that, or if I want to watch Training Day, I can find that. The other day I was in the mood, I watched Independence Day. I just like the fact that I have access to a lot of different networks.
I've been using this Hagerty jewelry cleaner. They've been around since 1895, so I'll use that. I treated myself many, many years ago [to some diamond earrings], and they're still a part of who I am and how I move, and I like having ice in my ears, it makes me feel good. I want to say I got them when my gold album came out, I went down to the Diamond District.
You just want to be smoothed out, you don't want to be crunchy. You have somebody say, "Hey, give me your phone and I'll put my number in," and their hands look like they were punching jelly donuts — that crunch and that ash, I ain't with that. So, I have to use some lotion. I just want to be the best I can be. I like to be clean. Post-shower, put a little lotion on, and I'm pretty much good. After you workout, you gotta get right, brush your teeth, make sure your fingernails are clean, throw some lotion on.