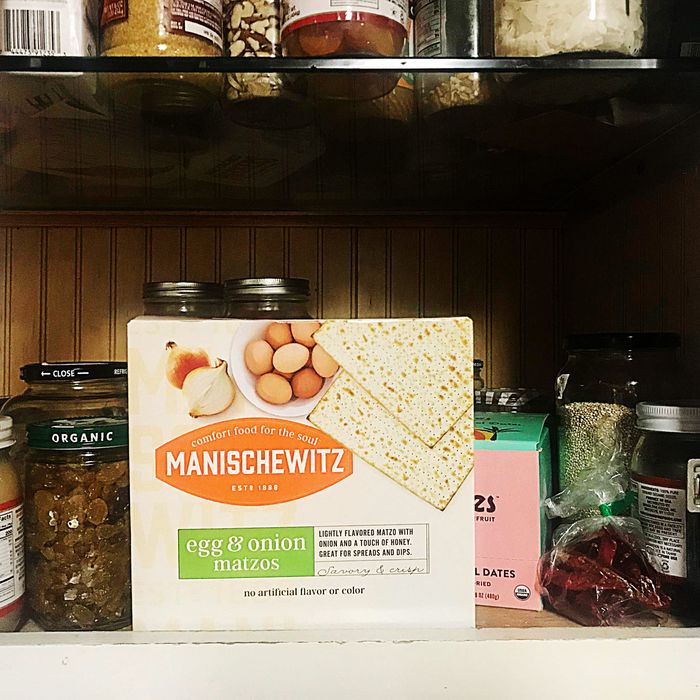 My egg and onion snack of choice displayed in its rightful place: The front of my pantry.
Photo: Kayla Levy
Matzah, the unleavened "cracker" that's traditionally eaten during Passover, is not tasty. And before I accidentally incite an argument with revered Jewish cookbook author Joan Nathan (or my grandparents), I will say: There are many matzah byproducts that taste good — as anyone who has eaten matzah-ball soup knows. I've also never left a Passover seder with want for food, with the many courses of kugel, tzimmes, vegetables, and flourless chocolate cake. It's just that matzah, the so-called star of the show, leaves a lot to be desired.
The reason matzah takes center stage at Passover is because it is forbidden to eat any "leavened bread," also known as "chametz" in Hebrew, during the eight-day holiday that commemorates the Jewish freedom from Egyptian slavery, centuries ago. One of matzah's most defining characteristics is that it is flat. It's made with water and flour that has been cooked in extremely hot ovens — and nearly to a crisp — for less than 18 minutes, so it doesn't accidentally ferment or rise. That isn't the makings of a delicious food product. But for eight days, we swap cookies, cakes, sliced bread, sourdough boules, or pizza for matzah, even though many say it tastes like cardboard unless slathered beyond recognition in butter and salt or chocolate and caramel.
Manischewitz's egg-and-onion matzah, however, is delicious, which is why my family eats it year-round. Unlike plain matzah, which has two ingredients, the egg and onion version includes egg yolk, sugar, onion powder, salt, and date honey, albeit in scant amounts. So the two kinds look the same coming out of the box, but the egg-and-onion version tastes completely different. The other difference is that my mother finds the taste of plain matzah to be "horrible," but she eats this egg-and-onion matzah even when it's not Passover.
Depending on where you are, you can also get the matzah delivered by InstaCart or Safeway (as my parents do).
"We always had it in my house," she said, though my grandfather, who doesn't remember buying the exact flavor, did say that it sounds "very good" when I had him pull it up online. "It tastes creamy and salty," describes my mom, adding that she happily eats it without any toppings. (She even admits that on some nights, when she wakes up for a midnight snack, she opts for the matzah: "It just melts in my mouth.") And I agree. On a recent month-long trip home to California, I personally went through two entire boxes, eating pieces for breakfast with avocado, cream cheese, and eggs, just as I would usually do on a bagel, even though it wasn't close to Passover.
Though we may be odd, we Levys aren't alone in our eating habits. As my mom points out, when people used to come over (in the before times), those who saw the matzah in our pantry and "were in the know, were like, 'Oh yeah, that's really good.'" More recently, I spotted an impassioned thread in a 4,000-person Jewish Facebook group of which I'm a member, about where to buy Streit's egg-and-onion matzah — their favorite variety — and though there wasn't much advice on where it could be found, there was a 20-comment discussion about how good it is.
It's worth nothing that some people won't eat this, or any other egg matzah during the seder or holiday, since it has ingredients beyond the flour-and-water of traditional matzah. And though the batches of egg-and-onion matzah I have found both online and in grocery stories this season are kosher, they are not certified kosher for Passover — a common practice by matzah brands that can't afford the cost and labor of keeping their factories certified kosher year round. But it doesn't matter to me, either way: I'll just be eating it — before, during, and after Passover — as a snack.
Another, apparently delicious, egg-and-onion flavored matzah — this one made in New York.
While these "matzo flats" from the Brooklyn-based artisanal matzah brand the Matzo Project are never certified kosher for Passover, they are kosher and they do taste like an everything bagel.
The Strategist is designed to surface the most useful, expert recommendations for things to buy across the vast e-commerce landscape. Some of our latest conquests include the best acne treatments, rolling luggage, pillows for side sleepers, natural anxiety remedies, and bath towels. We update links when possible, but note that deals can expire and all prices are subject to change.