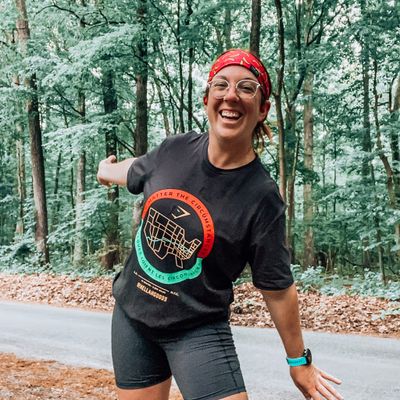 Illustration: Courtesy of the subject
Welcome to "On the Run," a Strategist column in which we ask discerning runners to tell us everything they wore and brought on their most recent run, from shoes and socks to headphones and energy gels. Running-gear preferences are very personal and change depending on the season, so instead of declaring one pair of shorts or one sports bra the categorical best, we hope this series captures what works best for one particular runner on one particular run — and that maybe you can find something in it that works for you, too.
For this installment, I spoke with Erin Azar, known to her more than 60,000 Instagram followers and over 600,000 TikTok followers as Mrs. Space Cadet. Azar started running to get out of a postpartum funk after she had her third child two years ago. "I think I barely got to a mile, but I felt a little relief," she says of her first run, so she kept going. She started documenting her journey on YouTube and eventually moved to TikTok in the hopes of "finding some other slow-running friends that look like me." As Azar, whose long-run pace is around 13 minutes per mile, explains, "Everything on social media at that time was very fit people running seven-minute miles, so I posted on TikTok, and it blew up instantly to over a million views. I realized, Wow, there's a lot of people like me, so I've been doing that ever since." She recently finished an 18-mile race and is now training for the New York City Marathon in November. Here, she shares everything she wore on a 14-mile hilly run in Berks County, Pennsylvania, in preparation for her big upcoming events.
"I went to get fitted for shoes when I first started running, and Brooks was one of the brands that they suggested and I've been in love with them ever since," Azar says. She explains that her feet are wide and short and that even some wide-width shoes still feel narrow around her toes. But with the Brooks Ghost, there is enough room. "Nothing is squished," she adds. Her current pair is black and gray, which is surprising considering her many colorful running outfits, but she's due for a new pair and says she "might get a little adventurous and get one of the cute prints next time."
Like many new runners, Azar didn't understand the importance of a sport-specific sock when she first started training. She tried a few from her local specialty running store, including this pair from Balega. "I was astonished at how much they cost, but once I put them on and did some long runs, I noticed a huge difference," she says. "The socks that I get from Costco would make my feet kind of gross and sweaty and blistery, whereas if I wear a breathable sock, my feet do a lot better." Not only do these keep her feet dry thanks to the brand's proprietary Drynamix moisture-wicking fibers, but they are also cushioned and, according to Azar, don't rub on the skin or cause blisters.
Azar wasn't always a shorts person. "I always wore leggings because shorts rode up and I would get thigh chafing, and it would just annoy me. I would get really angry having to pull them down, so I just never wore shorts," she says. She eventually found these bike shorts from Her Tribe that stay put because of their longer length. They come in a five- and seven-inch version. Azar has both, but she wore the seven-inchers on this run. She likes how deep the pockets are and how the waistband is high without sacrificing comfort. The brand is size inclusive and carries up to 4XL in these shorts. "I am obsessed, and now I wear shorts all the time," says Azar.
Azar has a few different styles of Calia tank tops but went with the crossed-back one for this sunny run. "It's a bit higher on your chest, which I like for more protection from the sun," she says. She tells us the top's fabric is very soft, but what she likes most is the fit. "A lot of tank tops aren't cut for someone with mom boobs and a bigger stomach," she says. "These are just really comfortable for my shape."
Even if you're not a heavy sweater normally, a 14-mile run will definitely have you dripping. Azar likes wearing this Brooks bra because of how breathable it is. "It has little details on it that make it more breathable for airflow," she says, referencing the mesh panels and cutouts. She also likes the feel of the bra's polyester-and-spandex-blend fabric. "It's super-supersmooth, and I find that I chafe way less when I wear these bras." A layer of quick-drying fabric also means she won't be drenched in sweat post-run.
"I used to actually drive and just drop water along the routes," Azar says. When that became too much of a time suck, she started looking into hydration vests and settled on this one from Nathan Sports. "It's super-lightweight," she says. "I didn't like the ones that only have that big bladder. That can get really heavy." Instead of one big bladder in the back, this vest features two 20-ounce collapsible bottles tucked into the front straps. It has room for a 1.5-liter bladder if you desire, but when you're a running influencer, that can get in the way. "Because I film everything, I don't want to hear the water sloshing and the vest bouncing around in the videos," she says.
"I must have a weird head shape because all sweatbands slowly slide off my head," says Azar. She doesn't have that problem with TreadBands, though. "They have this tiny little nonslip grip on them, and they absorb a lot of sweat, which is important," she says, which also means she has less sunscreen streaming down her face when she runs. Not only are the bands functional, but they're fun. Azar loves the different prints, like this taco one, and that they're made in her home state of Pennsylvania.
Azar learned from a running coach that you need fuel to keep going on long runs. She started running with fruit snacks but wanted something easier to eat while moving. "That's why I started using GU," she says. "You can rip it open with your teeth with one hand and just squirt it in your mouth, and you don't even have to chew. It gives you the energy and electrolytes you need." There are lots of different energy gels on the market, but this brand tops our list of the best, as tested by our resident runner and senior writer Karen Iorio Adelson. Strawberry banana and chocolate are Azar's favorite GU flavors.
When breaking in a new pair of shoes, Azar rubs this in the spots where she is prone to blisters in order to stop them from forming. It also works to prevent chafing in other areas; she now wears the balm on her bra line and wherever her hydration pack touches her skin.
Prior to starting her running journey, Azar had a Fitbit, but she finds this Garmin watch easier to use and likes how it gives her more of the metrics she wants. "It's a real quick one-button start to begin my run," she says. "It has an auto-pause feature, which I really like, and the Garmin Connect app is really easy too: You can open it up, and it summarizes your whole day — your run, your sleep, and whatever else you want on your main screen there." Azar takes her phone with her on runs so that she can record, but this watch has a music feature that plays Spotify directly so you can leave your phone at home.
Goodr sunglasses are an "absolute staple" in Azar's run routine. "They don't slip or bounce around, they come in fun colors and styles, and are super-affordable," she says. All the brand's sunglasses are polarized, which blocks harmful UVA and UVB rays and reduces glare.
We first heard of AfterShokz headphones when our associate editor Louis Cheslaw told us about how they allow him to listen to music as well as hear traffic during his bike rides. They sit on the outside of the ear, which is great for Azar, who "hates wearing things in my ears." She can both listen to music and hear oncoming traffic or animals in the woods. The headphones are also waterproof, which is key for Azar. "I stopped listening to music for a while because I would sweat so much and it would ruin the headphones, so I'm obsessed with the AfterShokz," says Azar (the brand is one of her sponsors). Not only are they comfortable enough to wear on long runs, but thanks to the eight-hour life of the battery, she says they'll "last you a whole marathon, even if you run really slow, without having to charge it."
The Strategist is designed to surface the most useful, expert recommendations for things to buy across the vast e-commerce landscape. Some of our latest conquests include the best acne treatments, rolling luggage, pillows for side sleepers, natural anxiety remedies, and bath towels. We update links when possible, but note that deals can expire and all prices are subject to change.