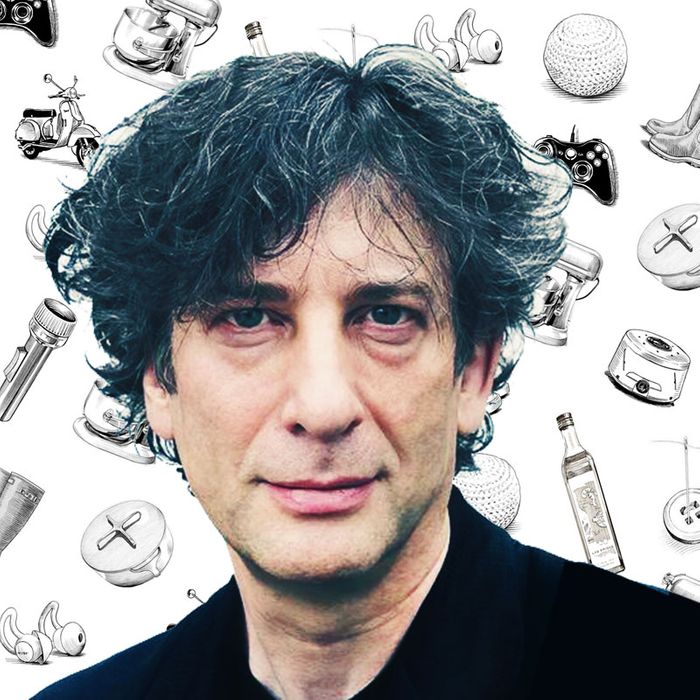 Photo-Illustration: retailers
If you're like us, you've probably wondered what famous people add to their carts. Not the JAR brooch and Louis XV chair but the hairspray and the electric toothbrush. We asked author Neil Gaiman — whose new collection, The Neil Gaiman Reader, published this fall — about the boots, notebook, and books he can't live without.
It was in 1994 or 1995, after I decided to write my novel Stardust, when I bought my first fountain pen. In my head, I wanted Stardust to feel as if it was written in the 1920s, so I went and bought a big leather-bound notebook and a fountain pen. I then discovered the fairly sensual joy of using one and how much I enjoy the ritual that goes along with it, like filling the pen. Then I discovered that when I sign things with a fountain pen it makes my handwriting pretty, if not possibly illegible. Eventually I went completely over to the fountain-pen side. My favorite fountain pen for the past decade has been a Pilot 823. My favorite ink is Mont Blanc Bordeaux, but they've discontinued that, so I'm hunting for a new one.
It's just a better notebook. I used to use Moleskines, and then the Moleskine paper got thinner, so I switched over to the Leuchtturm. Joe Hill, the author, said, "Try these, they're better." And they are. I love how the brand sort of thought through ways of making its product better. For example, the Leuchtturm notebook comes with stick-on things that you can put down the side and on the cover so you know what's inside. The pages are numbered and there's a space on the top for a date, which regular notebooks don't have. Its first pages include a contents list, so you can put down your page numbers and the topics they cover. It feels really well-designed.
I'm in Scotland, on Skye, and every couple of days I make either a loaf of bread or seven bagels with rye flour and the sourdough starter I bought when I got here. I've actually gotten really good at sourdough bagels and loaves. The recipe has evolved over the last seven months to the point where it has rye flour, barley flour, buckwheat, and sourdough. It works like a dream. A couple of days ago, I did something that I've always heard people do with sourdough, but I'd never done. An archeologist was passing by my house — there are a lot of archaeological sights here — and we were chatting and she mentioned that the sourdough starter she had for a couple years died days before. So I said, "Let me give you some of mine," and I went into the kitchen and got her a jar and presented it to her. Now it will go off and live again.