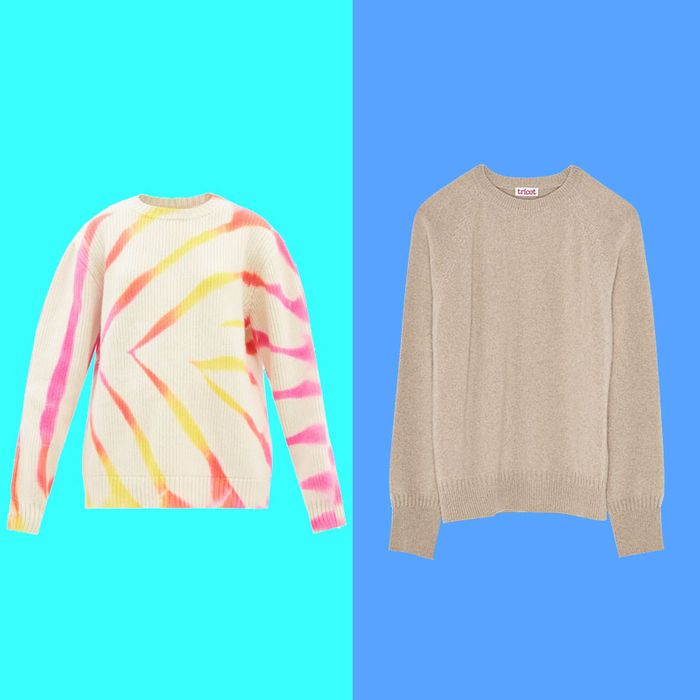 Photo-Illustration: Retailer
We're deep enough into winter that you've identified your most reliable sweaters, and may have noticed a gap in your wardrobe for warm, comfortable, and nice-looking pieces. Cashmere fits the bill — the fiber is the softer and often warmer cousin to sheep's wool, cultivated from the downy undercoat of certain types of goats. If you take good care of it, you can wear it forever. To help you find the right option for you — at the right price too — we asked 12 stylish men about the best cashmere sweaters out there. Below are their favorites including classic cable knits and far-out tie-dyes.
Best under-$100 cashmere sweaters
Naadam came up a lot when we discussed the best cashmere sweaters for women — and men love the brand, too, especially its $75 cashmere sweater. Joel Moore, blogger at Moore His Style, calls Naadam one of his "go-to brands for good quality cashmere." He appreciates how affordable the sweater is while still being "supersoft" and "sustainable." Influencer Steven Sharpe Jr. notes that the brand is "quite dedicated to sustainability and ethical production from start to finish." Naadam offers 14 colors, and Sharpe says they're always true to their descriptions: "If I want an olive-green sweater, I want it to be olive green, not some pale version." He likes that it's "a medium-weight cashmere," good for both layering and wearing alone.
Photo: Retailer
Moore recommends checking out Saks Off 5th for cashmere because "surprisingly enough," the store offers "luxe cashmere sweaters at a discounted price." (Strategist writer Dominique Pariso recommended Saks sweaters for their durability in our roundup of women's cashmere.) He picked up one last year and says "it's still holding up perfectly this season."
Photo: The Strategist; Photo: Retailer
"If you're looking for a cashmere sweater you can wear all day without worrying about ruining it, Uniqlo has some great affordable options," says content creator Steven Fingar. Two other experts suggest looking at Uniqlo as well. Chris Black recommends its navy crewneck sweaters, which he buys "two or three" of every year. Andrew Favorito, public-relations manager for Tatcha, owns five navy Uniqlo cashmere sweaters and says they "get more wear" than the others in his closet. Nicolas Lazaro, community specialist for Grailed, keeps coming back to Uniqlo for cashmere because, as he puts it, they're "light enough for easy layering but not so light that it feels cheap. The quality is the best for the price range," he says. Favorito agrees: For less than 100 bucks, they're soft, comfortable and machine washable — which he says makes them "softer and fluffier." [Editor's note: The Uniqlo cashmere sweater is currently low in stock or sold out in many sizes, but we expect it to return. Turn on email notifications to be informed of a restock.]
Photo: Retailer
"There's so much cashmere that exists" already, says Jacob Gallagher, men's fashion editor at The Wall Street Journal. "It's one of those things that's always been around." He advises that "you can find really good brands really cheap on eBay"; his go-to is Italian brand Gran Sasso. Their sweaters have "a bit of a roomier fit" — "I tend to like more old-man-style stuff," he says — and its polo-neck sweaters "have a really nice structure in the collar."
Best under-$200 cashmere sweaters
Many of our experts love Everlane's cashmere. Watkins says it's "probably one of the best under $200 sweaters." Fingar agrees, saying that "the price point can't be beat" and that it's his "favorite to buy." Watkins likes that it "has a smooth clean look that could be worn for many different occasions" and notes, "The quality is very evident." Sharpe appreciates that, much like Naadam and State, Everlane's clothes are sustainable. This sweater has fewer size options than Naadam — it only goes up to XXL — but it comes in 13 colors.
Photo: Retailer
State also offers affordable cashmere sweaters, and the company has earned a reputation for its $150 option. Moore says they're high quality, made from Mongolian cashmere. This V-neck comes in nine colors and goes up to a size XXL — but if you're not into V-necks, they offer a $150 crewneck too.
Photo: Retailer
Will Taylor, blogger for Bright.Bazaar, recommends this funky, striped cashmere sweater from J.Crew (which also comes in solid colors for 20 bucks less). "As someone who loves stripes, color, and anything soft, this cashmere sweater hits it out of the park," says Taylor. He calls it "the perfect statement sweater" and notes that it's not easy to find a patterned cashmere sweater at this price point.
Photo: Retailer
"Falconeri is known for their cashmere, and it really shows in the craftsmanship of their garments," says Sharpe of this Italian brand. While many of Falconeri's cashmere sweaters are pricey, this one, which was originally $300, is currently on sale for half off and still available in almost all sizes and colors. "This crewneck is a classic — lightweight, soft feel, and comes in a plethora of colors. It's my pick for elevated WFH looks," adds Sharpe. "You can't go wrong."
Photo: Retailer
"Any color of this simple sweater, with a pair of dark jeans, will make you look pulled together even if you don't feel it," says Nick Axelrod-Welk, co-founder of Necessaire. Tricot's recycled cashmere consists of other wasted cashmere garments that are respun with virgin cashmere fibers and knit in Italy, which Axelrod-Welk says he appreciates. This crewneck has the widest range of colors, but Tricot also makes a turtleneck, V-neck, and polo.
Best splurge-worthy cashmere sweaters
Photo: Retailer
"It's often hard to tell why good cashmere costs as much as it does, but not with Leret Leret," says Strategist associate editor Louis Cheslaw. "On top of being one of the few brands stretching the limits of how cashmere can look — with over 38 wild prints including clouds and hemp leaves — they also pay attention to the small stuff like how tightly-ribbed their cuffs are and where the sweater drapes." Cheslaw has had his for six months ("I was gifted it after befriending one of the founders while playing soccer," he says) and reports "zero pilling."