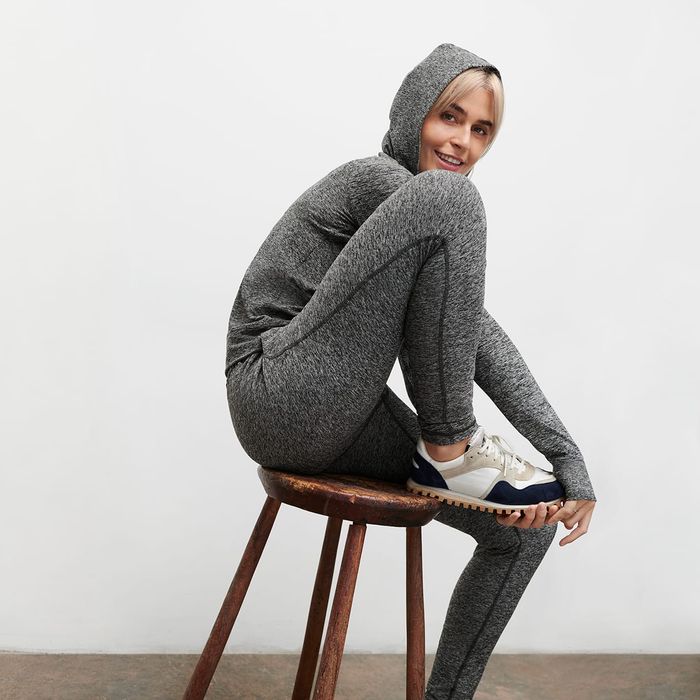 You, too, can be decked out in CloudKnit.
Photo: Courtesy Retailer
If you missed Outdoor Voices's pre-Black Friday sale on leggings, don't fret: Just about everything on their site is still on sale for Cyber Monday. That means you can take 25 percent off the comfortable-yet-flattering CloudKnit sweatpants, the fuzzy MegaFleece for men and women, and just about any pair of leggings you want. (Plus, if you already bought some leggings on-sale earlier this week, now's a good time to get that matching crop top.) The code THANKS25 is applied automatically at checkout — and it applies to already-on-sale items, too.
For women
These Cloudknit sweatpants have become a perennial favorite among Strategist readers, which are soft and stretchy and yet still look nice enough to wear outside the house. According to Great Jones co-founder and former Grub Street editor Sierra Tishgart, the only downside to buying these sweatpants was rationalizing the steep price — and so when they're on sale, it's a no-brainer.
Made of the same material as Sierra's favorite sweatpants, this t-shirt is so soft that one Strategist writer set out to find a cheaper dupe. But now that it's on sale, a dupe is no longer necessary.
You can complete the Cloudknit outfit with this also on-sale hoodie.
Outdoor Voices founder Ty Haney says she can't live without this exercise dress.
These TechSweat leggings came recommended by one professional trainer for low-intensity classes, like barre. But another fitness instructor says they're great for yoga, too. As she explains, "The band at the top reminds me to engage my core without being so tight that they're uncomfortable."
The matching crop top is also on sale — or you can get it in a "neutral" leopard print.
Strategist managing editor Maxine Builder likes these high-waisted, mid-weight warmup leggings so much, she bought two pairs in one month.
They also come in a three-quarter length style.
The color-blocked leggings that launched an athleisure moment are now on sale.
If you're looking to dip a toe into the world of fleece jackets and sweaters, this crewneck is a nice place to start, especially since it's on sale.
This half-zip hoodie with a kangaroo pocket is an even cozier way to wear a fleece.