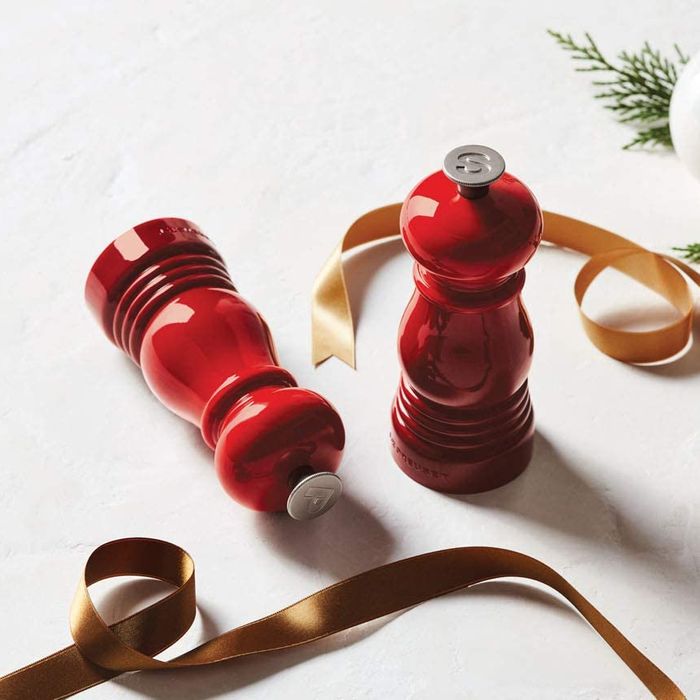 There's a lot to consider when shopping for salt and pepper shakers (or mills, or grinders). Are you focused on function, in search of something that will help put the finishing touch on your culinary masterpiece? Or are you more interested in options that'll look nice atop your kitchen counter or Instagram-worthy tablescape? To find all the best shakers, mills, grinders, and other alternatives out there — for every kind of person — we consulted nearly a dozen chefs and interior designers. Ahead, their recommendations, many of which marry form with function and all of which happen to be highly giftable, too.
Best salt and pepper shakers
These porcelain Jonathan Adler shakers will be a conversation starter on your table — but that's only part of the reason Tiffany Cobb, founder of Tiffany René Interior Design, likes them so much. "I love that these shakers are quirky enough to be taken lightly but sophisticated enough to be taken seriously," she says. "The matte porcelain and alternating black-and-white motif make these shakers a hit." They're also highly giftable (and, if you shop now, on sale).
"If you're looking for the LBD of the condiment world, look no further," says interior designer Elaine Griffin. As she puts it, "These shakers whisper quietly enough to not disturb lavish tablescapes but are also sufficiently sculpturally streamlined to hold their own in a minimalist terrain." And they're actually low maintenance, Griffin adds: "The elegant fluting helps prevent fingerprints," so you won't have to constantly wipe them down after using them.
For something a touch more design-y, Cobb suggests these pomegranate salt and pepper shakers from Michael Aram. Cobb appreciates how Aram's designs "are always so heavily inspired by nature, and the delicate form of these pomegranate shakers is no exception to his intentional approach." As she explains, "Pomegranates are a representation of life in many cultures. Likewise, so much life happens in the kitchen — it's the nucleus of the home." Symbolism aside, these are exceptionally good-looking shakers.
Editor's note: This is currently available for preorder.
Like Griffin, interior designer Leah Alexander also loves Georg Jensen for a "chic" set of salt and pepper shakers. "It reminds me of a prop I might see in a smart, elegant apartment of a rom-com bachelor," she adds. The shape is supposedly ergonomic, so these shakers should be pleasing to hold, too.
For Erin Fetherston, fashion designer turned interior designer, a salt box serves as a wonderful way to serve salt, especially at a dinner party (when those happen again). This is one of her "favorite ways to serve salt." she says. "It's organic, modern sensibility plays well on a table with a simple cutting of eucalyptus greens." It's not as practical for cooking, but if you're looking for a statement piece, this is it.
Best salt and pepper mills and grinders
Many of the chefs (and interior designers) we spoke to recommend Peugeot for truly excellent grinders. "These are tried-and-true pepper and salt mills that I've used for the entirety of my career," says chef and restaurateur Timothy Hollingsworth, who adds that he even collects vintage ones. We've featured the full set here, but you can order them separately as well.
Griffin prefers the Peugeot in this sophisticated walnut, noting that it's the "hottest kitchen finish of the year." The appeal of Peugeot for her is none other than Julia Child, who "relied on Peugeot France's pepper mills in the '60s." And if they're good enough for Child, who aren't they good enough for? As Griffin puts it, "Decades later, they're still delivering style, performance, and chic the way that only the French can. And, boy, do they last."
Three of our experts — both interior designers and chefs — recommend these grinders. Elena Besser, chef and TV host, says they're particularly great for the cook who's "prioritizing style" because "these bottle grinders bring both style and precision. They allow you to adjust the grind size while still looking absolutely beautiful." And Fetherston agrees, saying they're "a great way to inject color into a tablescape." She's fond of the terra-cotta and blush shades, but they come in blue, bronze, and brass as well as in black and white. Alexander appreciates their "simple shape," but her favorite feature is the "thoughtful rubberized grip." As she explains, "I've lost my grip on a salt grinder enough times to appreciate this design."
These salt and pepper mills from Burke Decor remind Chef Shimi Aaron of Jerusalem, which he says is "one of my favorite places in the entire world," due to the "ancient design" and "carved wood." They combine style with substance, Aaron promises, noting that the salt and pepper "comes out evenly and just the right amount."
Aaron recommends these "happy-looking shakers," which are sure to perk up any kitchen or dining table. You can buy them in pairs, as we've featured here, but Aaron says the fun of these Le Creuset mills is the ability to mix and match different colors. (You can see all the available options here.) Above all else, "they work well and they go well with all my Le Creuset and Staub pans and cocottes," Aaron adds.