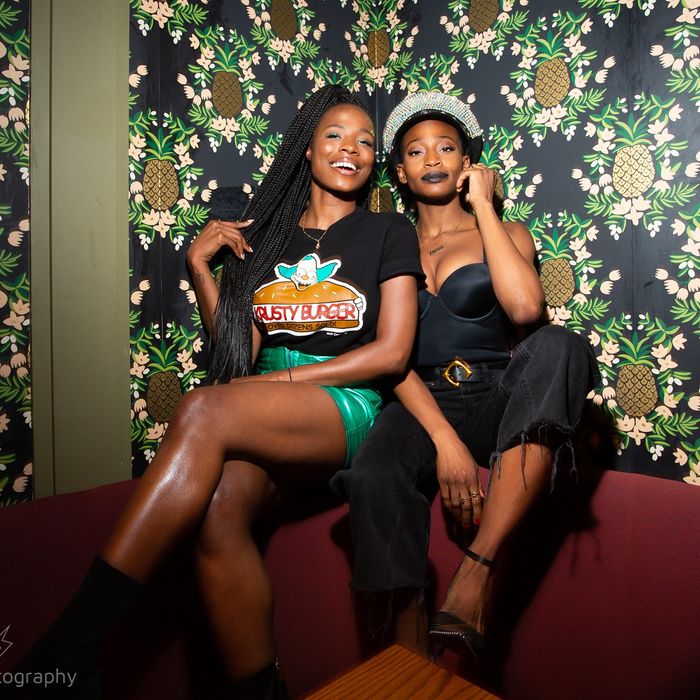 Photo: Photo: JW Photography, Courtesy of Sydnee Washington and Marie Faustin
"Sydnee likes to call us soul mates, which is very aggressive, but it was basically love at first sight," says Marie Faustin of Sydnee Washington, her best friend and co-host of the Unofficial Expert podcast. The two comedians met six years ago at an all-women's open mic and have been inseparable ever since. "We're both very vain, and we're just like, Oh my God. She looks good in photos, we'll get so many likes. And then it just so happened that she was a good person and she was funny, so it worked out," Sydnee says. Below, the two told us what they'd buy for each other as gifts, and their selections run the gamut — from a photo shoot with Dario Calmese (says Marie: "If money is not an issue, let me just pull out all the stops for my home girl") to Bomba Curls (says Sydnee: "My friend needs a little assistance in growing her hair out, and I think this would really help. She could have 28 inches by December").
Marie has a beautiful apartment, and there is a lot of a lot of sunlight, and she has a lot of walls — she's doing well — and I think that this would just go perfect in her apartment. I have something from that collection in my living room, and when she came over she's like, "Oh, this is really nice. I like that," and I was like, Well, if she likes it for me, it's got to be good for her. It's not the same exact thing that I have, but it's from the same place, and she deserves the best.
This candle smells so good, it lasts for a good amount of time, and it's strong. The size that I have is a smaller size and it still fills the room, but I'd give Marie the biggest size possible because she's got a big home. I mean she has an estate, pretty much. [Editor's note: Marie told us that she actually lives in a "small one bedroom."] I would say it's kind of like an amberish, orange smell, and it smells like a sophisticated woman that's also in her late 20s.
Weak edges are Black women's kryptonite, so we're always working on them, and trying something to make them grow or make them as strong as our souls to make them pop. Marie had the big chop last year, and Marie is one of those people who can literally wear any haircut, but she's growing it out. So my friend wants a little assistance in growing her hair out, and I think this would really help. This was recommended to me by somebody whose edges are very moisturized and thriving — I mean, the baby hairs have their own Zip Code. I've been using this oil for two or three months now, and I swear to you, my hair is growing. It's crazy how long it's grown since the pandemic. Marie could have 28 inches by December.
After this freaking year, who doesn't need therapy? We've gone through so much. Me and Marie have talked almost every day, this whole year, for no cost, but I think that everybody — especially Black women — during this time, they deserve someone who is listening to them for an hour, every week, and helping them assess whatever issues or traumas that they're internalizing. I'm not saying that that's what's going on with my friend, but if it is, I would like to provide that for her with my own money. If I had money, I just don't.
[Editor's note: The Unofficial Expert runs ads for Better Help during their podcast.]
I, famously, can skate. My friend, she does it all — but a few things she can't do is bike or skate. She's a very active person, so another way for her to be active is skating. I don't want her to bust her ass, so I think she would need lessons and skates at the same time.
My friend was looking for an air fryer, but they were all goofy and just take up so much space. My friend is wealthy and has beautiful skin and is talented, but she doesn't have counter space, so she needs a little cute air fryer that'll fit that won't look too goofy on her beautiful kitchen countertops, and I think this would be the one.
First of all, both of us have really great skin, but my friend is a smooth-skin beauty queen. Sydnee doesn't drink as much water as she should, but you know, it's not really what's on the inside that counts, it's what's on the outside. When I think of celebrities who have good skin, I think of people like Beyoncé or Gabrielle Union, and they both use this serum. I mean, it's very expensive, but I'm guessing that it's worth it because I read all the reviews. I just want my friend to have something that makes her feel good, something that makes her look good, and something that gives her a little bit of that Beyoncé Giselle Knowles-Carter energy, and if we could do that with a little bottle of oil, then why would I not give that to Sydnee.
Sydnee is famously a lesbian, and we both love plants. Sydnee's apartment is very cool, but it's also very sexy, so I think if we can add to the space, and we have something that is a dual function, then why not get some sexy booty planters? They're kind of like art. I'm sure Sydnee has a million places in her bedroom where she would put them.
I don't really like cats, but Sydnee has two. When I think about cats, I think about big cat furniture that takes up a lot of space, like a cat castle and a litter box. Sydnee has cats that like to lounge, so why not add something to her already cool apartment, like this sexy-ass cat bed? She's got all this awesome lighting — we call it sex lighting — so I think that this little cat bed would match the fly of the rest of the apartment. It goes a little bit better than what's in there right now, friend.
Last year — famously — I took an "eat, pray, hoe" trip through Europe. I ate, and I prayed I wouldn't get kidnapped, and I was a hoe, allegedly. Sydnee got me therapy, but I think that there's something beyond therapy. Sometimes you need just a beautiful, quiet place, and to not be in your house and reflect on a terrible year. If we're gonna have to self-quarantine, or be away from people, why not be in a beautiful space with good light that makes you feel like you're in a different world? I would love that for my friend, I would love that for myself, I would love that for everybody. I, of course, am not going to pay for the flight to Bali because I'm not made of money, but Bali has really cool Airbnbs, and the one that I found is kind of like a tree house, on a cliff in front of a lake, and it's $120 a night. I got a couple dollars that I can spend on my friend — maybe four days, three nights.
Dario Calmese is a history-making Black photographer. He was the first Black photographer to shoot the cover of Vanity Fair. They love an Annie Leibovitz, but I think it's important to work with a Black photographer or a Black makeup artist or a Black lighting person because they just know how to make our skin look the best that it could possibly look. Sydnee is photogenic as fuck, so she actually doesn't need this photographer, but if money ain't a thing, I want my friend to look the best and feel the best, and be able to look back and remember this moment. Sometimes you just need to have hot photos of yourself for yourself — not even to post, just so you can look back and be like, Remember, when I killed the game?
The Strategist is designed to surface the most useful, expert recommendations for things to buy across the vast e-commerce landscape. Some of our latest conquests include the best acne treatments, rolling luggage, pillows for side sleepers, natural anxiety remedies, and bath towels. We update links when possible, but note that deals can expire and all prices are subject to change.