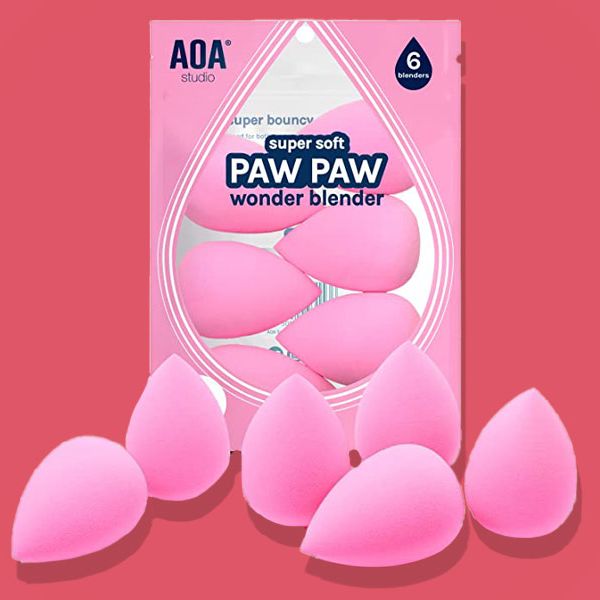 Photo-Illustration: The Strategist;Photo: Retailer
Over the years, Beauty Blender's bouncy, egg-shaped makeup sponge has transcended its status as the makeup tool of the moment and cemented itself in the industry as a beauty staple. To put it into perspective, I've seldom met a makeup artist who isn't equipped with at least one in their kit, but what's perhaps more astounding is that I've noticed most makeup owners in general seem to own one, whether they are occasional wearers of makeup or passionate beauty obsessives like myself. But there are a couple reasons for the sponge's vast popularity and that explain why 17 are sold every minute globally: It can be used for all cream-based products (including foundations, concealers, cream blushes, etc.), and the Beauty Blender's plush and porous texture applies makeup in an efficient and seamless way. Despite being a sponge, it actually doesn't soak up too much product, and it manages to bounce and distribute product across the skin in such a way that it settles with a natural-looking, non-cakey finish. After asking a few Beauty Blender owners why they prefer it over other makeup tools, I learned that in comparison to makeup brushes, folks seems to think that beauty blenders come across as more user friendly and non-fussy. Makeup brushes seem more professional and intimidating, and there are hundreds of different shapes and sizes to choose from, but Beauty Blenders are one size, and there's no real technique or finesse behind application — just dampen the sponge and bounce the product into your skin, blending it out until you like the way it looks.
If you walk into just about any drugstore, it won't take long for you to find about a dozen interpretations of the beauty blender from a wide variety of brands. The brand-name Beauty Blenders are expensive (about $20 a sponge), and for a product that appears to be so simple and that's so commonly replicated, you'd think a solid dupe would be fairly easy to come by. As it turns out, though, that's far from the truth — according to Reddit, the most commonly suggested drugstore alternative for the Beauty Blender is Real Technique's makeup sponge, which, when you compare them side-to-side, is quite hard to believe. Real Technique's sponge is significantly stiffer and also has a flat edge, so the feeling of the sponge as well as the way it buffs product into the skin are pretty much nothing like the experience of using the Beauty Blender. Another recommendation that I found on TikTok is the L'Oreal Infallible Foundation Blender, which is more pear shaped and less soft.
It's no secret that I love a dupe, so as you can imagine, I'd long been casually purchasing sponges here and there in the hopes that one day I might stumble across a great Beauty Blender alternative. But honestly, what suddenly lit the fire beneath me to track down the perfect, wallet-friendly dupe is a string of unfortunate events involving my youngest cat, Pudding, who for some reason suddenly took a shining to my Beauty Blenders, pawing open drawers and digging into my bags in order to drag them out, chewing and shredding them to bits, and hiding their corpses underneath my sofa. I'll be frank: I'm bad at disciplining my cats, and they walk all over me (sometimes quite literally!), but watching more than $20 go down the drain each time I found a mangled Beauty Blender on the floor of my apartment quickly became too painful to bear. Thanks to Pudding's mischievous ways and disrespect toward my belongings, I'd never been so invested in finding a dupe in my life.
When I'm hunting for dupes, I'll typically do tons of research on Reddit and TikTok, as well as crowdsourcing advice from friends and colleagues, before I start my actual trial period. But in this particular case (probably due to the level of panic and sunk costs involved here), I just ordered a bunch of beauty sponges from Amazon and Target with very little thought. The first few I tested were duds — some looked the same but were too stiff, and others were the right amount of softness but a slightly different shape. However, when I tried the Paw Paw sponges, I knew immediately I'd found the perfect dupe, so much so that I had to double check I hadn't accidentally confused it with one of my real beauty blenders.
Aesthetically and texturally, it's pretty darn difficult to tell the difference between the OG Beauty Blender and the Paw Paw sponge. In an attempt to find some differences, I did an entire makeup look — including a skin tint, blush, bronzer, and highlighter — using each sponge on different sides of my face, but when I examined the mirror once I finished I saw that the end result was completely and totally symmetrical, as if I'd used the same sponge on both sides. I tried hard to find what set them apart, and after a few weeks of obsessive testing I've deduced that the Paw Paw sponge is ever so slightly more pillowy and soft, which is actually preferable when using the sponge for base makeup, as I feel it buffs the product out more seamlessly when it's gently pressed into the skin. If I were really nitpicking here, I guess I would also say that that the shade of pink of the Paw Paw sponge is more blue toned than the Beauty Blender, but … that's a bit of a reach.
Of course, beyond aesthetics, there is one big difference between the Beauty Blender and its competitor: The Paw Paw sponge is a fraction of the price. For less than $10 you get a packet of six identical sponges, which is much less than you'd pay for a single Beauty Blender at Sephora.
With the introduction of these sponges into my life, it's hard to imagine a time where I'd opt to purchase the original Beauty Blender over these lovely, wallet-friendly alternatives. A friend of mine with whom I shared this discovery begged me not to write this article: If the Paw Paw sponges become scarce, past experience suggests that it will be difficult to find a product that's similar to the original. But alas, sharing is caring. And while I've started putting my Paw Paw blenders in a maximum-security drawer, in the rare instance that Pudding does sniff one out like a truffle pig and shred it to pieces, it's a little less upsetting.
The Strategist is designed to surface the most useful, expert recommendations for things to buy across the vast e-commerce landscape. Some of our latest conquests include the best acne treatments, rolling luggage, pillows for side sleepers, natural anxiety remedies, and bath towels. We update links when possible, but note that deals can expire and all prices are subject to change.