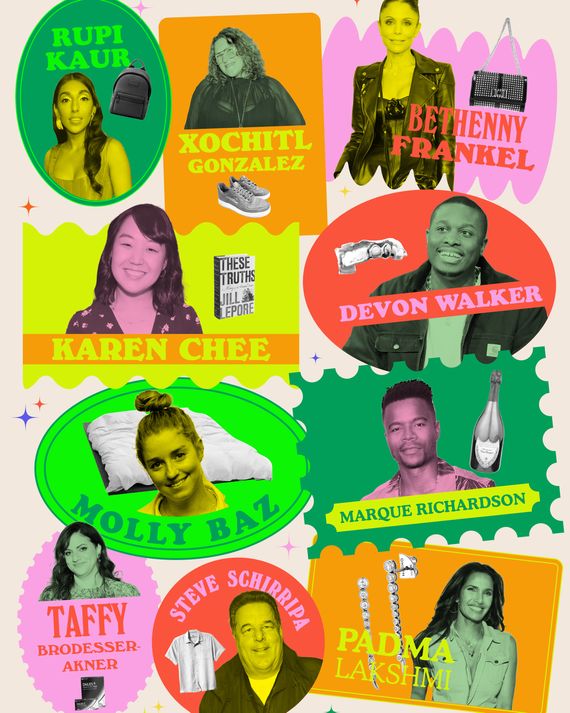 Photo-Illustration: the Strategist; Photos
If you've dreamt of booking a Broadway show, signing to a professional sports league, becoming CEO of your own company, or hosting a show on national television, you may have also spent some time imagining the many benefits that come with making it big: professional fulfillment, personal pride, critical acclaim, and, of course, a good, solid paycheck. And in some ways, fantasizing what to do with that first big chunk of money can be as exciting as doing the thing itself.
So we asked 15 notable people — who have made it as business owners, actors, screenwriters, authors, and more — to tell us about the one thing they splurged on when they finally hit the big time. Some went the classically flashy route, with gold jewelry, bottles of Champagne, and designer sunglasses. But many of them opted for more quotidian luxuries, like buttery bedsheets, a hardcover book, and a truly fantastic toilet.
Even though some of the celebrities we spoke with chafed at the idea that they'd "made it," all were happy to share the items that they dreamt of getting for themselves — and, gratefully, finally did.
"I had just sold my business and was in Dallas at a mall and saw this amazing glittering bag in the store. I wasn't one who could afford to pay retail; an $1,800 bag was not something you could just buy. I asked my business managers if I could afford it, and it's had tremendous meaning ever since."
Padma Lakshmi
Creator of Taste the Nation
"In the mid '90s, when I first made enough money as a model, I bought a pair of diamond earrings for about $700 that I still wear. I saw them in a hotel gift shop, and I remember feeling financially empowered enough at the time to say, 'I really like these and I want to buy them for myself.' The diamonds are tiny, and there's a long string of just five to six of them in a vertical row." Read more about Padma's other splurges here.
"From the time I was in my 20s, I always said that I'd know I arrived when I finally was able to buy daily contact lenses — the kind that you dispose of every day. Once I got my first payment for the TV show, the first thing I did was order dailies — particularly Alcon Dailies for my astigmatism — from my optometrist." Read more about Taffy's daily contacts here.
"I had been dreaming of the day I could fly in the front of the plane. The special access through security, the two free checked bags, complimentary meals (not just li'l bags of chips; a whole meal), the top-tier service, and that Delta Sky lounge?! They got showers in there, y'all! But when I hit the button that turned my chair into a bed for the first time, and took the best nap in my life damn near 50,000 feet up in the air, that's when I knew I made it, baby. I bought this weighted eye mask for the flight — the special weight of it gives the feeling of a gentle hug during my siestas in the air."
Devon Walker
Comedian, TV Writer, and Featured Player on SNL Season 48
"When I got my first ever TV job writing for Big Mouth, I bought a bunch of gold teeth. I'm from Texas, and having gold in your teeth always seemed so fly to me. When I got hired at SNL, I didn't spend a ton of money on anything all season. But now that the season is over, I took my first-ever European trip. Went to London and saw Beyoncé, and now I'm literally in Italy as I'm typing this. As it turns out, having money is tight. Not enough people talk about that."
"First thing I splurged on when I 'made it' was taking my family on our first family vacation. We went to Jamaica, and I got this backpack from Dagne Dover. This was six years ago, and I've had and used this backpack every day since. It's been on multiple tours and around the world with me. My longest travel companion."
"I had my eye on a recently published book called These Truths, by Jill Lepore. It was early 2019, and I'd just gotten staffed at Late Night With Seth Meyers. Until that point, I always got books secondhand or from the library — I think I was third on the library wait list for These Truths? Sounds quick, but the book is about 900 pages long. I was complaining about it to a friend over drinks when he declared, 'Karen, you can afford this.' So we marched over from the bar to the Strand, where I triumphantly paid 40 bucks for a brand-new copy of These Truths. Forty bucks! For a hardcover! Decadence itself."
Molly Baz
Cookbook Author, Recipe Developer, and Video Host
"My gift to myself after signing my second book deal was in some ways the gift of rest, something I knew I was going to need a lot of to pull another book off. I splurged on a brand-new set of Tekla bedding — I love Tekla, but it's not cheap! — and went for the whole shebammy. Duvet cover, pillow covers, top and bottom sheets. … They were all the color of butter." Read more about Molly's bedsheets here.
"In 1992, I got the role of Billie Reed on Days of Our Lives, and I turned in my Red Isuzu trooper for a Range Rover. That's when I felt like I had made it. And I got Gucci sunglasses, too."
"​​I remember in my early 20s I saw these Persol glasses, the foldable ones. They looked so elegant to me. Chic, unique. At the time, they were way out of my price range. I was just starting out, hadn't made it yet, but felt confident that one day I would. Now, with the success of M3GAN, Will & Grace, and my own online work, I can happily say that I'm the proud owner of two different pairs of Persols."
"After the very first time I sold out on QVC, in 1997, I didn't really treat myself to anything because I put every dollar back into the business. But when I sold part of my company in 2012, I bought myself a co-op apartment in Sutton Place, the first apartment I ever owned, and I did get the queen of all toilets: the Toto Neorest. Not only did I want it because it warms your bum, but it is a bidet too and the toilet cleans itself." Read more about Laura's toilet here.
"First thing I splurged on was a new pool at my house in Vegas. Then I paid the house off figuring if The Sopranos killed me off, I'll always have somewhere to live. Also I've always worn Tommy Bahama; when I was made a series regular, I bought myself all the shirt styles and colors I like, including this one."
Xochitl Gonzalez
Author of Olga Dies Dreaming
"My debut novel sold when I was in Iowa City getting my M.F.A. So it was a lot of excitement, and probably in New York, we would have gone and made it rain at a fabulous restaurant. But instead a couple of my classmates and I went to a kind of 'fancy' diner in Coralville. It didn't feel festive enough, so like a true Brooklyn girl, I went online and made myself a custom pair of all-olive green Nike Air Maxs to mark the occasion. They had my initials on one heel and BK on the other." Read more about Xochitl's other splurges here.
"I don't feel like I've 'made it big' yet, but I remember last season of Dear White People, we renegotiated a fair deal, and I bought bottles of Dom Pérignon for my team and crew members. It was a joy to celebrate a completion and a new chapter in my career. What better way to do it than with some fancy Champ?"
"I can't say I feel that I've hit the big time, but when I flew to Boston and took my dad to a Celtics game at the TD Garden during COVID, I felt like I'd achieved something … For the price of the tickets, I could have paid my mortgage or flown to Japan. But it felt like it might be the only time I would sit courtside with my dad and watch our home team. We lost to the Phoenix Suns, but it was totally worth it." Read more about Ottessa's trip to see the Boston Celtics here.
The Strategist is designed to surface the most useful, expert recommendations for things to buy across the vast e-commerce landscape. Some of our latest conquests include the best acne treatments, rolling luggage, pillows for side sleepers, natural anxiety remedies, and bath towels. We update links when possible, but note that deals can expire and all prices are subject to change.