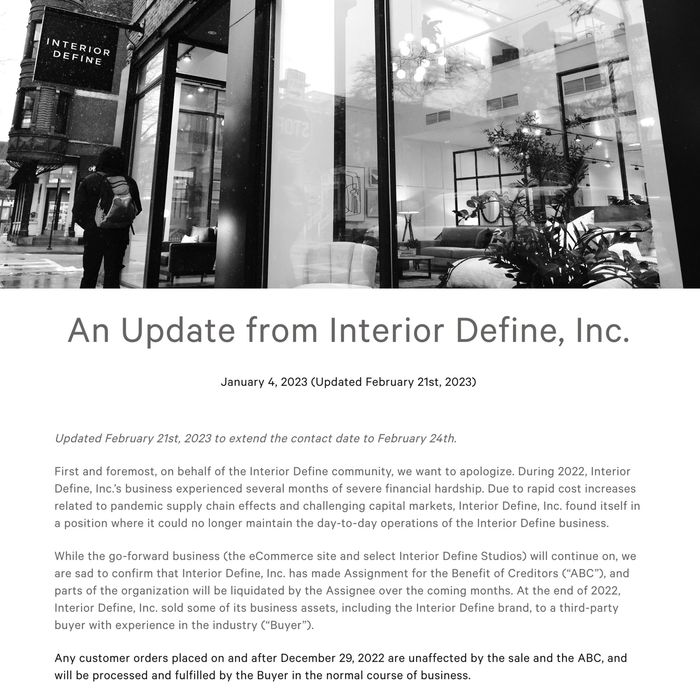 Photo-Illustration: The Strategist;Photos: Getty Images
I was on Snowe's website recently when I noticed something troubling: A bunch of the brand's best sellers — such as its percale sheets, duvet cover, and bathrobe — seemed to be out of stock or on perma-backorder when I checked over the course of a few months. Soon after, Business of Home confirmed my suspicions, reporting that Snowe had been struggling to fulfill orders since late 2021 and had been acquired by a new company that was eventually able to issue refunds to customers waiting on long-overdue purchases.
While most COVID-related supply-chain issues have been resolved or at least diminished, some companies like Snowe haven't fared so well, going radio silent (Birchbox), filing for bankruptcy (Morphe), or leaving a lot of angry buyers without the couches they'd already paid for (Interior Define). So what can customers do when a business that owes them goods goes out of business?
The answer, as you might expect, is complicated. To help you navigate this tricky situation, I talked to Adam Rogoff, a partner at Kramer Levin specializing in bankruptcy and corporate restructuring, and Ira Rheingold, executive director of the National Association of Consumer Advocates, about what rights consumers have and what they can do to get their money back.
What can I do if a company that goes out of business owes me money?
I know this isn't what you're hoping for, but the answer is … hold tight until it reaches out to you.
There are a few routes a company can take when it goes into bankruptcy, most of which are going to require some waiting before you see a cent — though the good news is that customers have priority for getting paid back, especially when the plan is to get back into business (though it might not be the full amount you put down). Under Chapter 11 laws, the money owed to customers becomes a "priority claim," Rogoff says. For example, "If an individual wants a $10,000 couch and puts down $5,000 as a deposit, and then the company files for bankruptcy, at least $3,350 of that deposit would be considered a priority claim that would have to be paid in full in connection with a Chapter 11 plan." If a company pays these priority claims in full, it can come out of Chapter 11 bankruptcy as a reorganized business and resume operations.
Or, if a company chooses to liquidate its assets without starting back up, you still have a priority claim. "If you're a customer and you see that the retailer is going to exit the bankruptcy with a Chapter 11 plan, whether it's a plan of reorganization or plan of liquidation, it means that your priority deposit claim has to be paid in full," Rogoff says. If a company can't pay these priority claims, it can also ask the court for permission to use special funds negotiated as part of a bankruptcy budget instead.
The one instance in which you're less likely to get your money back is if a company is sold to a buyer that wants to continue the business. They can decide to take on those outstanding obligations, but they don't have to. In the case of Interior Define, the brand's new owner, Havenly, has said there's a chance that not all orders placed before December 29, 2022, will be fulfilled. "I don't have a legal liability to fulfill furniture," says Lee Mayer, Havenly's co-founder and CEO. "I just feel like it's ethical and the right thing to do for the brand. We just don't have the ability to fulfill all those obligations."
Okay, I've heard from them. What do I do now?
Let's go back to the example of the person who put down a $5,000 deposit on a couch. The company will send them a letter acknowledging that amount and ask if they'd like to pursue what's owed to them (up to $3,350); to redeem those funds, the customer must file a "proof of claim" by a certain deadline, known as a bar date. But "the onus will always be on the customer to stay informed," Rogoff says, so you might want to keep an eye out for notices or FAQs posted on a brand's website or, if stores are still open, check with a manager or staff member to see what's going on.
All of this sounds really overwhelming and out of my control! Is there any action I can personally take instead of waiting around?
"If you paid with your credit card, you can simply dispute the charge with the credit-card company because the goods were not delivered," Rheingold says. "Typically that's a dispute you'll win and they will not charge your account." But if you paid with cash or a debit card, there's not much else you can do — and if you went through a third-party loan service like Affirm, it'll also be more difficult to get a refund. When dealing with a "buy now, pay later" service, however, Rheingold says you could again try disputing the charge by explaining that you paid for goods that never came.
What if I'm just really mad about a company that owes me money shutting down without any sort of communication?
Most companies should have some sort of plan in place, whether through formal bankruptcy or liquidation, but if you're not hearing from them, Rheingold suggests filing a complaint with the Consumer Financial Protection Bureau using this link, or with your local attorney general's office. (Each state has its own process, which you should be able to find on your local AG's website.) "It's not going to give you an answer right away, and it's not going to get your money back, but if enough people do it, the attorney general might take action and help get some money back for you," Rheingold says.
And while dealing with a shuttered company can be frustrating, remember that as a customer, you have some priority if the business wants to continue or a new buyer wants to preserve what brand loyalty it has left, Rogoff says. "When the company starts paying claims in the waterfall," he says, "they're able to at least fill the customer bucket first."
The Strategist is designed to surface the most useful, expert recommendations for things to buy across the vast e-commerce landscape. Some of our latest conquests include the best acne treatments, rolling luggage, pillows for side sleepers, natural anxiety remedies, and bath towels. We update links when possible, but note that deals can expire and all prices are subject to change.