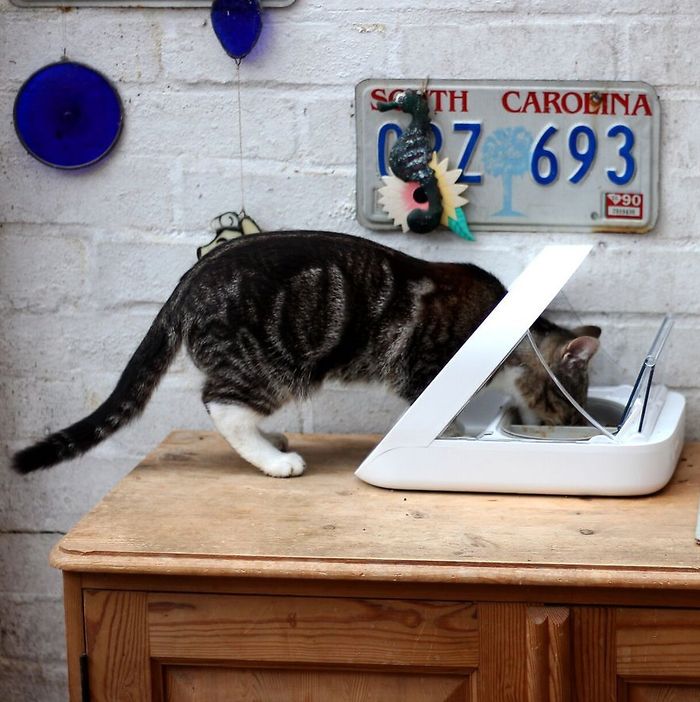 Photo: Courtesy of the retailer
If you're a pet owner, your daily schedule revolves, to some degree, around your four-legged's demands. Maybe it's your cat waking you up when she decides it's breakfast time or your plane landing too late for you to give the dog dinner. Automatic feeders, which dispense pre-portioned meals at designated times, can help lighten the load.
Best for cats and small dogs (most feeders don't have the capacity for the bigger portions and larger kibble size required for large dogs), automatic feeders are also useful for spacing meals out during the day if you have a pet with poor impulse control, or even maintaining individual pets' diets in a multi-pet home. "They save a lot of people a lot of time and worry because it allows them to live a little bit more freely," says veterinarian Dr. Carly Fox, a staff doctor at Animal Medical Center. Like feeders, water fountains keep a steam of running water flowing all day and encourage pets to stay hydrated.
They're no replacement for your love and care (Fox says even with an automatic feeder and water fountain, you should never leave cats alone for more than 24 hours or dogs — that don't need to be walked outside — for more than 12 hours), these devices make life a little easier when you're stuck at work late. Below, we've rounded up a selection of the best ones out there, recommended by vets and other animal experts.
Best automatic feeder for multi-pet households
According to Fox, automatic feeders are a lifesaver in multi-pet households where one pet is on a portion-controlled or prescription diet. To ensure each cat or dog is receiving the correct meals, she likes this feeder that uses RFID-scanning technology to recognize an individual pet based on his or her microchip or collar tag. Once it identifies the correct animal is at the bowl, the feeder dispenses their personalized food type and portion size. "It's a great solution for making sure each pet gets the right food and doesn't eat their siblings' food," says Nikki Naser, resident pet expert at Chewy. "They even include a booklet that gives in-depth training instructions for pets who are reluctant to try it."
Similarly, the veterinarian-backed PortionProRx will deny access to any "unauthorized pet," preventing food stealing between pets. Veterinarian Dr. Justin Shmalberg, a board-certified veterinary nutritionist and chief nutrition officer at made-to-order fresh pet food company NomNomNow, says that while he hasn't used it personally it has "the support of some vets who have done a lot of work on the obesity epidemic." Nicole Ellis, a dog trainer at Rover, is a fan of the feeder's precisely measured portions and secure compartments.
Best automatic feeders with voice recording
Being home alone is stressful for pets, especially during mealtime. "[Animals] know when they're supposed to eat and if you're not home for that period of time when their alarm bell goes off, they can be destructive to your house because they become anxious," says Fox. It doesn't replace you actually being home, but something as simple as the sound of your voice can be very soothing. With this feeder, mentioned by both Naser and Ellis, you can record a brief message calling your pet to the bowl at meal time. Program the feeder for up to four daily meals — each one signaled with your personalized recording.
The Westlink feeder also lets you record a mealtime message for your pet, and it's one of the larger options out there. Kerrie McKeon, resident cat expert at the animal welfare and adoption organization Bideawee, says, "with a six-liter capacity, your kitty will have plenty of meal times ready to go and the timer will keep those meals spaced perfectly." It's a far better option than simply dumping a day's worth of food into your pet's down each day. "The problem with leaving piles of food out and around is it's an open invitation to bugs and other pests, and it can be harmful for diabetic or overweight cats," says Daniel Rotman founder and CEO of PrettyLitter and PrettyPlease.
Best smart automatic feeders
If you already control your thermostat and your coffee maker with an app on your phone, why not your pet feeder? If you're running late at work and won't be home by your cat's dinnertime, simply tap a button on your phone, from wherever you are, and this feeder, recommended by Fox, will dispense a meal. "It's basically the same as if you were actually home feeding them which is unbelievable," she says. "You can set feeding time and adjust portions and also it updates you on your cat's eating." Naser likes that it lets you program up to 12 meals a day of different portion sizes — a feature Fox says to look for in a feeder: "It allows you to feed smaller meals throughout the day which can keep them a little more satiated and prevent them from gorging themselves."
Another smart feeder, this one singled out by Scott Bleicher, founder of Stray Cat Social Club, the Petnet actually recommends portion size and meal frequency based on your pet's age, weight, and breed, along with making it easier to feed your pet when you're not home. "It will kind of like let you know when your cat comes to eat, when it dispenses food, and when the reservoir is low on food and you have to refill it," says Bleicher. "And you can also hit a button on the app to manually dispense food." Plus, it's voice-activated when connected to an Amazon Alexa or Google Assistant.
Best smart automatic feeder with a camera
A step up from your basic smart feeder, this model from Wagz has a built-in HD camera to check up on your pets when you can't be home with them. McKeon says, "[it] allows you to livestream with your pet, interact with your dog on the go, and set feeding schedules from your smartphone."
Best automatic feeders for wet food
One drawback that veterinarians and experts note about automatic feeders is that they're primarily designed to dispense dry food which, especially for cats, isn't always the healthiest choice. "If a cat is solely on a dry food diet it can very easily lead to weight problems, diabetes, and urinary tract issues," says Bleicher, and advises that dry food should only supplement, not replace, a wet food diet. However, some feeders are more compatible with wet food. Recommended by Naser, this two-section feeder has a built-in ice pack that'll keep wet food fresh in time for your cat's next meal.
While it isn't specifically designed for wet food, Fox says her friend, a fellow vet, will put frozen wet food in one compartment of this rotating feeder that will thaw by the time that section opens up. Fox says the feeder is "reliable in the sense that it won't dispense too much food or too little because you are pre-measuring beforehand." Naser says this five-compartment feeder helps with weight management as pet owners determine the size and frequency of each meal.
Best water fountains for cats
For cats who don't drink a lot of water, a flowing water fountain makes drinking a more enjoyable experience. "They're attracted to the movement of the water. Instinctually to them it seems fresh and clean, and more fun to drink out of," says Bleicher. "They'll tend be inspired to drink more water from the fountain." Along with filters that remove impurities, the simple movement of the water keeps it clean. "Water bowls that sit out all day can just be breeding grounds for gross bacteria," says Fox. With its sweet flower-spout design, this BPA-free water-softening fountain, is one of her favorites.
For his own cats, Bleicher likes the PetKit fountain that's quiet (some make noises that scare cats) and has replaceable carbon filters for purifying water. "We like the design of it," he says. "It has a nice form factor and it's pretty easy to clean."
Best water fountain for dogs
Cats aren't the only animals who enjoy fountains. Fox likes this one, even for bigger dogs, because of its large capacity. Raised higher off the ground than options designed for cats, this fountain is easier for big dogs to drink from as they don't have to bend down as much.
Best-looking water fountains
Made from sleek stainless steel, the design of this fountain caught Fox's eye. "I like the way it looks," she says. "[Also] It's very low to the ground and it's difficult to knock over," which is frequently a concern if you have a more playful pet. Ellis agrees that it's "affordable while being nice looking."
With a 70-ounce capacity this pagoda-inspired fountain is large enough for Naser's dog and three cats to have a fresh supply of flowing water all day long. Also one of Ellis's picks, it's easy to clean and gives pets the choice of drinking from the flowing top level or the still bottom level.
The Strategist is designed to surface the most useful, expert recommendations for things to buy across the vast e-commerce landscape. Some of our latest conquests include the best acne treatments, rolling luggage, pillows for side sleepers, natural anxiety remedies, and bath towels. We update links when possible, but note that deals can expire and all prices are subject to change.
Every editorial product is independently selected. If you buy something through our links, New York may earn an affiliate commission.