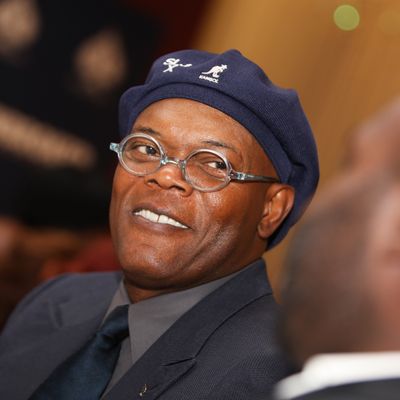 Photo: Justin Hession/Getty Images
You know how the old saying goes: "A good [pair of eyeglasses for a] man is hard to find." Indeed, when considering the thousands of frames out there, it's difficult to choose: Do you want your next pair to be rounded, à la Stanley Tucci? Or perhaps something square, in the style of Jay-Z? Do you want a pair that signals to the world you're a next-gen Buddy Holly, or would you prefer the wire frames seen on the guy in American Gothic (and more than a few past and present Strategist editors)? To figure out the lay of the land, we talked to a panel of stylish guys, who weighed in on everything from a pair that calls to mind Bob Dylan to the frames that fog up slightly less when worn with a mask. Read on for their favorites. (We also found cool-person approved eyeglasses for women.)
Doubleday publicist Michael Goldsmith, who has been wearing glasses for the past decade, told us he's had consistent luck with frames from Warby Parker. "I started with the Bensen frames in a wide whiskey-tortoise finish (link here), which felt like a safe choice for my first foray into eyewear," says Goldsmith. "The wide frames helped to balance out my extremely narrow head, and the pattern was pleasingly muted and diverting." The glasses held up "far better than a product at that price point should," and Goldsmith says he only replaced them because he had a vision-insurance frames allowance to spend. His latest pair of Warbys: the Coley frames in crystal (though crystal is no longer available, you can still get the Coleys in blue and brown). Goldsmith calls the Coleys a "splashier and more arresting look" than the Bensens.
[Editor's note: While the Coleys are no longer available, Warby Parker's newer Welty eyeglasses look almost identical. We reached out to Warby Parker to confirm the two are more or less the same, and the company told us the main difference between the two is the Welty's lens width, which, at 50 mm, is 5 mm larger than the Coley's.]
John Sherman, a typesetter at Harper's, is also wearing crystal frames lately. "I picked these because I'd never had circular frames, and I like the way a new shape or color of glasses can sometimes change your whole look," he says. And though Sherman says he was worried that these smallish frames might look like "binoculars" compared to the bigger ones he was used to, they've had an unexpected perk as of late. "One advantage I've found to the smaller size of these lenses is that they don't fog up as much when I'm out in the cold with a mask on," he says.
Photo: retailer
Goldsmith and Sherman aren't the only Warby fans we spoke to: Editor and curator Dan Nadel told us that he owns two pairs of the brand's Percey frames, one outfitted with lenses for reading and writing and the second with lenses for watching TV and driving. Nadel says he likes the frames because they're "light, sturdy, and, most of all, because Elisa, to whom I'm lucky enough to be married, says I look handsome in them."
If you prefer a thicker tortoiseshell frame, heed the words of Chris Berube, a radio producer on 99% Invisible, who wears this pair from Moscot. "They're square frames, but they're slim and rounded enough that I don't look like '70s Michael Caine. Who looks amazing! But I don't think I could pull his look off," he says. "I wear my glasses 16 to 20 hours a day, so comfort is important, and the bridge sits gently on my nose." And maintenance is fairly low-key. "Because they're plastic frames, they're easy to adjust by hand when the arms start to bend over time," says Berube.
Photo: retailer
For a lighter tortoiseshell frame, Lucas Adams, a writer, cartoonist, and editor at NYR Comics, recommends these — also from Warby Parker. Though he says he's had "bad luck with glasses" (including a pair that "got cracked in half when a door hit me in the face at an ice-cream-truck commissary" and another that "got lost in the ocean when I got hit by an unexpected wave") he likes that these are especially sturdy and, should he lose them, not too expensive. "WP is always smooth sailing: They make frames people always compliment, and they're easy to upgrade and replace (they helped me so fast with that lost-at-sea pair)," he says. For even more affordable frames, Adams hops on the train down to Borough Park. "The real spot for me is Minzer's Optical … with cheap and shockingly stylish frames and very cheap lenses — my last pair of frames and lenses ran me under $35," he says. "I adore them." [Editor's note: Minzer's Optical doesn't have a website, but they can be reached at (718) 436-6963.] 
When we spoke to writer and podcast host Aminatou Sow about her frames, she told us that hers were originally sunglasses that she had made into eyeglasses. March and White Design co-founder Elliot March took a similar approach for his eyeglasses: "About five years ago, I began having my optical lenses put into the Ray-Ban Blaze Wayfarer frames, which have a matte black finish and a nice, textural quality," he says. "I like them to be slightly oversize; I find they're more comfortable, and they fill the face better." Importantly, he doesn't get sick of the style after a few months of wear. "The frames are affordable and durable, and the design is timeless — you can never go wrong with a classic."
For a similar shape but with crystal frames, Kwame Morris — who is launching his own eyewear line, Yagan Stone Eyewear — says that the "unique, made-in-Japan details and gold hardware settings" of Jacques Marie Mage's frames place them "in a league of their own." Morris is a fan of the line's sunglasses and eyeglasses — especially this pair, which, he notes, was inspired by Bob Dylan's glasses. "This pair of glasses is understated and distinct," Morris says. "The frame comes in a few different colors. However, it's the black colorway for me — it's classic."
"Because I wear eyeglasses every day and every night and can't see without them, I don't buy cheap glasses ever," says Alan Eckstein, owner of Somerset House. His go-to brand for frames: Cutler and Gross. "They're one of the last remaining very-high-end Italian manufacturers and designers of glasses," he says. "Their glasses take days to make, and they're weird and they're beautiful. They did all the glasses for the movie Kingsman." Eckstein has wears this pair — "BOB is short for "blue on black," so the inside of the rims, where the lenses are, is blue," he says — and it has held up incredibly well. "I fall asleep in them. I turn over in my bed, and they still don't change," he says. "They're so solid."
[Editor's note: Cutler and Gross has an updated version of these glasses — the 0772V2 — available for $440. While there's no longer a blue-on-black style, you can get them in all-black or all-blue, in addition to other colors.]
Strategist senior editor Anthony Rotunno, who has worn glasses "since the second grade," says "frames have been an everyday accessory for most of my life — because of this, I've always been one to invest in pricier pairs; I'm the type to wear the same frame for several years, as opposed to switching it up more frequently." His most recent: the Garrett Leight Walgroves, which he's been wearing for almost two years. Says Rotunno, "I chose these because the frames are slightly less rounded around the eyes than your standard Harry Potter glasses, making them just different enough from the other Garrett Leight Wilson frames this creature of habit wore previously. (My former Strategist colleague Jason Chen wore those same Wison frames — but that's not why I switched, I swear.)" Leight's frames are generally durable if taken care of and stylish without being loud — a tradition he apparently took on from his father, Larry Leight, the founder (but no longer owner) of heritage glasses brand Oliver Peoples."
Photo: retailer
And if you prefer a metal frame with a rectangular shape, consider this pair worn by author and editor Ed Park, who found the frames at Pildes Optical on the Upper West Side "after several years of Warby Parkering." Park wanted something that felt lighter than the frames from Warby Parker he had tried, so he went for this pair from Danish brand Prodesign. "They're thin metal frames that look gray-brown to me, a matte-metal look," says Park. "The arms have a bit of flair, with a thin line of red embedded in the gray, yet also peeking out. (It's hard to describe; it also doesn't sound particularly appealing, but I like it, it's subtle.)" He says the frames work well with his progressive lenses and notes that when he realized the frames and lenses had separated last year, Pildes came to the rescue. "Though it was out of warranty by a month or two, they replaced it for free, which was nice."
The Strategist is designed to surface the most useful, expert recommendations for things to buy across the vast e-commerce landscape. Some of our latest conquests include the best acne treatments, rolling luggage, pillows for side sleepers, natural anxiety remedies, and bath towels. We update links when possible, but note that deals can expire and all prices are subject to change.