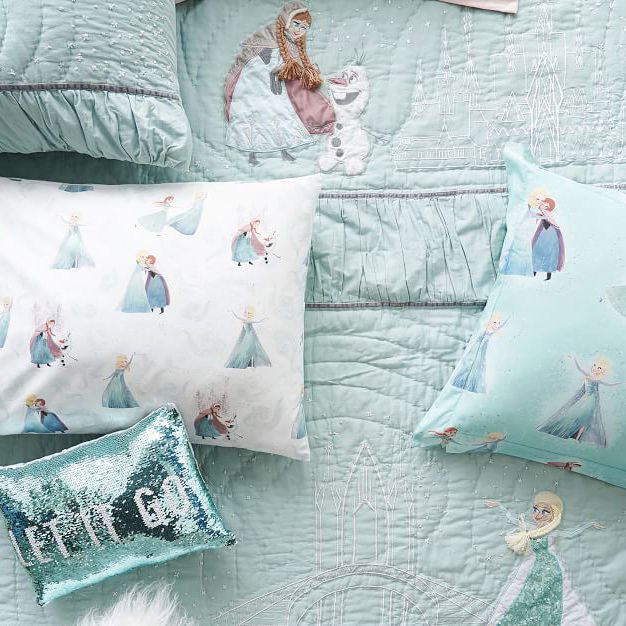 If you thought your kid couldn't possibly want any more Frozen toys, blankets, or T-shirts after the release of the first movie, you weren't ready for the sequel. Since Frozen 2 came out in November, demand for anything with Elsa, Anna, and Olaf has only heated up. In fact, when we asked trend forecasters about the most popular toys this holiday season, several mentioned the new merch that tied in with the movie.
Of course, lots of these are garish, light-up toys that play a high-pitched version of "Into the Unknown" (the new "Let It Go") whenever you accidentally step on them, but not all. Because Frozen 2 tie-ins are so popular, there are lots of surprisingly tasteful collaborations with brands like Uniqlo and Hanna Andersson. To help you find merch that won't drive you crazy, but will still delight your child (or the Disney-obsessed kid in your life), we rounded up all the Frozen 2 clothes, toys, and more that are actually decent-looking and, most importantly for parents, don't make any noise.
Best Frozen 2 toys and games
The whole family can get in on this board game — and the Frozen design will motivate first-time Monopoly players to learn the rules.
A sneakily educational toy, Lego blocks foster kids' creativity, according to child-development experts.
For more creative play, kids can design their own Frozen jewelry with this kit.
If you have fond memories of Golden Books from your own childhood, this would be a good one to start off a new collection.
This toy does make noise, but we think it's worth including because it's a fun way for kids to learn coding and STEM skills. You'll need your own tablet, but everything else is included.
Best Frozen 2 home stuff
The tiny character silhouettes along the base of this trendy S'well bottle are the only details that give away that it's a Frozen collab.