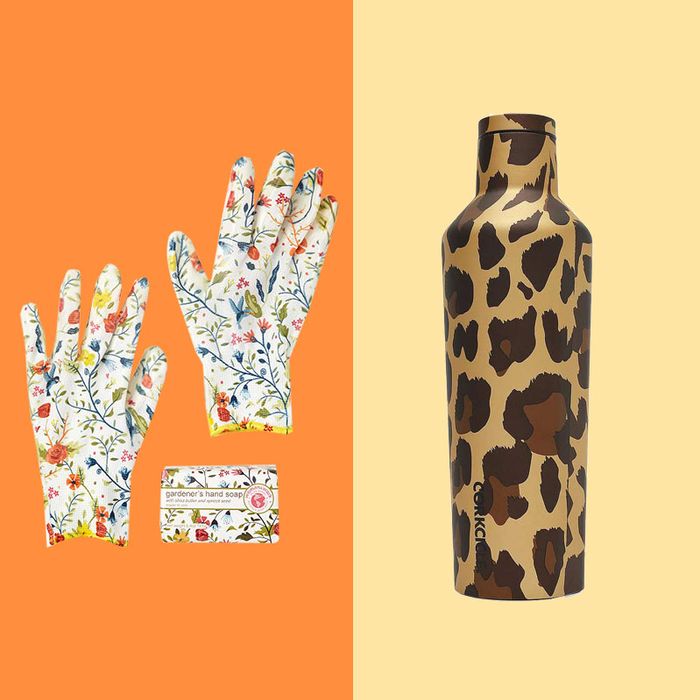 Photo-Illustration: retailers
Moms are hard to shop for in the best of times. But after a particularly difficult year when your mom likely gave even more of her time to make your days as normal as possible, we don't blame you for wanting to pick out something extra-special to show how much you appreciate her. While flowers are never a bad idea, you may be in the market for something more specific that shows Mom you get her as much as she gets (or tries to get) you. To help, we've gathered some gifts that are sure to delight any sort of mother, whether she's into bridge, baking, or beauty sleep. Seeing as May 9 is now less than a week away, we've made sure (to the best of our ability) that everything on this list at the time of publication will ship and arrive in time for the big day. (But as the saying goes, sometimes the right gift is worth waiting for.)
For the mom who steals your Glossier
You'll want to steal these three best sellers right back. Strategist beauty writer Rio Viera-Newton has called Lash Slick no less than her "holy-grail mascara."
For the mom who was telling you to wash your hands before it became a thing
If she has practiced good hand hygiene for that long, she likely knows that some soaps can be drying. This exfoliating hand wash also hydrates, making it superior to most.
For the mom who unfailingly reminds you to drink more water
This leopard-print water bottle is probably much cuter than the one she got for free at some fundraiser five years ago.
For the mom who wears lipstick under her mask
New York Magazine's Washington correspondent Olivia Nuzzi swears by this YSL lip stain, which she says people ask her about whenever she wears it on TV. The way she describes it, the stain seems ideal for wearing beneath a mask: Nuzzi says it is more of a "long-wear liquid lipstick" that lasts for "hours and hours" and rarely needs touching up.
For the mom who is always trying out new hair products
This kit from Sienna Naturals, a company co-owned by Issa Rae, comes with lots for Mom to try, including a shampoo, a conditioner, two silk scrunchies, and a scalp massager. You can tuck in a personalized note free of charge with each purchase, making this set even more giftable.
For the mom who always smells good
This perfume set from indie fragrance brand Etat Libre d'Orange comes with some 20 different scents that one perfume-obsessed writer swears are unlike anything she has smelled before. Because each is sample size, they're that much easier for Mom to toss into her bag so she can spritz wherever she goes.
For the mom whose home always smells good
Sure, you could go with a candle from a known brand like Boy Smells or Diptyque, but we think a mom with a nose for candles may more appreciate one she hasn't smelled before — like this candle from the small Black-owned business Spoken Flames. This "Fearless" candle smells of citrus and has a wooden wick that makes a satisfying crackling sound while burning.
For the mom who spends Saturday afternoons crafting
Photo: Retailer
A delightful pottery kit that comes with all the necessary tools and two packs of clay, so you can even join her if you (or she) would like.
For the mom who spends Saturday afternoons sewing
This kit comes from cool-kid knitting brand Wool and the Gang, making it a bit hipper than your average cross-stitch.
For the mom who spends Saturday afternoons puzzling
When completed, any of Dusen Dusen's puzzles are frame-worthy works of art.
For the mom who wants to buy less single-use plastics
If Mom is the type who always packs your (or her) lunch but is looking for a way to cut down on plastic wrap and sandwich bags, reviewers swear by these reusable wraps, which are sold in a set of three sizes. One of their fans describes them as "a classy little reusable scrap of organic cotton covered in beeswax, organic jojoba oil, and tree resin, which can be used as an alternative to plastic wrap."
For the mom who makes sure you get your daily serving of fruits and vegetables
This is a nicer-looking way to store all of that spring produce she's buying. Plus, with her fruits and veggies on display for the taking, Mom may even be able to cut down on her daily reminders to eat healthier.
For the mom who has been thinking about composting
If she has been talking about putting those apple cores and veggie scraps to better use, here's an easy-on-the-eyes compost bin that will be enough to get her started and won't clutter her counter.
For the mom who finds cleaning meditative
Sure, she may have her favorite products already. But if cleaning is more a hobby than a chore, Mom will surely love to try something new — and we bet this aesthetically pleasing set of sustainable household cleaners from Blueland will quickly become a go-to.