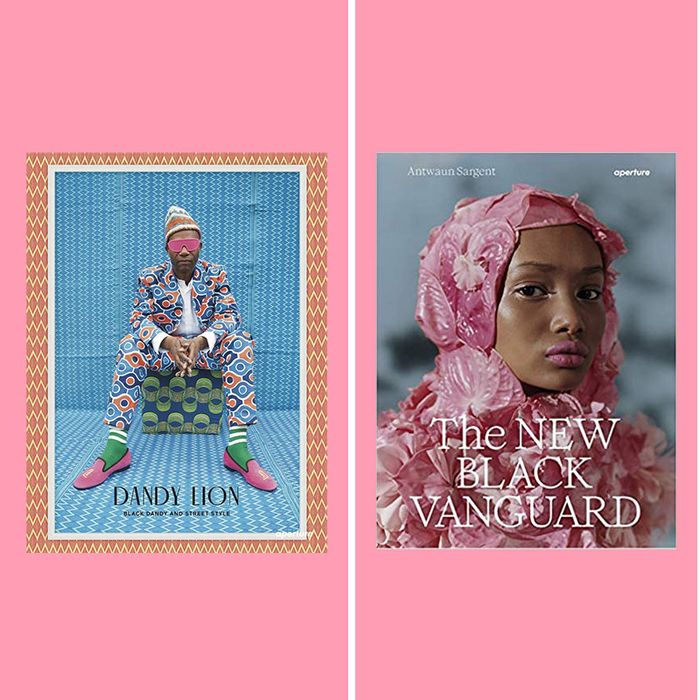 Photo-Illustration: retailers
Perfecting a coffee-table-book collection is much like curating anything else — the more personal and intentional, the better. We asked people with enviable taste about the Black coffee-table books that decorate their homes. Our list includes Kimberly Drew's recently released Black Futures that uses a range of mediums, like memes, Instagram posts, images, and recipes to showcase what it means to be Black right now and monographs from some of the most impactful painters and photographers of our time.
Two people we spoke to mentioned this coffee-table book about Noah Davis, a contemporary, Los Angeles–based artist who died in 2015 from a rare cancer at 32. In addition to making indelible artwork, he also co-founded the Underground Museum, an institution that centers work by artists of color. "Learning more about Noah Davis as I read his self-titled book — and the community of artists for whom he has posthumously provided a platform — reminds me to relish the group of young Black creatives I see creating impactful work today, in real time," says Utibe Mbagwu, a social-media manager and content strategist at Glossier and Into the Gloss.
Mbagwu also recommended this book about Kerry James Marshall, another great American painter. "Kerry James Marshall's works have a visual attitude that is immediately jarring, then majestic," she says. "His subjects' skin tones are not only Black, but the color black, a boldness that delves the viewer into a Black American world in an unapologetic way." The book accompanies the exhibition of the same name and offers a retrospective of the artist's 35-year-long career. The book, which includes commentary by well-known curators, also delves into his career trajectory, inspirations, and the way his work has been received by his peers and, more widely, the world.
"Black Is Beautiful is a beautiful time capsule of fashion photography in the 1960s in New York from photographer Kwame Brathwaite," says Mecca James-Williams, a New York–based stylist. "It's one of my favorites." The book covers the work of Brathwaite, a key figure in the second Harlem Renaissance who founded the African Jazz-Art Society & Studios, a collective of artists, playwrights, designers, and dancers. He also founded Grandassa Models, a modeling agency for Black women. "His pictures are sweet with hope, and pure with love. The depth of the culture is on every page through every picture — one of my favorites."
This book (another James-Williams favorite) celebrates the work of Bruce W. Talamon, including almost 300 photographs spanning 1972 to 1982. Talamon captured some of the most iconic soul, funk, and R&B acts of the time, including Diana Ross, Parliament-Funkadelic, and Al Green. "This book is iconic," says James-Williams, "these pictures are narrated with stories from the famed photographer and his famous subjects."
Tyler Mitchell might be best known for being the first Black photographer to shoot a Vogue cover, but his body of work is expansive and culture-shifting. I Can Make You Feel Good is his first monograph and imagines what a Black utopia might look like through full-bleed images of Black people in motion and at rest. It's a favorite of writer Shelton Griffith, who calls it an aesthetic from cover to cover. "Tyler's photographic aesthetic, to me, allows Black people to just simply exist," he says. "I have the book open, sitting on an acrylic book-display stand, and I turn the pages every few days for inspiration."
Curator and writer Kimberly Drew name-checked this book about the Joyner Giuffrida family, which offers an insight into their collection, which is widely regarded as one of the most significant collections of modern and contemporary work by African and African diaspora artists. "This book is a welcome reminder that being a collector and curator is an act of diligence and love," says Drew. "Pairing scholarly essays and full-color images of works, we're invited into their collection and, more than that, invited to think about how we might regard our own collections."
Drew is also the author of Black Futures, which tells the story of contemporary Black life through images, photos, recipes, tweets, memes, and poetry to create a collection that captures what it means to be Black and alive right now.
A look at another expansive collection: Young, Gifted and Black: A New Generation of Artists, edited by Antwaun Sargent explores the Lumpkin-Boccuzzi family collection, which contains the work of influential contemporary artists. "His first book, The New Black Vanguard, introduced me to a new crop of Black photographers and served as a catalyst for my exploration into acquiring Black art books," says Griffith. "I think what also makes this book so meta to me is the sheer existence of it. Not only is the book title an homage to Miss Nina Simone's 'Young, Gifted and Black,' it's written and edited by a Black man, with the focus being the private collection of a Black queer man and his husband."
Sargent's first book, The New Black Vanguard: Photography Between Art and Fashion, also made the list, recommended by James-Williams and writer and co-founder of the Josie Club Jet Toomer. "It feels like one day it'll become a time capsule for this special moment of Black identities as portrayed through the Black lens," says Toomer. The book features the work of talents like Qui Lemons, Tyler Mitchell, Dana Scruggs, and Adrienne Raquel — showcasing the work of some of the most exciting talents working and creating today.
"Unlike other Insta-famous plant gurus, [Hilton] Carter focuses on building an environment for plants to thrive rather than collecting plants to create a scene," says Drew of Wild Interiors, which chronicles Carter's own plant journey and the benefits of adding plants to your home. The book also shows off a few stunning, plant-filled interiors, which can serve as inspiration for your abode.