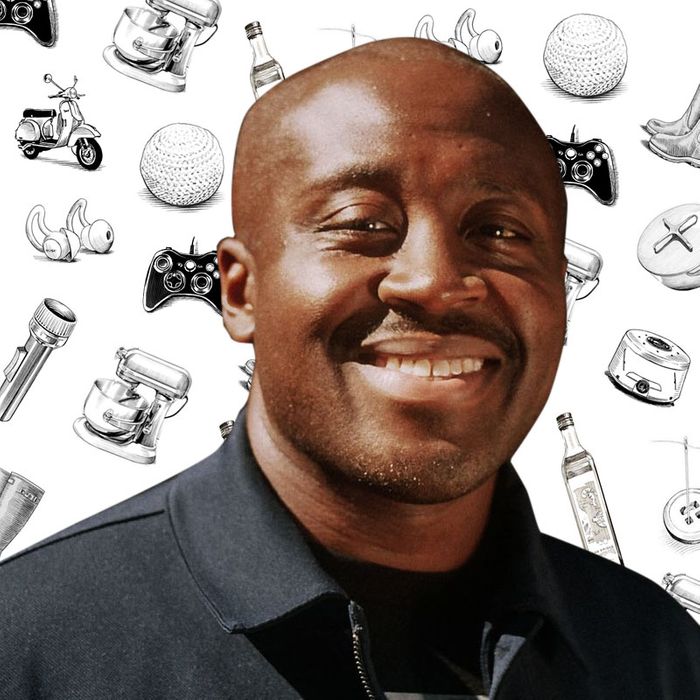 Photo-Illustration: Photo by Aaron Ramey
If you're like us, you've probably wondered what famous people add to their carts. Not the JAR brooch and Louis XV chair but the hair spray and the electric toothbrush. We asked art curator Larry Ossei-Mensah — a co-founder of ARTNOIR — about the bike, condiment, and deodorant he can't live without. 
The way my life is, I need a durable bike — one that can handle a mountain trail and the West Side Highway. This lets me get around relatively quickly but also rediscover New York in a meditative way. I ride along the Hudson River and look at the landscape, the bridge, and the lighthouse. I also began to realize other friends had bikes, too, so I reconnected with people and invited new friends riding.
This is a book of an exhibition that I was scheduled to see in Chicago, but because of COVID, I was never able to see it. I think Duro, the Nigerian-born British fashion designer, is the ultimate creative. Part of me aspires to put things together the way he does, because he can take these very complex, disparate ideas and just make it look elegant. I'm concerned it's going to go out of print, so I'm going to buy a couple of copies and give them to artists and friends.
I think I was using Secret or something and my friend was like, "You know, that product has aluminum that can contribute to cancer." So I started using Aesop by mixing it into my routine, [alternating it with] Suave and Secret, which I then phased out. When I went to Mexico, I was concerned with it failing and then I'd have this incredible B.O., but it didn't. It's another effort to take care of myself. It's a suggestion from a friend, which makes it feel almost like a keepsake of that relationship.