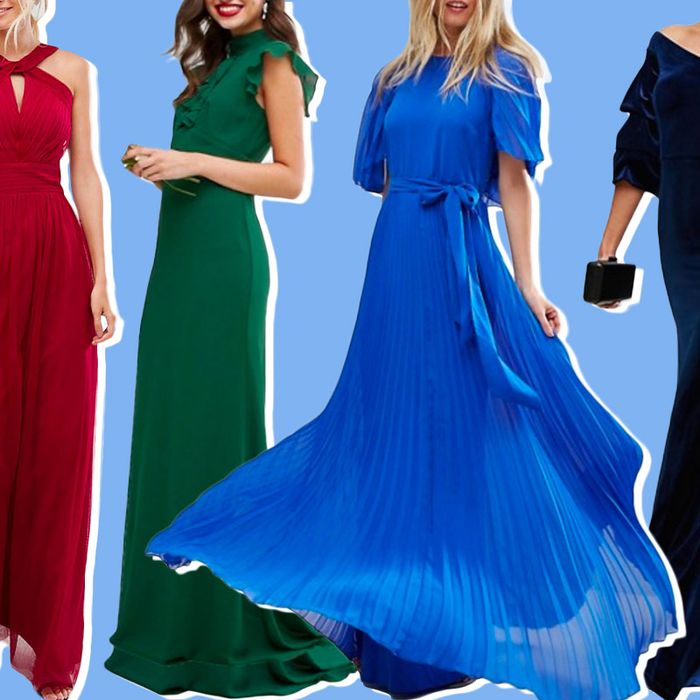 In our advice column, Ask the Strategist, we take your most burning shopping questions and scour friends, call up experts, and draw from personal experience to answer them. As always, please comment with one of your own — we're here to help.
Question: Hello, Strategist! I have a black-tie wedding to attend this fall, so I need a floor-length dress, but I'm looking to spend under $100. I'm afraid to use Rent the Runway, as I've had bad experiences with them in the past. Any recommendations on where to find dresses that are neither slutty nor matronly? (I'm five-foot-eight and size eight.)
Hello! The best place for this is ASOS, with their unbelievably cheap dresses that are also actually pretty nice. To be honest here, this is something I didn't really need to ask many people about because (1) I just got married and have been very deep in the wedding-industrial complex for the past six months. Even at David's Bridal, you can't find a dress for under $129. (2) I posed the question to my friend Ariel anyway because she's been to about 100 weddings (not exaggerating) and she works at Madewell, so she's a bit of an expert in this wedding-fashion world. She replied: "I'm not sure that fully exists, but ASOS." And (3) every time I ask someone over at the Cut about under-$100 clothing or shoes or accessories, they say ASOS. It's just the go-to spot for this type of thing (although I did manage to find a few great Ralph Lauren dresses on sale at Bloomingdale's, but that sale ends on October 29, so hurry up for those). For everyone else, we will turn this post into "The 19 Best Black-tie-Appropriate Gowns on ASOS for Under $100." You will notice, though, that there are a few dresses just slightly over $100. I wanted to include them because they're nice, and I thought you might like them, too. Lastly, all of these dresses should be available in a size eight, and many of them also come in ASOS's tall line.
We'll start with a very classic sleeveless look with a high neck in front that transforms into a deep V in the back. Perfect for a little something between covered and sexy. It also comes in red, depending on your mood, and I almost can't even believe this is correct, but it's $40.
This off-the-shoulder look with one blouse sleeve is also perfect for something between sexy and party. It mostly just reads as elegant and tasteful.
Or go for something floral. This one can be dressed up with some silver heels and a nice pair of earrings, and then you can dress it down and wear it again after the wedding.
This flowy, sleeveless wrap dress has some interesting detail by the straps.
This wrap dress is a bit more covered and has some fun ruffles, plus a sexy slit.