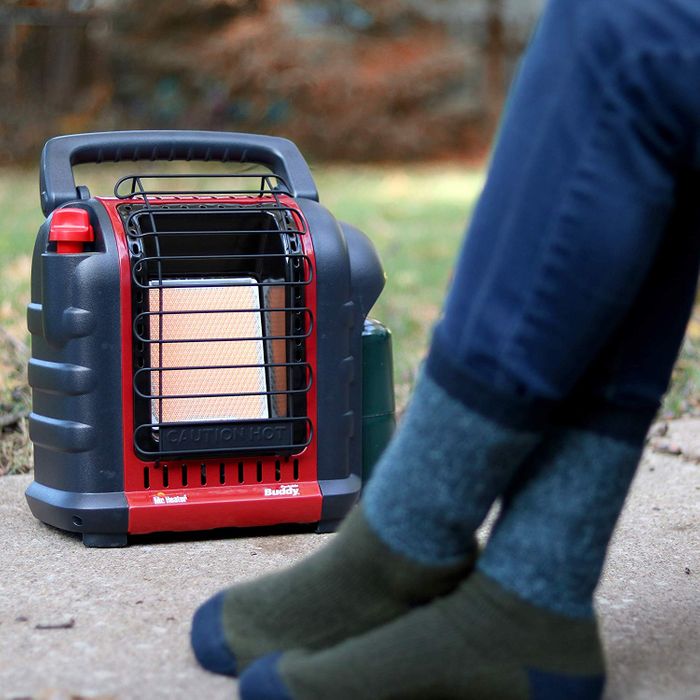 Here at the Strategist, we like to think of ourselves as crazy (in the good way) about the stuff we buy, but as much as we'd like to, we can't try everything. Which is why we have People's Choice, in which we find the best-reviewed products and single out the most convincing ones. (You can learn more about our rating system and how we pick each item here.)
And while we've written about lots of ways to stay warm — including the best infrared heaters, the best outdoor heaters, and the best space heaters — here, we've rounded up the best propane heaters, as praised by the most enthusiastic reviewers on Amazon. 
Best-rated propane heater
"Simply put, the perfect portable heater," one reviewer writes, adding, "I've used 1-pound and 20-pound propane tanks to fuel it, and it works splendidly." And though hundreds of reviewers describe this propane heater as "small," one says, "This little thing gives off a tremendous amount of heat." In fact, that reviewer replaced an electric heater in their garage turned playroom with this propane version, and says, "It gives off great heat and warmed my garage up in a fraction of the time. Within 25 minutes I was able to turn it off and didn't have to use it again for the remainder of the day since the garage was able to maintain an adequate temperature for the time I needed it (2 hours)." Many other users think this is the ideal camping heater, too. "Took it camping in Big Bear during winter and the only way we ended up sleeping at all was because we had one of these bad boys," one owner writes, while another says, "This allowed me to get dressed in a warm tent without feeling rushed to beat the cold."
Best-rated (less expensive) propane heater
"This year as the weather started to change I wanted to get a small propane heater to keep me a little warmer as I work in various locations," one outside technician says, concluding, "Though I wasn't expecting much, this little guy has exceeded my expectations tenfold. Now I will say, it doesn't warm a large area but it you want something to keep you warm in a small place, this little guy will suffice." Reviewers agree that though this portable option from Texsport won't throw heat that far, it's a great choice for smaller spaces. "We used it to get the chill off in our eight-person tent and it worked great," one owner writes. Another says, "Overall, this is a spectacular little heater and will keep you warm in the deer blind with the wind blowing and temp at 35 degrees." Another reviewer also likes that it lasts a long time, saying "On the right one-pound tank of propane using low heat it runs up to 8 hours." Another says, "Run time on low (plenty hot) is 6+ hours." Not only do reviewers like the cheap initial cost, but as one reviewer points out the upkeep is affordable, too. "One tank on low will last about 4 hours," they write, adding, "The best part is I can refill them for cheap."
And now for some micro-picks for every propane heater you might be looking for.
Best patio propane heater
Reviewers love that this propane patio heater lets them take advantage of their outdoor space year-round. One reviewer who bought this for their father says, "He continues to be amazed at the amount of heat this puts off." They add, "It was unseasonably chilly this weekend and he and his friends were able to sit comfortably on his patio long into the night." Another reviewer writes, "We used it for all outdoor hanging out through the fall and now have them both set up where we enter/exit our hot tub," adding, "Last night we were out there in 20 degree weather (Michigan) and these made it bearable getting in and out." Reviewers are just as impressed by how far the heat reaches, with one reviewer attesting, "you can feel the heat about five feet away." Another says, "Two heaters more than adequately warmed an area of eight 60-inch round tables" for their daughter's backyard rehearsal dinner.
Best propane heater with fan
"I feel like I've been cheated," one reviewer professes. "I got this Mr. Heater to try and stay warm while camping during wintertime. What I got was Satan himself in a small box." They add, "You walk into my 8-man stand-up tent in the middle of a blizzard and within minutes you would be begging for cooler weather." One reviewer agrees that this Mr. Heater Big Buddy "Really cranks out the heat." Another even swears, "This will heat up a 1,800-square-foot single-story house in less time than it took to write this review." One feature that gets a lot of praise is the built-in fan, which, one reviewer notes, "makes a bit more noise than I would prefer but it's not objectionable," adding, "The fan helps distribute the heat throughout the room better than without it operating so I keep it ON all the time." Another says, "I love the fan feature, which evenly distributes throughout the room."
Best propane golf-cart heater
"This puppy will blow the toupee right off your old bald head as you wheel around your South Florida golf course flinging balls 40 feet in the dead of winter," one reviwer