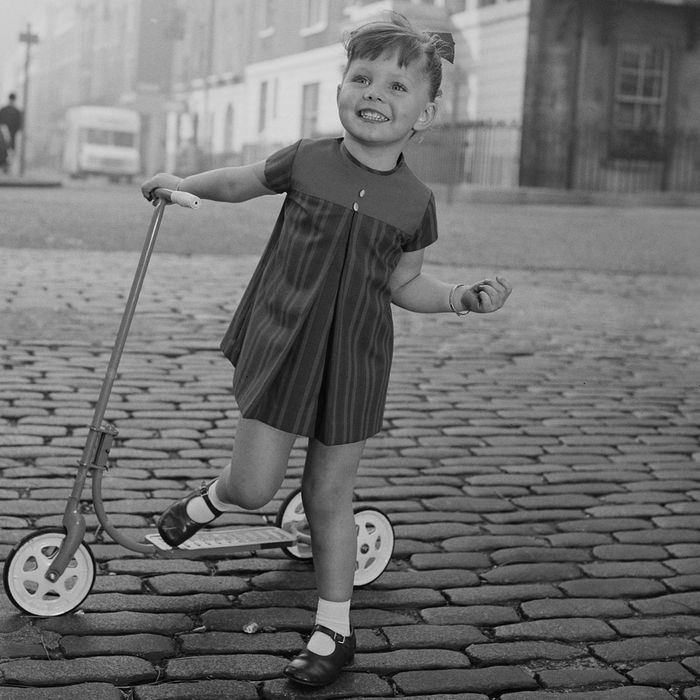 The scooter has evolved and proliferated since 2000, when the original Razor debuted. These days, "outside the school is a scooter brigade," says Alexa Englander, co-owner of Brooklyn's Recess Dumbo children's play space and mother of three scooter riders, ages 8, 6, and 2-and-a-half. More toy than vehicle, scooters are especially useful for kids (and their parents) in cities: Scooters are more sidewalk-friendly than bicycles, and some models even fold for easier storage and travel.
Among the youngest scooter-ers, riding can also help with balance and coordination. "The box says it's for ages 2 and up, but it's really good for as soon as they're walking," says Kate Schmitz, owner of Flying Squirrel kids' secondhand shop in Greenpoint, who credits scooters with helping her now 11-year-old son learn to bike, and later, skateboard. For all those reasons, they make for great gifts for kids. But now that there are more models than ever, we sussed out which ones are best for kids in each age group.
"The Micro Mini scooter is literally my favorite thing ever made for children," says Schmitz. "They are very small and they're only three pounds. They're close to the ground, and anything on the scooter that might possibly hurt you is covered with thick padding." Once her son learned to ride as a toddler, she says, "he was able to walk down the street with me. As a New Yorker, that just made my life so much easier." Micro scooters don't come cheap, but they can survive a breakage: "Just call the company and buy the replacement part."
Englander's 2-year-old rides a Mini, but her older children have moved on to Micro's Maxi model. "The Maxi was the logical upgrade," she says. "It's made for bigger kids, so everything is bigger and the board is wider." The adjustable handlebar extends up to 36 inches, "which is a good feature because they can grow with it."
The one that started it all: The classic Razor scooter folds in half, a key feature for the rider who values portability. Having just two wheels means faster speeds and more sensitive steering, which tends to mean harder falls as well, so Englander cautions that it's more appropriate for school-aged kids with a better sense of control.
Professional scooter riders Corey and Capron Funk, who go by the Funk Bros, started out on standard Razor scooters. "As we started getting better, we had to reinforce those foldable, flimsy scooters to make them last longer because we kept breaking them," Capron says. For the rider who's ready to upgrade, they suggest an entry-level pro model from a specialty brand like Fuzion (seen here), Envy, or Madd Gear.