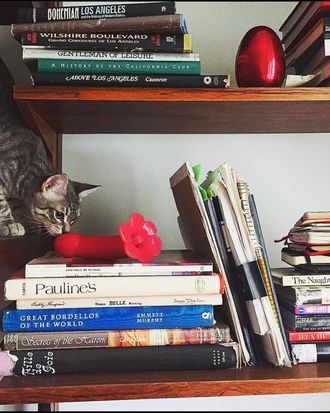 The author's cat Bugsy Malone pads around her library of sex books.
Photo: Liz Goldwyn
As the founder of The Sex Ed, a multimedia platform dedicated to sex, health, and consciousness education, I'm often asked what quality makes someone sexy. I'm a sapiosexual, or someone who is aroused by intellect, so I usually answer with one of my favorite John Waters quotes: "If you go home with somebody, and they don't have any books, don't fuck 'em!" Our brains are our largest sexual organ, after all, and one that is well-fed is always alluring. (Plus, who hasn't had a fantasy involving hot sex amid library stacks? I'm not alone here… right?)
Still, with hundreds of thousands of "sex" books out there that run the gamut from erotica to instructional to metaphysical, it can be hard to navigate your way through what is worth reading. Understanding our sexual selves is a lifelong journey and one that we don't get prepared for in school, which is why cultivating your own collection of sex-reference books can be extremely helpful to expanding your sexual consciousness. I have worked in the sex-education space for close to 30 years and, at last count, my own library of sex titles numbers in the hundreds, including two I wrote myself: Sporting Guide: Los Angeles, 1897 is set in the world of sex work and vice pre-Hollywood and Pretty Things: The Last Generation of American Burlesque Queens explores a century of striptease between 1860–1960.
One feature on The Sex Ed website that I am most proud of is our library, which, like my personal one, includes curated, titillating selections relating to sex, health, and consciousness. Below, I've listed some of the many titles we've stocked its virtual shelves with. There's truly something for everyone, from Victorian erotica to guides for raising sex-positive kids to explorations of queer theory to porn stars' memoirs to romantic poetry to pregnancy-focused cookbooks. The prices shown below are for new paperback or hardcover books, but the listed retailers also sell used and digital versions of certain titles for less.
For the adolescent who loved Call Me by Your Name
Photo: retailer
This homoerotic tale of an intense clandestine romance amid a Paris in the throes of creative and cultural upheaval is one of my favorites. Not only is the book a part of the 20th-century literary canon, it is also a deeply poignant and often heartbreaking love story we can all relate to — no matter our sexual orientation.
For the free spirit who wants to connect their orgasm to their meditation practice
Photo: retailer
The late, great Ram Dass's meditation bible Be Here Now is a book I first discovered in high school, long before I learned that the present (and meditation) is where it is at. A big proponent of The Sex Ed's philosophy is the connection between mindfulness and sexuality. Every sexual act, from bondage to anal to "vanilla," becomes much more pleasurable, and transcendent even, once you have integrated mind and spirit into your sexual activity. With beautiful drawings, a brief history of the 1960s psychedelic drug scene, and a journey to transcendence, this is a staple for any well-curated library.
For anyone who has a thing for brilliant women
Photo: retailer
The world of sex education bid adieu to a legend when Betty Dodson passed away at 91 in 2020. An icon who taught thousands of women how to pleasure themselves and a titan of the sex-positive movement, Dodson details her incredible life — from popularizing the Hitachi Magic Wand, to leading group masturbation workshops, to her early career as an erotic artist making glass-blown sex toys — in this memoir.
For the couple (or person) who had a quarantine baby
Photo: retailer
A guide to nourishing new parents in what some call the "fourth trimester," this part-cookbook, part–cultural history would be great for anyone who welcomed a life during quarantine. Not only are the recipes delicious, it's a fabulous handbook on how to support your loved one after they've gone through the huge physical endeavor that is childbirth.
For the friend who goes to sex parties (or wants to)
Photo: retailer
Have you ever wondered what to bring when you go to a sex party? If you read porn icon Nina Hartley's book, you'll learn the answer to that question (a change of clothing and some snacks) and more. Hartley, who boasts the longest-ever career as a porn star, is also a sex educator and registered nurse; she has put more hours into having sex than anyone else I know.
For the dom-in-training
Photo: retailer
Betony Vernon is a true mistress of the ropes and the creator of a groundbreaking, oft-imitated line of so-called sado-chic jewelry. While any of her decadent pieces would certainly impress the bondage-curious, her book is a lot cheaper and filled with great tips and factual information for everyone interested in learning about rope bondage and beyond.