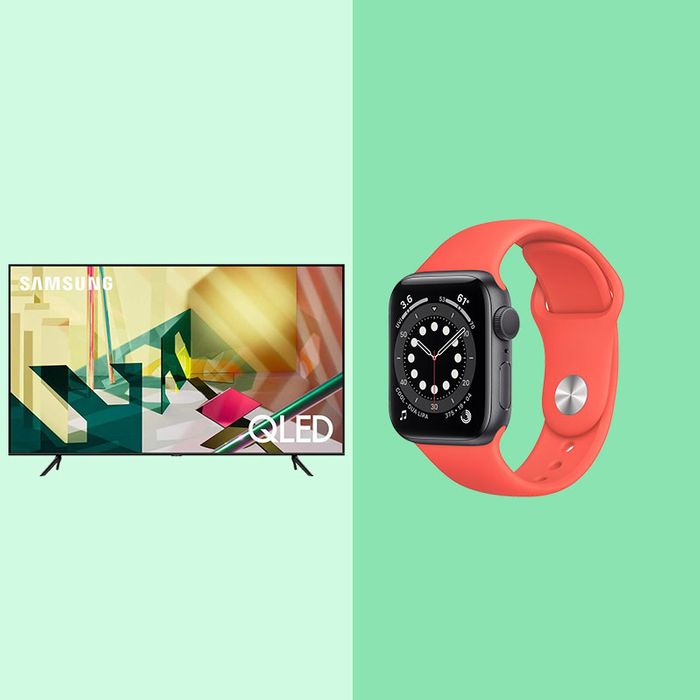 Photo-Illustration: retailers
If you don't consider yourself to be tech-savvy, it can be hard to find a good tech gift for the more electronically minded folks in your life, especially since laptops, phones, tablets, and other gadgets are being constantly updated and improved. So to figure out which tech gifts are actually worth the splurge this holiday, I spoke with Lesley Rohrbaugh, the research director at the Consumer Technology Association, which has produced an annual report on consumer technology holiday purchasing patterns for the last 26 years. According to CTA's research, 72 percent of U.S. adults are planning to purchase a tech product as a gift this year. Plus, the pandemic has forced more of us than ever to rely on online shopping, so finding these hot items in stock is going to be more competitive than ever. That's why we recommend getting a head start. Here are 16 tech gifts that are bound to be popular this holiday season, so act quickly.
Smartphones
Similar to last year, Rohrbaugh says screens dominate the list of the most desired holiday gifts. Apple recently released a new batch of smartphones, some with next-generation 5G cellular capability. Other brands, including Samsung, Google, and OnePlus launched their own impressive new phones this fall, too. If buying someone a new phone isn't within your budget, you can also get them accessories like headphones, phone cases, or chargers.
The iPhone 12 has an all-new OLED screen, which means richer colors and deeper contrast; an improved battery life (17 hours of video playback); aluminum sides, which reduce the weight compared to old iPhones; and both a wide angle and an ultrawide camera. While the iPhone 8 and later models have had wireless charging capabilities, this is the first lineup to get MagSafe charging, a magnetic version that's twice as fast as standard wireless charging. And if you live in one of the limited areas in the country with an active 5G network, you'll get cellular speeds that are often better than your Wi-Fi. The phone also comes in five colors: red, black, blue, green, and white.
The 12 Pro is very similar to the 12: Same 6.1-inch size, same battery life, same MagSafe charging technology, and same 5G capabilities. But the Pro adds stainless-steel sides for a premium look, along with a third telephoto camera. It comes in blue, black, and gold.
The S20 has a high-refresh-rate screen, which means animations and scrolling look much faster than the standard 60 Hz. That's a minor detail that makes a major difference.
The Pixel has a list of features longer than a CVS receipt, but we'll focus on the most important ones: It has face unlock and an excellent camera — even though it lacks an ultrawide lens — and it has great performance and smooth display.
Of the OnePlus 8, the Verge's Jon Porter writes, "It's got a great screen, great performance, great battery life." The only drawback he sees is that "its camera could stand to be a little better."
Laptops
The CTA study also found that laptops are once again in the top five of this year's most wanted tech gifts.
Monica Chin, the Verge's laptop reviewer, calls the XPS 13 one of the best laptops you can buy. It's lightweight, has no bezel, and it has great battery life and a superfast processor, so you shouldn't struggle switching between the dozens of tabs you have open in your browser.
The HP starts at an affordable price point, it doesn't have any bezel — so the display looks stunning compared to some older laptop models — and it has a touchscreen for taking notes.
Two of the experts we asked about the best college laptops recommended the ultralightweight Macbook Air. It has enough power to do most anything, including editing HD video. Alan Zilberman at Laptop MD also recommends the Air because of its reliable operating system, updated scissor-style keyboard, and great hardware. "It's light, slim, and easy to carry," he says.
The Macbook Pro is a step up in power and storage capacity. They're able to handle a lot of open windows and run multiple programs at once. You'll be able to easily handle audio, video, and photo editing.
Video Game Consoles
"Up to 38 percent of the people we surveyed are planning on gifting a video-game console this holiday season," Rohrbaugh says. "Last year that was only 33 percent." In fact, consoles jumped from the seventh-most-desired holiday tech gift in 2019 to third this year. "We do feel like a lot of these items are really based on what people have been doing since the start of the coronavirus: being quarantined and trying to stay entertained at home," Rohrbaugh says. While the Nintendo Switch is still a popular (and quick to sell out) gift, there's also a new generation of consoles from Sony, the Playstation 5 and Playstation 5 Digital Edition, as well as Microsoft, with its Xbox Series X and Xbox Series S. There's only one problem: You're going to have to get really lucky to find one in stock.
The big difference between the 5 and the 5 Digital Edition is that the digital edition lacks a disk drive. Our colleagues at the Verge describe the new PS5s as having "faster speeds and a more immersive controller, which all add up to a markedly better experience compared to the PS4 by every conceivable metric." They also loved the responsive new DualSense controller and the user interface, which is more inviting compared to the last generation's clunky menus. Load times for the new PS5s are slashed nearly in half, leaving you with more time to spend gaming and less time waiting.