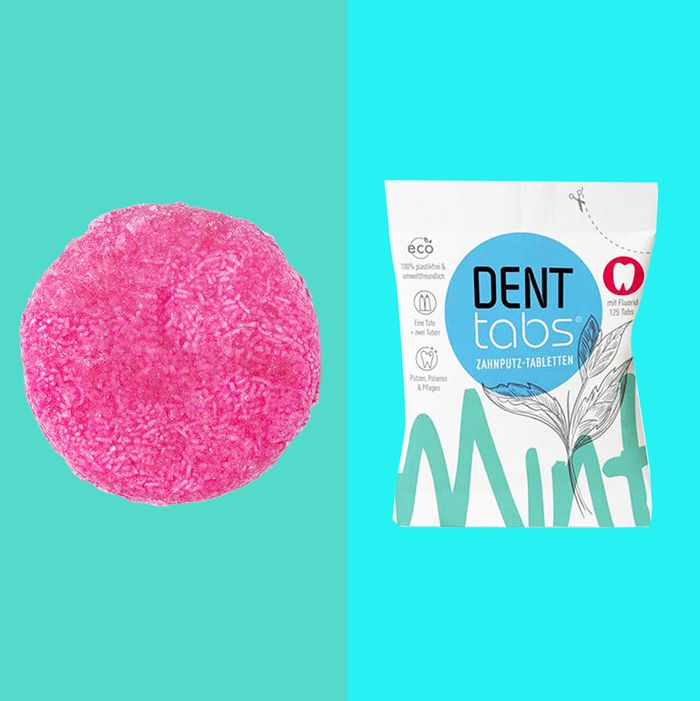 Photo: Courtesy of retailers.
This first appeared on the Strategist U.K., our recently launched, Brit-specific shopping-recommendation site. Since these travel toiletries are also available to buy here, we are publishing it for our readers on this side of the pond.
As a travel editor and general holiday enthusiast, I visited over 23 different places last year, catching over 40 flights. After the umpteenth time, when waiting for my bag to appear from the hold meant that work meetings had to be pushed back, I decided it was time to commit to carry-on only. The main issue I came up against was the airport liquids regulations. There's a number of rules to navigate. First of all, the clear plastic "liquids" bag all your liquids go in must have a regulation size of 20 x 20 cm. It must also be able to be closed (no overstuffing; believe me, I've tried this tactic and failed), and contrary to what many believe, you are only allowed one bag. See also: nothing in the bag over 3.4oz. You can push this — I've definitely squeaked through with 4oz face creams in there, but anything over 5oz is going to be pulled. Plus, a "liquid" in airportspeak is anything that "conforms" to the container it's held in, so looser creams and pastes are going to need to go in, too.
This isn't a forever problem. Heathrow will be relaxing its liquids rules in 2020 when it introduces new 3-D scanners, and it's been ruled that all other U.K. airports will have to do the same [this is, unfortunately, not the case here in the States — though TSA is now allowing some CBD oils through security]. Unfortunately, there's no guarantee on how long it will take international airports to get onboard (pun intended) with the pricey new scanners, so it'll still be worth planning for restrictions on your return leg even if it's liquids-a-go-go in the U.K.
Measuring the plastic bag — I hung on to one of the free ones they hand out at airports and reuse it — helped work out the optimal combo of travel-size items I can fit in there, but even with every inch filled, I found it extremely difficult to travel for an extended time with an entirely liquid-reliant grooming routine. When all your toiletries are liquid or creams, you end up either compromising on what you bring, i.e., using terrible hotel shampoo so you can bring your regular moisturizer in its bulky packaging, or resigning yourself to itty-bitty amounts of everything that run out within a week.
Plus, with the rise of airlines no longer including a checked bag as standard on long-haul flights, the instances where I can pack full-size liquid toiletries in hold luggage without paying for the privilege are getting fewer and fewer. The solution is switching to solids, like a well-traveled toddler. I've listed the solid beauty alternatives I've now started traveling with below. All are as good as their liquid counterparts.
Instead of toothpaste
I was highly suspicious of toothpaste tabs until I tried these ones from Denttabs. They taste minty, have fluoride, and are surprisingly easy to use — just crunch one in your mouth to make a paste. Don't get the one- or two-month supply as they come in metal containers, which security scanners don't like. Instead, I get a big refill pouch and fill up a small jar to take on my travels.
Instead of roll-on deodorant
Solid deodorant is the trickiest thing to get through airport security, as it frequently reads on the scanners as a liquid. When I traveled with Mitchum's sticks, my suitcase got pulled about 65 per cent of the time, while a square of Lush's Aromaco (which I love) in a jar has a 100 percent fail rate. Flagging it with security staff pre-scanner can help with this, but only if the staff actively show it to the person operating the scanner to say it's a solid (which doesn't happen often). Most of the time — and especially when security is heaving — pointing out the stick will just get it tossed into a separate tray, which still gets pulled into the queue for inspection.
The only solid deodorant I've tried that gets through seamlessly every single time is the deodorant stick from Agent Nateur. It's natural, but actually pretty effective — I wouldn't work out in it, but it's gotten me through full days schlepping round cities in full summer heat. FYI, the Holi Rose scent is $5 more expensive than the original version but worth it.
Instead of travel wash
You can get dedicated laundry-soap bars (and even laundry-soap sheets) to wash your clothes on holidays no problem, but Dr. Bronner's Magic Soap works just as well and you can wash yourself with it, too. If you want something specifically targeted toward stains, these stain wipes are great, but the Dr. Bronner's bar is pretty good, too. I spilled a Pret breakfast pot — the bean-and-egg one, of course — all down my white T-shirt running to catch a flight a little while ago, and a targeted scrub in the airplane bathroom with the bar got everything out.
Instead of perfume
There are so many beautiful solid-perfume options (Diptyque! Le Labo! Tony Moly's Pocket Bunnies!), but on holiday, like in my day-to-day life, I want to have access to more than one. That means (1) shelling out for more than one solid fragrance and (2) having more things rattling around your suitcase. The new perfume palette from Jo Malone that lets you fill it with more than one fragrance is not only the perfect reasonably priced solution to this but also a pretty cheap way of trying out a new Jo Malone scent. I love Mimosa & Cardamom as my daytime scent and then Pomegranate Noir as a sexy nighttime scent.
Instead of a face mask
There's no greater pleasure than bathing in a fancy bath in a fancy hotel bathroom. So much nicer than gazing at the dirty grout framing my bath back home. And what's a bath without a face mask? Sheet masks are fine going through security sans baggie (my carry-on is practically lined with them), and Tony Moly's are my absolute favorite. Get them in a pack rather than separately; it's much cheaper ($24 for ten versus $3 for one).
Instead of shampoo
I am ridiculously fussy about my hair, but the Lush shampoo bars are a revelation. I can't see any difference in results between them and my usual Pureology shampoo. The Jason and the Argan Oil bar is my go-to as it also makes my whole suitcase smell amazing. I'd recommend pairing it with a soap pouch, as the bar breaks into bits as it gets smaller.
Instead of face wash
I am obsessed with Milk Makeup, who does just about everything you could want in solid stick form. As well as not needing to go in your plastic bag, they have really good leak-free packaging. If you're only picking one, go for the Matcha Cleanser, which is great for soothing travel-induced redness and breakouts, but honestly everything from the puffiness-busting cooling water stick to the hydrating oil serum are fab on-the-go skin care.
Instead of your regular skin-care routine
Milk Makeup's sticks are excellent, but if you don't like the idea of traveling with lots of different bits, the Frances Prescott Tri-Balm is a good pick for streamlining your liquid-free routine. It seems expensive at $60, but it's actually a cleanser, exfoliator, and moisturizer in one — as a dry-skin girl, I can confirm I miraculously don't need moisturizer after using this.
Instead of sun cream
I don't really trust any of those "travel-friendly" powder sunscreens, and if you're going away for longer than a weekend in the sun, you should definitely be using more than a mini-size bottle. Just buy some Nivea in duty-free! The only thing I do pack is this factor 50 stick sun cream from Elizabeth Arden as it's really convenient for quick top-ups when you're out and about and as a face sunscreen if you're staying covered up. Though it's a sun "cream," don't worry, it doesn't count as a liquid, as the stick doesn't "conform" to any container it's put in, i.e., it holds its shape when the stick is rolled up.
The Strategist is designed to surface the most useful, expert recommendations for things to buy across the vast e-commerce landscape. Some of our latest conquests include the best acne treatments, rolling luggage, pillows for side sleepers, natural anxiety remedies, and bath towels. We update links when possible, but note that deals can expire and all prices are subject to change.