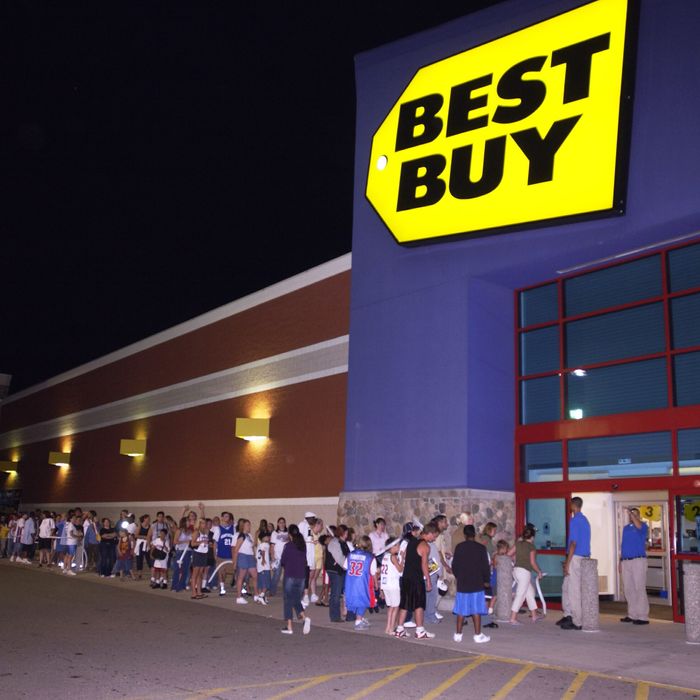 Our colleagues at the Verge are technology experts. So when they tell us that there are good Black Friday deals at Best Buy  — well, we look through those deals, leave behind a couple of the more advanced things like a nearly $2,000 gaming laptop, add a few finds of our own, and bring the more-useful-to-the-average-non-technophile stuff to you.
There are substantial discounts to take advantage of, like a 65-inch LG OLED TV (which is seriously one of the best TVs we think you can buy), the original Nintendo Switch, the Series 4 Apple Watch, and a Sonos soundbar. But act quickly, because things are selling out fast! Once an item's stock is low enough online, it becomes an in-store purchase only.
We should note that Best Buy is constantly updating its deals, and we're constantly watching. So check back here frequently for updates of Black Friday sales on big-ticket appliances, vacuum cleaners, home security systems, smart speakers, and phones. Incidentally, for more early tech deals, check out our Black Friday coverage of the Amazon and Walmart sales.
Video game systems and accessories
Comes with a huge 1 TB hard drive for $100 off the original price.
Save $150, and it comes with Star Wars Jedi: Fallen Order.
These joy-con controllers for Nintendo Switch also come in other colors including gray, green, and neon yellow.
Speakers
The U.E. Boom Bluetooth speaker has long been one of the top speakers you can buy. This four-inch-tall sibling is ultraportable — and water-resistant, for any dreams you may have of listening to music poolside.
Another great water-resistant speaker with a slightly different form factor and a 12-hour battery (as opposed to the ten-hour Ultimate Ears above).
As TV sets get thinner, their sound gets worse. This speaker from Sonos is an upgrade for any set. And it comes with a $20 Best Buy Gift Card!
Desktops, laptops, and tablets
HP's all-in-one is nearly as beautiful as the iMac, has an Intel Core i5 processor, 8GB of memory, and a 256GB solid-state drive (SSDs are quieter than traditional hard drives). Plus it's a touchscreen, which is nice for some programs.
Comes with a fast and capable Intel i5 processor and 8GB of RAM. And they throw in the cover (usually another $129) basically for free.
This lightweight MacBook Air, which should be good for most users who don't plan on editing a full-length film on their computers, is $200 off.
2019 iPads are as much as $100 off, including this 32GB model that's marked down $80.
Earbuds and headphones
You're not going to get the best audio quality from these, but $30 is practically stocking-stuffer territory. And if you lose them, which we all do eventually, you won't feel that bad.