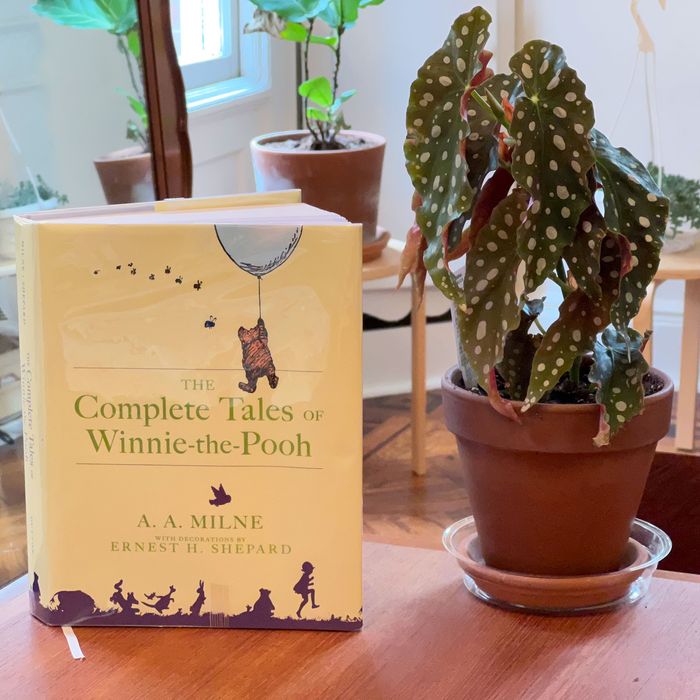 Not a library book.
Photo: Lauren Ro
I'm not a neat freak in most aspects of my life, but I am precious about keeping my books in pristine condition. Because I revere them as objects as well as artifacts of literature, I avoid breaking the spine on paperbacks, and I never dog-ear pages. With hardcovers, I take meticulous care not to damage the dust jacket. I realize that I could simply take it off and put it to the side when I'm reading, but then the actual cover would be naked, and what good would that serve? I don't want fingerprints and other unsightly stains marring my reading material. When I bring a book out of the house, I slip it into a structured plastic bag, Ziploc, or mesh pouch before gingerly placing it into my tote bag. Don't ask me why, but I like my books to look as if they've never been read.
I've always been like this. In high school, I would wrap all my textbooks with paper shopping bags, handles and all, turning them into a kind of book-purse (great for toting around campus). I was considered a genius for that hack, but in hindsight, that was an extremely dorky move. I don't have the patience for that anymore, as that required a ton of measuring, cutting, and taping. Plus, I want to be able to see the actual cover art every time I pick up a book. I've always loved the plastic covers that come with library books — shiny and transparent, they're so practical yet aesthetically pleasing — but I never seriously looked into them, assuming you had to go through some kind of library-supply broker to get them.
I never imagined that my mania would extend to my kid's books, but it has. Our toddler has a 368-page tome of Winnie-the-Pooh stories, and because it's so heavy and unwieldy, the dust jacket kept coming off and getting ripped every time we read it, causing me (and no one else) much frustration. (My advice: Get the books individually.) Yes, I could have taken it off, but, again, I don't consider that a real solution, so I finally did what I've been wanting to do for years and ordered a set of Mylar archival book-jacket covers. They're not cheap for what's essentially rolls of plastic trimmed with paper, but they come pre-folded and ready to use. All you have to do is trim them to size and make slight adjustments depending on the size of the book — no frantic MacGyver-ing of Trader Joe's bags required.
This set comes with ten-, 12-, and 14-inch-tall rolls that are five yards long. One side is clear plastic, with paper flaps attached at the top and bottom that fold inward — kind of like a window with shutters, but rotated. Attaching the cover to your book is straightforward. First, you remove the dust jacket from your book, unfold the jacket's flaps and measure the length of the entire thing, then cut off a piece from the roll that matches that length. Then, you slide your dust jacket in between the cover's plastic and paper flaps and, unless your book is exactly ten, 12, or 14 inches tall, fold up any excess from either the top or the bottom for a custom fit. Once the cover is on your dust jacket, you put the entire thing back on the book, fold the flaps back in, and then secure the flaps with tape. You could either tape the plastic-covered dust jacket to the hardcover itself to keep it from slipping around, but if you're like me and can't stomach the idea of adhesive touching any part of your treasured volume, you can simply apply the tape to the plastic cover. This method allows a looser fit on the book, which I don't mind. (I even bought a roll of filament tape because that's what I associate with the library.) It took less than five minutes to cover Augie's book.
Now the dust jacket stays put and is protected from stains, creases, rips, and whatever damage an overzealous 3-year-old could inflict upon it. I'm obviously not going to do this to all of my books — though I will preserve the newest release from my favorite author that happens to come with a signed bookplate — but I feel less anxious knowing that I have that option on hand. Also, that crinkly plastic sound coupled with the slick cover is so satisfying to behold. Just don't ask to borrow a book from me, because though I may cosplay as a librarian, I have no intention of ever lending a single one out.
The Strategist is designed to surface the most useful, expert recommendations for things to buy across the vast e-commerce landscape. Some of our latest conquests include the best acne treatments, rolling luggage, pillows for side sleepers, natural anxiety remedies, and bath towels. We update links when possible, but note that deals can expire and all prices are subject to change.