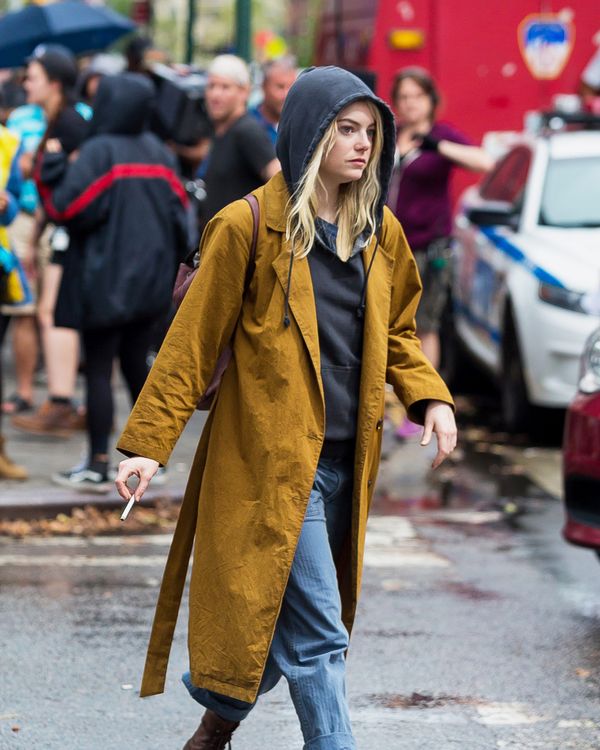 It haunted me.
Photo: Alessio Botticelli/GC Images
I first noticed Emma Stone's perfect trench coat from the Netflix series Maniac many months before the show launched. Working in media and spending a lot of time looking at celebrity outfits on Getty Images (at that time it was mostly male celebs), I was privy to a lot of paparazzi photos.
But that day, a few photos of Stone on set caught my eye. In them, she's dressed as her character Annie in a worn-out black hooded sweatshirt and painter jeans. Over this very normal outfit, she's wearing a marvel of a mustard coat that I immediately wanted. It looked like a 2018 version of a Columbo or Dick Tracy detective coat — I am a big fan of detective shows. Months later, after the show aired, I was reminded of the coat again. So, I launched my own search for the trench, which took all of ten minutes, since the show's costume designer had posted it on Instagram and tagged designer Jesse Kamm.
"I remembered having seen a still from maybe eight months before, but the series wasn't anywhere near coming out," Kamm said when I called her on the phone. "Jonah is an old friend of mine, and I got really excited when I saw the billboard, but I didn't remember that this was the thing that I had sent clothes out for. Then I sat down and was watching it, and I was like, Oh my God, there's the trench. Sometimes you see your pieces out in the world, and you're like, Oh, whoa, I do not need to take credit for that, but not in this case."
The coat is officially called the Trench Mostazo (mustard in Spanish because Kamm designed it while in Panama). I planned to buy it for myself, but Kamm confirmed that they have all sold out, except for the two she keeps at home [editor's note: the Mostazo trench has finally been restocked!]. "I have one of every single thing I've ever made. That particular piece is one I love so much that I have one in the archive and one in my closet." Though Kamm has made this trench for eight years, most of them were made in silk and linen — Stone's version, part of Kamm's spring/summer '17 collection, was actually the first to be made in a weatherproof material. This season's trench is navy blue and also water-resistant.
If you really fell for the mustard, as I did, you can rejoice in the fact that it has just been reissued. But if you're looking to replicate the vibe on a budget you can also try one of the following mustard and brown trench coats on for size.
More mustard and brown trench coats
This saturated mustard coat may not protect you from the rain, but its unstructured