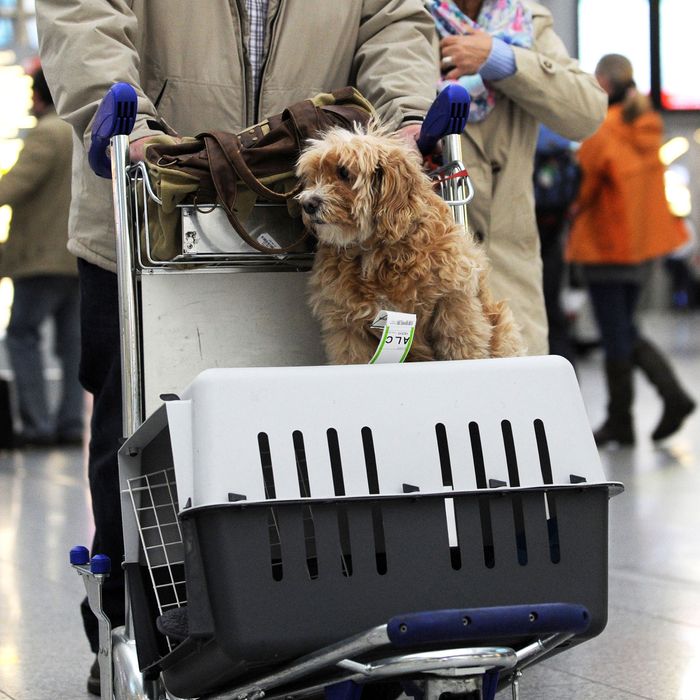 Photo: Caroline Seidel/picture alliance via Getty Images
Whether you're moving across the country or taking your pandemic puppy back home to meet the rest of your family, flying with a dog can be nerve-racking. The best way to ensure that everything goes smoothly (and that nobody poops or pees themselves at 30,000 feet) is to plan ahead. Jamie Freyer, a veterinarian and guest contributor at Honest Paws, says it's important to schedule a visit with your veterinarian several weeks before your trip to make sure your dog has all its vaccinations and the paperwork to prove it. Also, checking your specific airline's pet requirements to make sure you have everything in order long before you head to the airport will save you a lot of stress — and guarantee that your dog is allowed to fly.
According to Freyer, COVID-19 has made the process even more complicated, with airlines placing restrictions on pets in planes more than ever before. "Fewer airlines are accepting pets in the cargo hold, though they will still allow dogs small enough to fit comfortably under the seat in front of you in the cabin. Still, most airlines have limits on the number of pets they will allow onboard, and this is generally a first-come, first-served type of situation," she says. If you have a nervous dog, Dr. Jamie Richardson, chief of staff at Small Door Veterinary, says you can ask your veterinarian about prescribing an anti-anxiety medication such as Trazodone. She also notes that anti-anxiety medications are not recommended for pets traveling in cargo since they can't be supervised. For everything else, we talked to Freyer, Richardson, and Dr. Zay Satchu, co-founder and chief veterinary officer of Bond Vet, about the things they recommend buying to make your flight as convenient and comfortable as possible for both you and your dog.
Dog carriers
Whether you are bringing your pet with you into the cabin or putting them in cargo, your first step should be checking your airline's rules for carriers. Richardson says that each airline has specific size and combined-weight restrictions for pets and carriers, but that generally they require pets be kept in a TSA-approved kennel that gives them the freedom to sit, stand, and turn around comfortably. She recommends soft-sided kennels, like this one from Sherpa, for in-cabin use because they are flexible, which can be helpful when placing them under the seat.
This carrier is the dog bag of choice of Ian Patterson and his famous rescue Chiweenie named Tuna (who has 2 million Instagram followers). They love it because of the cozy removable bed and because it has wheels that make zipping through airports and other places easier. "We tend to cart Tuna around in this wheeled airplane bag from Sherpa and he loves it. It's like his little man cave," says Patterson. The bag has been approved by Guaranteed on Board, a website that partners with airlines, helps pet owners understand domestic airline requirements, and gives carrier recommendations. Other features include mesh panels for ventilation, roll-down privacy flaps, top and side entry with locking zippers, and a bright-green "Pet on Board" flag for high visibility.
Satchu stresses the importance of making sure your dog is comfortable with and used to going into the carrier. "I don't recommend switching them to a new carrier just before flying because that can be stressful," she says. According to Freyer and Richardson, a carrier with an expandable section (that still meets your airline requirements) is a great comfort option that gives dogs more space in-flight as well as on layovers. This specific carrier comes recommended by Richardson for its two expandable sides. In addition, the small and medium sizes comply with standard airline size rules. It also has a removable plush mat, mesh sides for ventilation, locked zippers to prevent sneaky dogs from escaping, and an inner safety leash.
Freyer tells us that American Airlines is one of the few carriers currently flying pets in cargo. But there are still limitations based on the number of pets per flight, so you'll need to check ahead of time to make sure you get them on your flight. For large dogs, she recommends a USDA/IATA-approved and size-appropriate hard-sided kennel. "Again, check with your airline for any specific regulations, such as material requirements, type of closure, amount of ventilation, and whether wheels are allowed," she says. This kennel meets most airline requirements for cargo travel and has "Live Animals" printed directly on the exterior for added awareness. It is made of heavy-duty, high-impact plastic shell, comes in multiple sizes, has durable wire doors and windows for security and airflow, and includes a clip-on food and water cup.
Dog bed
Not all dog carriers and kennels come with a dog bed. Richardson recommends buying something thin but soft to provide comfort and warmth. She also recommends adding an article of your clothing to soothe anxious dogs with a familiar smell. However, she warns not to place too much bedding in the kennel because it could drastically reduce the space your animal has to move around during the flight. This bed was recommended in our article about the best dog beds because of its quilted orthopedic foam and water-resistant removable cover.