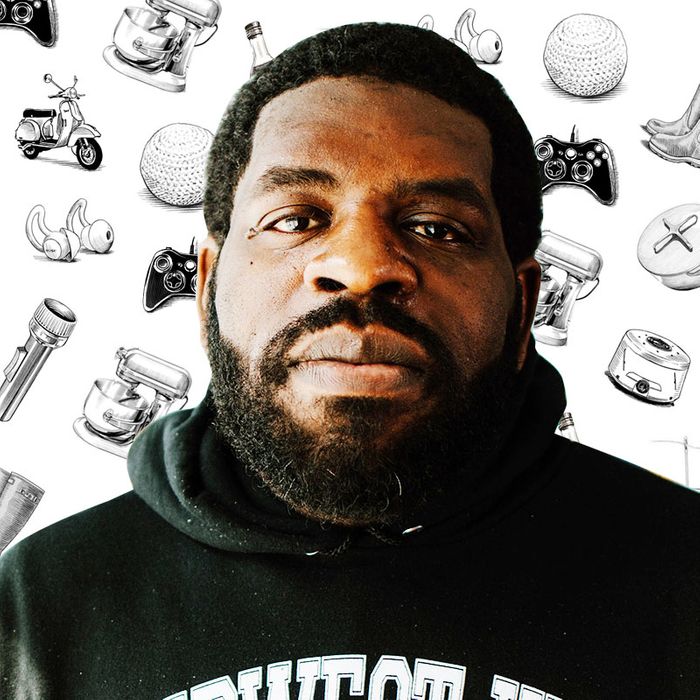 Photo-Illustration: Megan Leigh Barnard, courtesy of BEOTIS
If you're like us, you've probably wondered what famous people add to their carts. Not the JAR brooch and Louis XV chair but the hairspray and the electric toothbrush. We asked poet, essayist, and cultural critic Hanif Abdurraqib about the crystal, water bottle, and tea he can't live without.
I am someone who believes in otherworldly properties of healing or protection because I am not sold on this world's ability to heal or protect me as it is currently constructed. So I am almost required to believe in the healing properties of crystals. Black tourmaline crystals are useful for protection against negative entities — you know, like getting rid of negative thoughts and kind of releasing feelings of unworthiness. I keep one on my desk to keep me safe from my worst impulses when I'm in the throes of work or the creative process. I am someone who can very quickly give into the comforts of feeling unworthy. And so it's kind of cool to have something on my desk that throws a thin shield up. I also keep one on my nightstand and another in the kitchen. When I was traveling more often, I'd have a little one in my pocket or in my bag.
My doctor was like, "You're drinking enough water, but you could maybe drink some more." She told me that if got a water bottle with a straw, it will encourage me to drink more in one sitting because I'd just kind of drink through the straw without even thinking about it. It's wild, the straw thing: I can't believe that such a switch needed to be flipped for me to hydrate appropriately. I toured extensively in 2019 and early 2020, and there are photos of me at every reading with this water bottle. Like, you're able to do a Where's Waldo? where you can spot me and spot the water bottle.
A homie put me on to Sis Got Tea. It's Black-owned, Black-brewed — Black folks do the whole move with it. The hibiscus flavor — the Sis Got Tea one especially — has a tartness that is balanced really well by just a tiny bit of sugar, like not even a spoonful. I don't like dressing up a mug of tea; the flavor has to be able to stand on its own. I think about a mug of tea like I think about an album: The mug of tea has to stand up on its own. I don't want it to be like, this sip was good, but the next couple of sips aren't hittin'. Like an album, a mug of tea has to stand up on its own all the way through.
I have a pretty elaborate skin-care routine. I'm someone who tries really hard to listen to what the mirror tells me. But I'm not someone who is obsessed with my own reflection — part of my routine just relies on responding to what the mirror is telling me. I was waking up and looking at myself in the mirror, like while brushing my teeth, and I was like, there's something I need to set off a nightly routine that is serving my skin as I sleep. Something that's gentle, that exfoliates through the night, so that I wake up a little bit clear before I start doing my base morning cleanse. The Pholk night treatment is that; it definitely helps in that skin-care-before-bed way. And it folds comfortably into the rest of my routine.
Lip is a great poet. This book is one that I kind of wish I wrote at the time when I was first in love with My Chemical Romance and emo and the goth exterior that I kind of still carry. The book is a real complex and varied love letter to a group, to a song, to an album. It's a brave meditation and turns a passion and excitement around as many times as possible until you get to the bottom of it. That's kind of what I try to do in my work, but I don't always succeed. And this book feels like a real success in that vein. This person loves something in a similar way that I love it.
My dog's name is Wendy and I got her last summer. She's very sweet and very anxious and has become very attached to me during the pandemic. She's half Great Dane, half Border collie. So she is both big and smart, but sometimes not smart enough to realize how big she is. She likes to be challenged. And, of course, like any dog, she loves getting a treat. If I just hand her a treat, it's not like she's going to be like, No, no, no, make me work for it. But she does kind of like being challenged by her toys, and she likes spending time trying to figure out a toy. So this little IQ toy is fun because I can adjust the settings and how hard it is for her to get the treats out of it. And she loves it. Like she'll just kick it around the house and stick her nose in it and play with it and bat it around with her paws. It can sometimes take her like an hour or two to get a treat.
I'm a big sneaker person, but when it comes to fashion, I don't really know anything. I'm somebody who owns like ten of the same exact hoodie. I like any kind of design that is consistent, and the MidWest Kids logo is consistent. I have a few of the hoodies in your classic solid colors, and I rock them pretty regularly because they are comfortable. And supporting folks who are from Ohio, my state, is important to me.
I love this book, and I think I won't be able to do it justice by speaking about it because it's experimental. There are like diagrams and drawings. The book is immersive and thoughtfully crafted in that it requires a thoughtful relationship with reading and understanding text as more than just words on a page. The book is a tool for understanding America from an intersection I do not exist at and how living, if unchecked, could contribute to the harms that meet people like Black fem folks, Black queer folks, and Black trans folks at those intersections. It's a book I'm drawn to practically, but also just aesthetically, because it is stunning.
The Strategist is designed to surface the most useful, expert recommendations for things to buy across the vast e-commerce landscape. Some of our latest conquests include the best acne treatments, rolling luggage, pillows for side sleepers, natural anxiety remedies, and bath towels. We update links when possible, but note that deals can expire and all prices are subject to change.