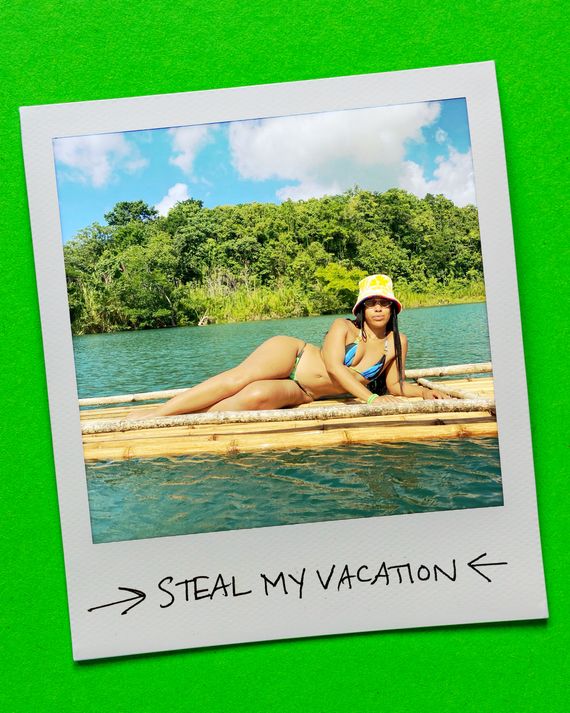 Photo-Illustration: The Strategist; Photo: Marjon Carlos
Everyone knows that person who spends weeks sniffing around travel blogs, going deep into Tripadvisor rabbit holes, collecting Google Docs from friends of friends, and creating A Beautiful Mind–style spreadsheets to come up with the best vacations/itineraries possible. In this recurring series, we find those people who've done all the work for you and have them walk us through a particularly wonderful, especially well-thought-out vacation they took that you can actually steal.
In July, journalist and podcaster Marjon Carlos spent a week traveling across Jamaica with five friends. They started off in Negril at Rockhouse Hotel (one of the most "COVID-safe" hotels, according to a Strategist survey) and ended up in Port Antonio, where three more friends joined for a stay at the resort (and recording studio) Geejam Hotel. Here, Carlos outlines her favorite spot for goat curry on the Rio Grande River and the best blue-green lagoon for paddleboarding.
4 p.m.: Settle in, sip local rum
My friend Pam and I booked one-way tickets from JFK to Montego Bay on American Airlines. We got through customs quickly and got a taxi at the airport for the hour-and-a-half drive to Rockhouse Hotel & Spa (from $125), which goes along the coastline and is filled with lush, gorgeous greenery.
We got to the hotel and immediately put on our bikinis. Our No. 1 priority was to get drinks and stare out into the ocean. We settled in, decompressed, and ordered dinner to our room. They have incredible fish, so starting that night we were eating a lot of red snapper. It's Jamaica, where they have some of the best rum in the world, so that was my drink of choice — rum and punch or rum on the rocks, which is a nice buzz. We drank this one amazing label, Appleton Estate Rum. Because of the curfew, we had to stay on the premises of the hotel that night, which was fine — we just wanted to chill after traveling.
1 p.m.: Book a massage then relax by the pool
We stayed in one of Rockhouse's premium villas, which meant we were a little tucked away. We woke up to the sound of the ocean and a beautiful breakfast spread, which you get to enjoy while looking out at this wide expanse of water. They served incredibly fresh juices, and I kept getting this one green juice. Pam and I got massages (from $65) and took it slow by the pool. Rockhouse really is one of those places where you can just unwind. The hours go by and you look up and think, This is great.
We snorkeled a little and swam under the rocks outside Rockhouse, but we kept things pretty chill. We stayed at the hotel through the evening and ate dinner at Pushcart, one of the restaurants at Rockhouse. More fish, more rum, some daiquiris. A local band was there that night, playing lots of classic, mellow 1960s reggae songs.
7 p.m.: Get shrimp and daiquiris at Rick's
For dinner, we went to Rick's Cafe (W. End Rd.), this famous café with iconic, unobstructed views of the sunset. It's an institution. Negril used to be a small fisherman's town, and Rick was one of the first people to set up shop. We ate shrimp and drank beers and daiquiris. There was a sleepy little DJ, although I'm sure during non-COVID times there's more fanfare.
11 a.m.: Spend the day at Skylark
Skylark (Norman Manley Blvd., Negril) is Rockhouse's sister property. Anyone can go. It's a very different vibe: It's on the beach, and it reminded me of vintage Miami hotels. We rented rafts to float on the water and then ate lunch — Skylark has a Miss Lily's on-site. Anyone can spend the day there; it's open to the public.
10 a.m.: Start the trip to Port Antonio
We hired a car to take us from Negril to Port Antonio. Normally, that drive would've taken three or four hours, but it took us six because we could only drive through the tourist corridor. But it wasn't an uncomfortable drive; the people who hooked it up, Ken's Taxis & Tours, were really nice and followed COVID protocols, and we took in the views as the coastline changed. I was also busy tracking the rest of the girls' arrivals because I coordinated their airport taxis with Geejam, our hotel in Port Antonio.
3 p.m.: Check into Geejam
I knew Geejam was very popular — Beyoncé and Jay-Z had stayed there — but it didn't have a pretentious, highfalutin feel. I wanted a villa, but they were all booked, so we paired off and stayed in some of the Rumba rooms (from $255). The rooms are spacious, all white, and have beautiful gallery walls of artwork from local artists framing the king-size bed, which was literally the most comfortable bed I've ever slept in at a hotel. The rest of the girls showed up one by one, so we sat out by the pool and had drinks while everyone got in. We ate dinner there, too, at Geejam's restaurant Bushbar: lobster tails, rice and peas, lots of booze.
9 a.m.: Pick up some pre-rolls
In the morning we had breakfast at the hotel, and some of our crew started organizing to buy some weed before we set out for the day, which ended up being easy: The hotel sells pre-rolled joints in packaging that honestly looks like it could be for an expensive candle. It's all very nice.
Geejam coordinated a tour for us through Owen's Transportation Tour Agency. Our driver was super informative and showed us landmarks, and we went to the port in town before going to Musgrave Market. My friend Pam bought a beautiful wooden sculpture of a bust of a woman from this guy Rock Bottom sculpture, who's kind of a local legend, and we tried on some knitted crochet pieces that some of the women there had made. I didn't buy anything, but I did buy a sign from Rockhouse by Nurse Signs, a really well known local artisan who does the signs for Pushcart. I bought one that said SOON COME.
Lunch was at the Boston Jerk Centre. The Boston jerk seasoning is very specific to the region; I can't tell you exactly what it is, but we indulged. After eating, we decided to walk around and ended up finding a bar in Musgrave playing 1990s R&B videos and were just like, We're home.
11 a.m.: Raft down the Rio Grande
Rafting on the Rio Grande River and lunch at Belinda's was on the books for Saturday. The Rio Grande runs into the ocean at some point, and the different river outfits take rafts around it on a loop throughout the day. The rafts are long bamboo galleys with a seat for the passengers and a guy standing up and pushing you along with a pole. Before it became a tourist attraction, it was a form of transportation. Geejam booked our tour for us with Rafter's Rest, and we took a 30-minute taxi to arrive around 11 a.m. We saddled up with life jackets and got on rafts, and then one of my friends was like, "We really need some weed for this ride." The raft captain stopped a couple minutes out and brought some weed down to the rafts — I don't know where they procured it from, but they were more than happy to go find it. The whole experience puts you at ease like that: There's a little cooler with water and drinks, and you can stretch out and sunbathe on the raft. The water is so clear, very shallow, completely quiet, with rocks coming out of the water. I felt like I was on another planet.
1 p.m.: Order goat curry and breadfruit at Belinda's 
For lunch, the raft tour takes you to Miss Belinda's, this restaurant in the bush. Belinda cooks the same recipes as her grandmother, who had the same kind of restaurant. It was the best food of my life: goat curry, rice and peas, some chicken, plantains, ackee fruit, and breadfruit, which is yellow and thick, kind of like a yam. You eat outside in a clearing, surrounded by tall trees. You know when food is so good people stop talking? We started eating and went dead quiet.
3 p.m.: Paddleboard in the lagoon near Geejam 
We went back to Geejam so we could spend the day down by this little beach on the lagoon by the hotel. You have to walk down all these steps, and you get to a road and a little gate, and when you arrive it's really inspiring: a little cove with shallow, crystal-clear water. The lifeguard down there is Walter, and he helped us out with some paddleboards and then the hotel brought down drinks. It felt like we were on a little private island.
7 p.m.: Order oxtail at Roots 21
The owner of Geejam recommended Roots 21 Bar & Kitchen (19 W. Palm Ave., Port Antonio) for dinner, so that evening we called a cab and went there. We ate a lot of fish and a lot of oxtail. At that point, I had switched fully over to drinking daiquiris. It was chill, more of a local haunt, and it was great to see the town at night because a lot of the empty bars we passed during the day were on and popping. The art and paintings were really catching my eye — Jamaican bars don't have all the neon signage like we have here, so places have these painted handgun ads of the alcohol brands, and it's really interesting. We popped into a few bars once the sun set, but then headed back to the hotel before curfew. We had drinks there at the bar and did a night swim.
10 p.m.: Shoot pool
That evening at the hotel, we had drinks and some more food — not that it compared to Belinda's. We started playing pool, and it got kind of competitive. It was a great, mellow way to cap off a big day of being in the sun: playing pool, drinking drinks, smoking weed, talking shit. Some locals arrived and they were actually really good at pool, so we had to defer to them and hand over our sticks.
This was something I liked about Geejam: More locals came here, at least compared to Rockhouse. There was this other girls' trip of women from Kingston who were probably in their 60s and 70s — basically your aunties on vacation. We were like, That's us in 30 years. But it was cool that they would come from Kingston to Port Antonio and specifically to Geejam. Jamaica is a complex place, in that after colonization came tourism, so in a lot of ways Jamaicans haven't been able to enjoy their country as visitors have. It made it cool to see these women having fun at a hotel in their own country, just the way that we were.
10 a.m.: Get in one last dip
We got our negative COVID-test results back (Geejam coordinated the tests the day before) and had a last breakfast together by the pool. By the end of the trip, we were all obsessed with callaloo, which is like their greens, and ate it every morning as part of a traditional Jamaican breakfast along with fresh fruit and juices. We went down to the beach at the hotel one more time. Walter (the lifeguard) was on duty again, and he organizes that space and activities for guests. He wanted to take us out to see the turtles and to get some of this mud that's supposed to be restorative for your skin. My friend Julee is the beauty director at Cosmopolitan and was like, I gotta try some of this mud. So some of the group got on paddleboards and went out to see the turtles, which are apparently very fast — they're Jamaican turtles, not slow regular American turtles. The mud was actually amazing; I had mosquito bites all over me at this point and it helped.
2 p.m.: Start the trip back
I pushed our checkout to 2 p.m. Our flight back to New York was at 7:55 p.m., and it's a three-hour trek to Kingston. The drive takes you winding through the mountains, and you get to see people out and about who live there. It's a very different perspective than going along the coast. Because we were the last flight out, it was a little disorganized at the airport. I would do that differently next time, and I probably would not even use JetBlue again. We flew in on American Airlines, and it wasn't as chaotic. But we made it, landed at JFK at 1 a.m., and got through customs quickly. My boyfriend picked me up, and we were home.
Marjon's
Jamaica
Packing
List
Cooling face mist
I bought these for Pam and me before the trip and they were godsends. We'd chill them in the fridge at night and then take them with us during the day to cool off because the heat is real. The tin can kept them cool even under the Jamaican sun.
A sarong swimsuit cover
I loved the colorway of this beautiful, effortless sarong — it practically matched our location and went with all my suits. You just throw it on over your bikini, and you're immediately pulled together.
Throwaway cameras
I wanted to find some keepsakes for the girls so I bought them for everyone as a way to capture rare, fun moments. It's a cute throwback to help preserve memories.
Kitten heels
I would always take a little kitten heel with me to the pool for pics! A fab way to elongate the leg without doing the most.
The Strategist is designed to surface the most useful, expert recommendations for things to buy across the vast e-commerce landscape. Some of our latest conquests include the best acne treatments, rolling luggage, pillows for side sleepers, natural anxiety remedies, and bath towels. We update links when possible, but note that deals can expire and all prices are subject to change.
The Covid situation there: Jamaica requires a Travel Authorization form and a negative Covid-19 test time-stamped within 72 hours of departure. Once on the island, visitors must stay within the "resilient corridor," also known as the tourist corridor, a government-sanctioned safe zone stretching from Negril along the north coast to Portland. Jamaica has also instituted a curfew (the hours tend to change in tandem with the severity of Covid cases).