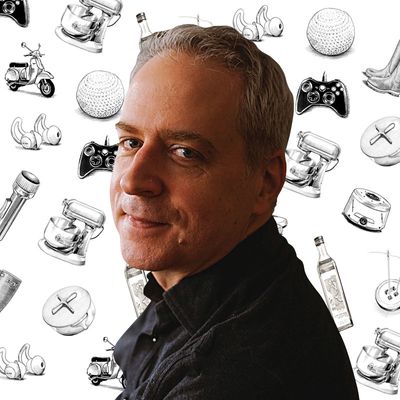 Photo-Illustration: The Strategist. Photo: Josh Goleman
If you're like us, you've probably wondered what famous people add to their carts. Not the JAR brooch and Louis XV chair but the hair spray and the electric toothbrush. We asked classical pianist Jeremy Denk, whose memoir, Every Good Boy Does Fine, came out earlier this year, about the electric kettle he brings on tour, the blue-corn-and-mint soap that reminds him of home, and the hoodie that he steals from his partner.
I'm still a sucker for paper scores, and the Juilliard Store is really the only game going for getting whatever you might need — hugely well stocked, very sweet. Even though I've written all sorts of mean things about Juilliard in my book, they still let me in there and buy music, so it's very nice. Any classical sheet music you might need is in there — and books about music. It's an incredible resource, actually, for that, too. This is a very reasonably priced Bach Well-Tempered Clavier, one of the most fundamental and important keyboard pieces ever written.
It probably goes back to high school; there's this guy I had a crush on who probably wore Sambas. But they're literally the most comfortable shoes for me, and I don't need any others. I have my black patent-leather concert shoes, and I bring these shoes, too, and they do well for rehearsals or for working out. You never have to tie them; you can slip in and out of them. (I have a whole, like, childhood problem with shoelaces.) Infinitely comfortable and easily walkable. They also seem to go with every pair of pants. I'm usually very uncomfortable in my concert clothes. If I could wear my Sambas onstage, I would. I have them in black and white — I'm boring. You know, traditionalist.
The minute that the pandemic started, I had a moment of panic about coffee, and I got on their subscription list because I encountered their beans at a little coffee shop on the Upper West Side and I thought they were amazing. Some of the flavor profiles are more caramel, chocolaty, or cocoa, but some of them are very bright and floral. You can't really choose what you get; you just get whatever they roast and have available — it's like omakase. So it's an ever-changing flavor spectrum. And there's a little card that comes with each coffee telling you very detailed instructions about how to brew it, what temperature, and a lot of pricing details so you know who's been paid what along the chain of supply, so it's super-transparent that way. And there's a little blurb about the producers. It's very much like that scene in Portlandia where they ask for the dossier on the chicken.
This bike was another big pandemic thing, but, boy … 600 bucks, throw my iPad on there, do a Peloton workout — it's kept me sane and relatively fit during a very difficult time. I actually bought a couple of them because I have a little cabin upstate, and they're both going strong after several years of very hard use: spin workouts, high-intensity intervals, and slow endurance intervals. I've also learned a lot about pop music watching these workouts. I'm getting, like, a musical education. I guess people got tired of exercise bikes after they bought them during the pandemic, but I haven't. I'm holding on to mine grimly because I just love it. My partner likes to hang clothes on it.
I bring my Stagg kettle on tour. I actually have three of them — one for traveling and two for home. I'm sort of terrified, like my father was, of these things breaking on me. I even put it in my carry-on suitcase; I just cram it in there. It's just one of those comfort things when I'm in a hotel room — you know, the act of making my pour-over coffee just the way I want is incredibly important to me for sanity and feeling like I'm home in some way. I'm sure the hotel housekeepers are kind of turned off in one way or another, but otherwise you're just doing a Keurig or whatever coffee machine they have in the room. I bring this kettle, a little cone, some filters, a scale, some beans, so it takes up a fair amount in my suitcase.
Photo: Publisher
This is one of my favorite books. Amazing gay reading. A Lover's Discourse is one of the real classics and is usually in my bathroom, to be honest — because you can read, like, a couple pages and let it go. It's not really narrative. A Lover's Discourse is just all the ways in which we can be fucked up about love, alphabetized — an alphabetical guide to love's many miseries.
There's an amazing set of essays from Barthes's early work about basically deconstructing advertisements and popular culture. And those are very funny and brilliant and unexpected. And you can see how he became famous based on those little pieces — looking at the obvious and explaining what seems obvious in a way that opens up new territory. And I guess that's sort of what I was trying to do. I'm always sort of stealing some Barthes in my books insofar as I can.
I'm a New Mexico–raised boy, so I'm obsessed with New Mexico things. This soap just smells, in a way, like a corn-tortilla factory, and it creates a kind of Proustian memory for me. It's really amazing. And even my partner thinks that it's worth the $12 a bar. But we buy it for a special treat. It also makes the bathroom smell lovely. Their Man Bar is also nice — a quite different scent profile but also very good.
I never really buy hoodies; I always steal my partner's. And he often buys these very lovely, soft Pact hoodies. If I could play concerts in hoodies, I definitely would. (Hoodies and Sambas would be my ideal outfit.) My cellist friend in the Saint Paul Chamber Orchestra said she never saw me in anything but a hoodie except for at concerts, which I think is pretty fair. I do like to put the hood up on a sunny day; it just feels like a refuge to me. Maybe that's a childhood thing, too. They also tend to fit me better than sweaters for whatever reason. Sweaters cause me all kinds of anxiety, whereas hoodies seem to allow me to be me.
I think everyone can love this recording. It's some of the most autumnal, bittersweet, wistful music ever written. And he plays it with, as always, some incredible intelligence and also feeling at the same time. Never too much, never too little, always incredibly balanced. And it's music that you keep coming back to. A lot of Romantic music you feel is slightly over the top, or at least I do sometimes. It's like — I don't really want to listen to it at home over dinner, but this music somehow sets a tone for a kind of contemplation. It's very wise music. It's soothing and sad but also full of beauty and nice memories. I hate to be so poetic describing Brahms, but it's all in there.
The Strategist is designed to surface the most useful, expert recommendations for things to buy across the vast e-commerce landscape. Some of our latest conquests include the best acne treatments, rolling luggage, pillows for side sleepers, natural anxiety remedies, and bath towels. We update links when possible, but note that deals can expire and all prices are subject to change.