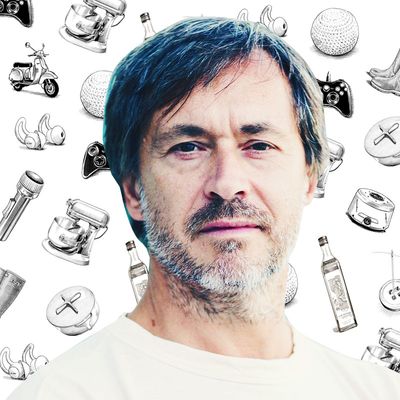 Photo: Johann Sauty, 2016 / Courtesy of Marc Newson Limited, 2021
If you're like us, you've probably wondered what famous people add to their carts. Not the JAR brooch and Louis XV chair but the hairspray and the electric toothbrush. We asked industrial designer Marc Newson — who recently designed a new boot with footwear brand R.M. Williams — about the white T-shirt, notebook, and corkscrew he can't live without.
I've been wearing Sunspel T-shirts for at least 30 years. I'm always trying to identify the ultimate product of its type, if for no other reason than because it's one less thing for me to worry about. I set out to find the ultimate T-shirt, determined it is this, and now will go and buy 20 at a time. They're fantastic: They fit brilliantly, last forever, and are the perfect combination of something you'd wear as an undergarment but also as a main shirt. They're not too heavy, not too light, and stretch just the right amount. In the U.K., I wear them literally every day as an undershirt, but if I'm somewhere warmer I'll quite happily wear one as my default top. In general, Sunspel tends to focus on fewer products that are higher quality and I appreciate that way of working.
Photo: retailer
I always have a notebook — it's a visual diary where I can sketch ideas at any time and I use them constantly when I am working. I lived in Paris for about ten years and came across these notebooks there, back in the late '90s. They're perfect. I like the way they're bound, the quality of the paper stock, and that you can write with a fountain pen on both sides of the page and it doesn't bleed through. I also appreciate that the notebook comes in different colors and fits on my bookshelves. I've always bought literally three or four at a time. Again, it's one less thing for me to worry about because I know this brand has always made them and they're always good.
[Editor's note: Armorial lists all prices in British pounds, so the price shown is an approximate conversion in U.S. dollars.]
I've tried all kinds, searching and searching for the best moisturizer. But I'm unbelievably loyal to this one because it works really well. It's quite light and don't leave a residue, so you can apply it and it just feels good, as if you haven't used anything. The only downside is that it's violently expensive. Whenever I go to an airport I make a beeline for duty-free and buy a few.
This is an app that predicts the weather and I find it to be absolutely brilliant. It's always quite accurate and I love the level of detail it gives to help you understand specific things, like when it's going to rain. When you go to the satellite imaging bit, you can see a weather front moving in and it will literally show you the clouds above your head, and whether they're approaching or dissipating or whatever. I generally travel an enormous amount, at least once a week if not more, and find this to be an invaluable tool in terms of trying to figure out what I want to take with me because it works all across the globe.
Photo: retailer
These have become a staple during the last year while I've been locked down in the Cotswolds, where we've just experienced one of the wettest winters on record. They are comfortable, fit really well, and incredibly well-made. I love that they're a natural rubber product that's lined with leather. You don't feel like you're putting your foot into a garbage bag or something. They're still not that easy to get on and off, but they're easier than all-rubber Wellies because they're lined with that relatively smooth material.
Photo: retailer
I'm fascinated by brands that are known for one thing but also make other things. Yamaha, for example, makes motorcycles but also really refined musical instruments. It's the same way with Campagnolo: All it makes are components for racing bikes and this corkscrew. I just find that really curious and quirky and endearing. Mr. Campagnolo was clearly a huge fan of wine and decided he could use the expertise he'd gained in designing the most sophisticated bicycle components to make a bottle opener. And this really excels at that function. When you use it for the first time, the overwhelming impression is how huge it is. But its size makes it effortless — you have so much leverage because it's so huge. I just hate bottle openers that are so small — you pull on them until you're red in the face. This works all the time, every time. It's also wonderful to look at. You could easily never use it and just put it on the shelf and look at it. It's just a bizarre, eclectic object that has followed me around for as long as I can remember.
Photo: retailer
I find myself measuring things consciously — and subconsciously — pretty much all the time. It's an occupational hazard for me. Most designers and engineers will know what this is, but a vernier caliper enables you to take really precise measurements. I carry one with me everywhere I go, along with a ruler, pens, keys, and my phone. Mitutoyo really excels in the production of fine measuring instruments. I love what the brand stands for and how they make what they make. Even as as a young teenager, I aspired to own a product manufactured by the company.
I drink so much tea and spent years experimenting with different manufacturers before eventually coming across this more bespoke, lovely company. It buys its teas directly from estates in India, Ceylon, and China. The brand tells you exactly what you're getting and when it was all picked. It's so interesting and I've become slightly obsessed with it. My favorite thing to do is mix the Assam with Darjeeling. I was having tea in Mumbai once and the waiter suggested that mix, telling me that it was generally accepted. It's a perfect combination and not something I would ever have thought to do.
[Editor's note: Curious Tea lists all prices in British pounds, so the price shown is an approximate conversion in U.S. dollars.]
As a native Australian, R.M. Williams is a company that you grow up with in some shape or form. I've worn their shoes for decades. It isn't the most accessible brand because the products are very well-made, and therefore very expensive. But a lot of people in Australia have them. So when they asked me to collaborate, I was intimately familiar with the product. At one time in my life, I wore R.M. Williams shoes morning to night on every occasion. They have that multifunctional appeal in a practical sense. I wanted to design a pair that really embraced this inherent functionality. These work as a work or dress shoe. The other thing I'll say about them is that, like a lot of things that are well-made, they'll get better and better the longer you have them. They won't deteriorate like a pair of sneakers.
The Strategist is designed to surface the most useful, expert recommendations for things to buy across the vast e-commerce landscape. Some of our latest conquests include the best acne treatments, rolling luggage, pillows for side sleepers, natural anxiety remedies, and bath towels. We update links when possible, but note that deals can expire and all prices are subject to change.