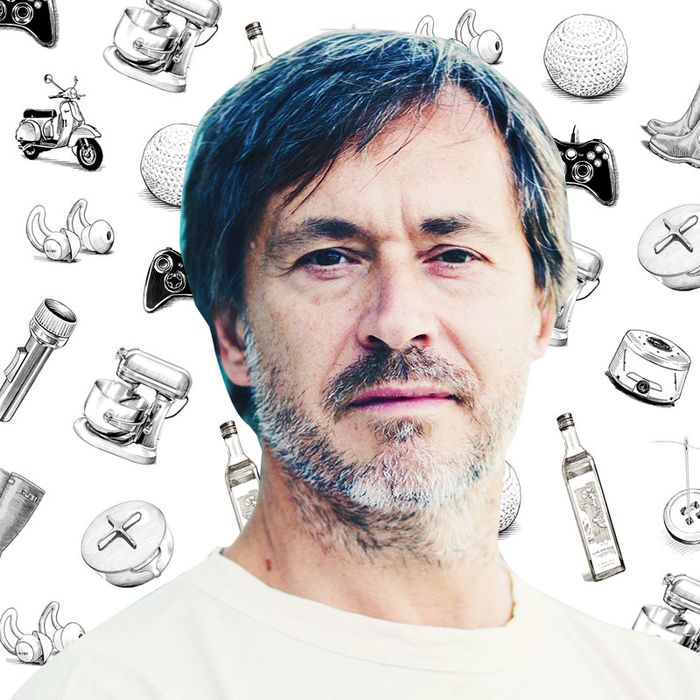 Photo: Johann Sauty, 2016 / Courtesy of Marc Newson Limited, 2021
If you're like us, you've probably wondered what famous people add to their carts. Not the JAR brooch and Louis XV chair but the hairspray and the electric toothbrush. We asked industrial designer Marc Newson — who recently designed a new boot with footwear brand R.M. Williams — about the white T-shirt, notebook, and corkscrew he can't live without.
I've been wearing Sunspel T-shirts for at least 30 years. I'm always trying to identify the ultimate product of its type, if for no other reason than because it's one less thing for me to worry about. I set out to find the ultimate T-shirt, determined it is this, and now will go and buy 20 at a time. They're fantastic: They fit brilliantly, last forever, and are the perfect combination of something you'd wear as an undergarment but also as a main shirt. They're not too heavy, not too light, and stretch just the right amount. In the U.K., I wear them literally every day as an undershirt, but if I'm somewhere warmer I'll quite happily wear one as my default top. In general, Sunspel tends to focus on fewer products that are higher quality and I appreciate that way of working.
Photo: retailer
I always have a notebook — it's a visual diary where I can sketch ideas at any time and I use them constantly when I am working. I lived in Paris for about ten years and came across these notebooks there, back in the late '90s. They're perfect. I like the way they're bound, the quality of the paper stock, and that you can write with a fountain pen on both sides of the page and it doesn't bleed through. I also appreciate that the notebook comes in different colors and fits on my bookshelves. I've always bought literally three or four at a time. Again, it's one less thing for me to worry about because I know this brand has always made them and they're always good.
[Editor's note: Armorial lists all prices in British pounds, so the price shown is an approximate conversion in U.S. dollars.]