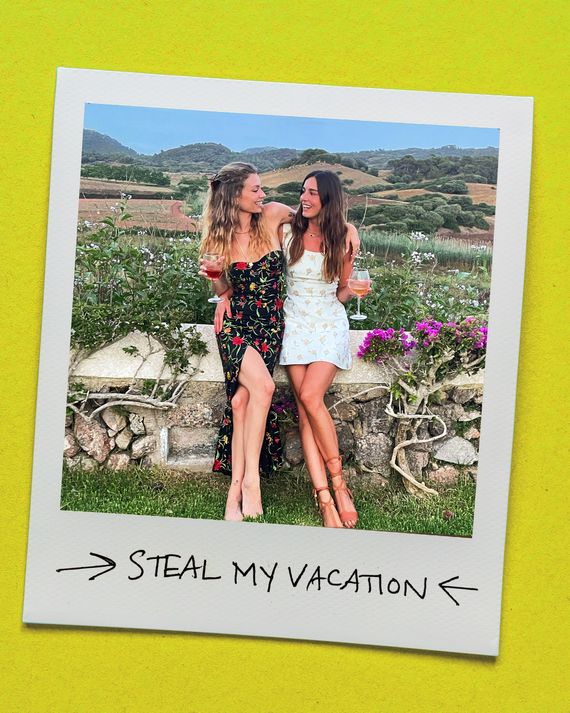 Photo-Illustration: Eleanore Toulin
To celebrate turning 30, model-slash-chef Eleonore Toulin organized a Menorcan vacation for ten friends, who flew in from New York, Los Angeles, and Europe. Toulin has been to Menorca before, but she centered this trip on a house rental — specifically, a 200-acre finca with an eight-bedroom farmhouse, a pool, private-beach access, and a massive kitchen for turning out one big meal after the next. Here, Toulin shares her favorite beaches, natural wine spots in town, as well as recipes for stuffed fish, white-bean soup, and the correct way to make ratatouille.
Stop over in Europe first
Before flying to Menorca, I'd recommend a few days first in Spain. It's so much easier to fly to these islands from Spain — just an hour — and then you can get used to the time zone and deal with the jet lag. All my friends from America stopped in either Paris or Madrid first. You take local airlines to get to Menorca, and Transavia is maybe the best. Vueling and RyanAir really suck — they're often late, they often move flights, they now weigh your cabin bag, and I feel like every time I have to check luggage on a connection, they lose it. We took a very early flight from Paris.
12 p.m.: Check into your first hotel, then head to the beach
I rented a car at the airport through Kayak, since we'd be driving about 30 minutes to get to our rental. But for our first night, we stayed in a hotel in Ciutadella, because the house wasn't available yet. The hotel was called Hotel Can Faustino (Carrer de sa Muradeta, 22; from $235/night), and it was amazing, absolutely beautiful. Once we had the car, we got granola and nice coffee at Nibs (Plaça d'Artrutx). We went back to the hotel, took a nap, then went to a beach called Cala des Talaier. We took some beach towels, water, and sunscreen and stayed there for two hours, though not for sunset because we wanted to have a drink in town. This was my actual birthday but not the party night. We improvised instead. I had a martini at a place called Ulisses (Plaça de la Llibertat, 22) and then we had wine — they have amazing organic wine from Menorca and Mallorca, and they actually sell bottles there — and tapas. We had this fish that was actually crazy: It was baked with different sorts of cheese and olives. I've never had this before, and it was surprising and incredible. Cheese and fish — I never thought it would be a good combination. We weren't really celebrating my birthday yet, and we took such an early flight that we went to bed right after dinner.
9 a.m.: Pick up fish and fresh produce at the market
In the morning we went to the market at Plaza del Mercat (Plaça de la Llibertat). It's only open in the mornings, and we went every two days or so on the trip. You have a fish place, a butcher, and you can buy veggies. We did a grocery run and picked up vegetables to make ratatouille, some T-bone steaks, and a huge amount of basil to make a pesto. Then we got hungry, so we stopped at Bar Imperi (Plaça des Born, 5) and had little ham sandwiches, pan con tomate, and rosé Champagne. We picked up our stuff at the hotel and drove about 25 minutes to the house, with one stop on the way at a supermarket called Mercadona (Ctra. Ciutadella A Maó) so we could get spices and pantry items.
11 a.m.: Relocate to the finca
My friend Zoe found the house on Abritel. It's like the European VRBO, only I feel like on Abritel we find little gems that are not on Airbnb or VRBO. The houses are more authentic, and cheaper. (If you're not in Europe, make sure to look at Abritel on a computer and not on your phone — you won't be able to see it.) This one is a finca that's maybe 300 years old, absolutely gorgeous, in the middle of nowhere, on an estate farm. But what really sold me was the private-beach access just a ten-minute bike ride away.
3 p.m.: Bike down to the private beach 
We bought a box of wine from Ulisses, so we had a little wine by the pool. It was behind the house, overlooking hills with cows and horses and sheep. The house comes with ten bikes, so a few of us went on a ride to discover our private beach, and it was absolutely magical. The beach had big rocky stones that were a burgundy color, and the weather was kind of gray, so the blue of the ocean plus the burgundy of the rocks was striking. It looked like Jurassic Park.
9 p.m.: Paella and piano singalongs 
Back at the house we had a drink and played some gin rummy while more friends arrived. The caretaker of the house is also a chef you can hire, so we booked her to buy groceries and make a classic paella for the group. She showed up at 7 p.m., and the paella was ready by nine. It was huge. Like, you take your arms and do a circle — that's how big it was.
We ate outside, and after dinner my friend Emilien, who is an amazing pianist, played for us. We did a little singing session: French songs, and English songs by bands like the Beatles or Fleetwood Mac. Emilien can play anything you want; there's this app, Ultimate Guitar, and it has a setting for piano chords, so you can queue up any song you want.
9 a.m.: Grab sandwiches for the beach
In the morning, Emilion went to a bakery called Hebera Bakery (Carrer de Maó, 28) to buy sandwiches — sausage with tomato and ham and cheese, super-traditional Spanish sandwiches — and we packed that with some beers for a hike to another "secret" beach, Cala Algaiarens. A guide at the house included a rough map of how to find it, so we kind of guessed. It was about an hour, and some of us went in the water, and the others hiked through the hills. It was pretty hard; we all had sneakers, but it was so hot we were just wearing bathing suits. But then you arrive in heaven; the beach was crazy beautiful. It was pretty empty because it's hard to access. It's on the north side of the island, and you can drive there and park, but then you still have a 30-minute hike to the beach. We chilled there and played music until 5 p.m. We had to get back to the house because this was the proper party night.
6 p.m.: Fire up the grill 
The menu was T-bone steaks marinated for a few hours in the fridge, and then barbecued. I grilled three whole fish for my friends who don't eat meat and stuffed them with lemon, garlic, basil, diced tomatoes, salt, pepper, and olive oil, then folded them in foil and put them on the grill for 20 minutes. Emilion didn't come to the beach because he spent the whole afternoon making ratatouille for me, which was very sweet. If you do it the right way you have to cook every vegetable separately, and the longer it cooks, the better it is. We also had chicken with herbs and a green salad. For dessert, I made a clafoutis, which is usually made with cherries, but I mixed it up with plums from the garden. We had this huge dinner and then we had another piano dance party. We went until pretty late, I think 3 a.m. or 4 a.m., dancing on the terrace outside the house to disco music.
11 a.m.: Exercise then snack on leftovers 
We did a quick workout session in the morning — 15-minute abs — and hung out by the pool. For lunch, we had leftovers, plus a bean soup that Emilion had been preparing for 24 hours. It's white beans with water, olive oil, garlic, laurel, bay leaves, and onions, and it cooks for a day.
7 p.m.: Sip gin-and-tonics in the garden at La Margarete
We spent the whole afternoon at a beach on the south side of the island called Cala Macarelleta. It was more crowded than the beaches on our side of the island, but very nice. That evening, we went into Ciutadella and first had a drink at this beautiful place called La Margarete (Carrer de Sant Joan Baptista, 6). Their speciality is gin-and-tonics made with a Spanish gin that's super good. And the bar is incredible, located in this house in a garden with a huge tree and grapevines all around the walls. For dinner, we went back to Ulisses. We went back because we loved it, but also because two other restaurants that I'd been to before were fully booked. I recommend them both and recommend booking a long time before you go: Mon (Passeig de Sant Nicolau, 4) and Smoix (Avinguda de Jaume I el Conqueridor, 38). They're similar, very funky, and serve modern Mediterranean food, small plates, and natural wine. But Ulisses is really one of the best places there. We tried the whole menu: fried calamari, canned sardines, the fish with cheese again, a lot of ham. We had a sparkling white wine to start, then some orange wine, then some rosato, and we finished with some digestivos like limoncello and grappa. I had one more dessert tonight: My friends ordered this white-black-and-milk-chocolate cake from the restaurant, and we ate it with vanilla ice cream.
8 p.m.: Cook up bucatini all'Amatriciana
Today was super chill. We did another hour-long hike to go back to the secret beach. In the evening, we cooked at home. I made all'Amatriciana, a tomato-based sauce with an Italian lard that is a bit spicy and cured with peppers, tomatoes, onions, and garlic. I added carrots and celery, which isn't in the classic version, but it's my twist. All'amatriciana is my specialty; it was a request from my friends, so I had to do it. I also made raw endives with basil, Champagne vinegar, and lemon zest, and we did some more T-bones on the grill.
2 p.m.: Hang by the pool on your last day
Half of my friends had to leave, and the rest of us spent our last night in another hotel — a different one inland that was so gorgeous called Fontenille Santa Ponsa (Carretera de Llucalari; from $292). It was a very old house immersed in nature, which felt similar to the house rental. Very authentic, but with a touch of luxury, like very white walls, linen sheets, a beautiful chair. For my return flight the next day, I wanted to go direct, which meant leaving super early. Two of my girlfriends were there, the last survivors of the week, and my boyfriend. We hung out by the pool at the hotel, played poker, and had gin-and-tonics. We ate dinner at the restaurant at the hotel sitting under olive trees — this was more gastro style than tapas. After that, we went to bed early because we had to leave at 6 a.m. for an 8 a.m. flight.
Eleonore's
Menorcan
Packing
List
Reading material
A good book is essential for holidays, and this summer I was reading Belle du Seigneur by Albert Cohen.
A good tote
You'll want a big basket to carry your beach essentials or for going grocery shopping at the market in the mornings.
A swimsuit
A bikini swimsuit is essential because that's what you'll mostly be wearing. I love this one from my friend's line.
Sandals
Good sandals will be needed for walking to the beach and around town.
The Strategist is designed to surface the most useful, expert recommendations for things to buy across the vast e-commerce landscape. Some of our latest conquests include the best acne treatments, rolling luggage, pillows for side sleepers, natural anxiety remedies, and bath towels. We update links when possible, but note that deals can expire and all prices are subject to change.