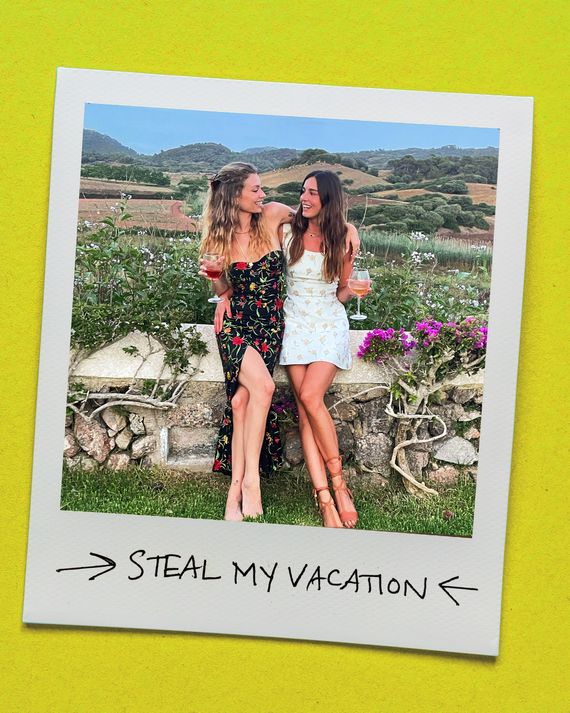 Photo-Illustration: Eleanore Toulin
To celebrate turning 30, model-slash-chef Eleonore Toulin organized a Menorcan vacation for ten friends, who flew in from New York, Los Angeles, and Europe. Toulin has been to Menorca before, but she centered this trip on a house rental — specifically, a 200-acre finca with an eight-bedroom farmhouse, a pool, private-beach access, and a massive kitchen for turning out one big meal after the next. Here, Toulin shares her favorite beaches, natural wine spots in town, as well as recipes for stuffed fish, white-bean soup, and the correct way to make ratatouille.
Stop over in Europe first
Before flying to Menorca, I'd recommend a few days first in Spain. It's so much easier to fly to these islands from Spain — just an hour — and then you can get used to the time zone and deal with the jet lag. All my friends from America stopped in either Paris or Madrid first. You take local airlines to get to Menorca, and Transavia is maybe the best. Vueling and RyanAir really suck — they're often late, they often move flights, they now weigh your cabin bag, and I feel like every time I have to check luggage on a connection, they lose it. We took a very early flight from Paris.
12 p.m.: Check into your first hotel, then head to the beach
I rented a car at the airport through Kayak, since we'd be driving about 30 minutes to get to our rental. But for our first night, we stayed in a hotel in Ciutadella, because the house wasn't available yet. The hotel was called Hotel Can Faustino (Carrer de sa Muradeta, 22; from $235/night), and it was amazing, absolutely beautiful. Once we had the car, we got granola and nice coffee at Nibs (Plaça d'Artrutx). We went back to the hotel, took a nap, then went to a beach called Cala des Talaier. We took some beach towels, water, and sunscreen and stayed there for two hours, though not for sunset because we wanted to have a drink in town. This was my actual birthday but not the party night. We improvised instead. I had a martini at a place called Ulisses (Plaça de la Llibertat, 22) and then we had wine — they have amazing organic wine from Menorca and Mallorca, and they actually sell bottles there — and tapas. We had this fish that was actually crazy: It was baked with different sorts of cheese and olives. I've never had this before, and it was surprising and incredible. Cheese and fish — I never thought it would be a good combination. We weren't really celebrating my birthday yet, and we took such an early flight that we went to bed right after dinner.