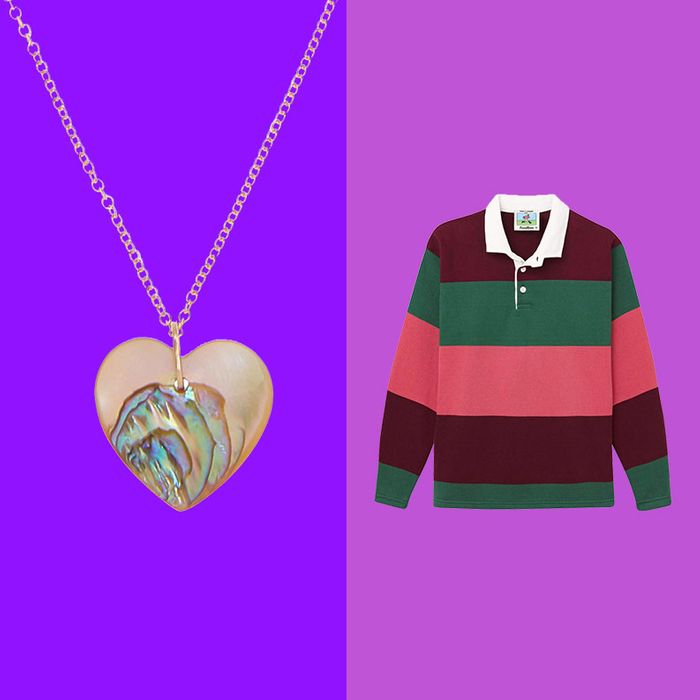 There are lots of mom-friendly gifts out there that promise to give back — especially at a time when so many are in need — but we can't be the only ones skeptical of the whole "shop for a cause" shtick. While the case could be made that every little bit does help, we think you'd be better off giving directly to a charity than buying a $10 candle that claims to donate 2 percent of proceeds.
But if you'd really like to find a charitable gift for Mother's Day, we searched high and low for things that you — and your mom — can actually feel good about. From limited-edition aprons that entirely benefit the Restaurant Employee Relief Fund to shiny new kitchenware that comes with a ten-meal donation to Feeding America, here's what we found.
Luxury retailer Olivela partnered with Save the Children and No Kid Hungry to donate 20 percent of every purchase toward essential supplies for families in need. The retailer has all sorts of mom-friendly gifts, but we think these whimsical earrings by sister duo Lizzie Fortunato are just the thing to liven up any homebound outfit.
For something a little daintier, female-founded jewelry brand Adina's Jewels will match 100 percent of all customer donations to Breast Cancer Research Foundation at the checkout. We love these tiny gold hoops.
If a mom in your life has — like many of us — has recently gotten really into baking bread, Bragard made a special edition of its classic blue "Travail" apron with food consultancy Polonsky & Friends. 100 percent of proceeds go to the Restaurant Employee Relief Fund.
If she can't seem to keep her pantry stocked, consider a subscription to Thrive Market, which matches every paid membership with a free one for a low-income family, student, teacher, veteran, or first responder. Thrive is also putting all donations at the checkout toward grocery stipends and free memberships to those affected by the pandemic.
Though technically a dad hat, this cow cap would appeal to anyone — and even better, it benefits the employee relief fund at Dan Barber's farm-to-table restaurant Blue Hill. (Or, if she prefers NoMad or, say, Contra, InHouse has merch for that, too.)
One hundred percent of the proceeds from this colorful Clare V T-shirt that reads "Liberté, égalité, maternité" — or liberty, equality, maternity — goes to Every Mother Counts. (You can find the same sentiment in tote form, too.)
For something a touch more subtle, luxury brand Onia is giving 100 percent of the proceeds from this muted mint-hued, limited-edition tee to Citymeals,
If T-shirts aren't her thing, perhaps she'd rather lounge in one of Rowing Blazer's European-made retro-feeling rugby shirts? Ten percent of proceeds go to Direct Relief. (Rowing Blazer is one of 45 companies that are part of Brands x Better, a coalition for COVID-19 relief.)
Even if your mom hasn't seen a single episode of Keeping Up With the Kardashians, she'll appreciate some new cotton basics from Kim's genuinely nice loungewear line — and right now, the brand is donating 20 percent of the profits from the Cotton Collection to Baby2Baby's COVID-19 Emergency Response Program, which distributes things like hygiene products and school supplies to kids affected by school closures.
Good American — incidentally founded by Khloé Kardashian — teamed up with L.A. artist Alex Israel on this crewneck sweatshirt featuring Israel's signature color gradient. One hundred percent of proceeds go to Baby2Baby, and it's available in both adult and children's sizes.
Luggage company Away teamed up with skin-care brand Patchology to release this travel kit (that's just as good for home!) filled with mini-masks and face gels. One hundred percent of proceeds go to COVID-19 relief through GlobalGiving.