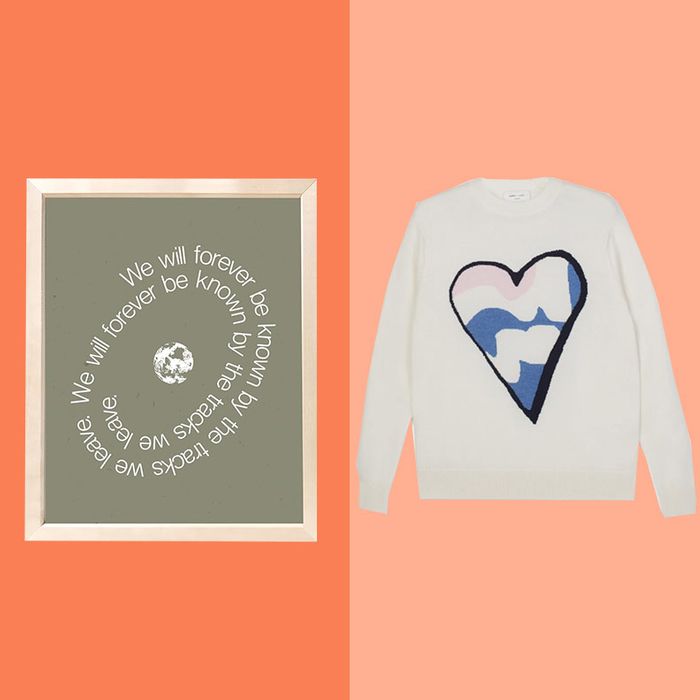 Photo-Illustration: retailers
There are lots of mom-friendly gifts out there that promise to give back, especially at a time when so many are in need. Still, we'd understand if you're skeptical of the whole "shop for a cause" shtick. While the case could be made that every little bit does help, if you're really looking to make every penny count, you'd probably be better off giving directly to a charity in mom's name than buying a her $10 candle that claims to donate 2 percent of proceeds.
But if you'd rather give mom a little something that has the added benefit of being charitable, we searched high and low for Mother's Day gifts that, according to their brands and retailers, also substantially give back to any number of causes. From limited-edition print that entirely benefits Hike Clerb to a luxurious skin-care set that gives half the proceeds to YourMomCares, read on for the stuff we found. Seeing as May 9 is now days away, we've made sure (to the best of our ability) that everything on this list at the time of publication will ship and arrive in time for the big day. (But if you're looking to give something charitable, it's really the thought that counts — which is why we suspect mom will understand if whatever it is arrives a few days late.)
Universal Standard partnered with artist Melissa Koby to create this limited-edition T-shirt that celebrates motherhood. If you don't like this one, artists Amber Vittoria and Marylou Faure also designed mom-centric tees with the brand. No matter which you choose, Universal Standard is donating 100 percent of the profits for each shirt (which the brand says comes out to about $10) to Planned Parenthood.
Luxury retailer Olivela has partnered with Global Wildlife Conservation to donate 20 percent of every purchase toward protecting wildland. There are a lot of gifts to consider, but we think this peach straw visor seems quite timely as Mom prepares for another summer spent mostly outdoors.
We mentioned this cutting board in our roundup of products specifically giving back to the AAPI community and we think it would make a particularly good Mother's Day present, too. Fifty percent of profits from the colors To Pó-Po With Love, a neutral beige, and Reimagine Justice, a bright green, will go to Heart of Dinner and Drive Change.
If your nature-loving mom is all set with gardening and hiking equipment, this print from Wilde House Paper would be a thoughtful (and more unexpected) way to celebrate her favorite hobby. One hundred percent of the proceeds from sales will go toward Hike Clerb, a hiking club that makes the outdoors more equitable and inclusive for BIPOC women. You can buy it with or without a frame, but we think the frame makes it extra giftable.
Whether she's a hiker keen on leaving less waste behind or just looking for a way to cut plastic at home, a reusable water bottle is one of those things so many moms will appreciate. This one is a collaboration between Miaou (a brand beloved by celebrities like Bella Hadid and Kendall Jenner) and S'Well, a brand that comes up time and again for making reusable bottles that keep hot drinks hot and cold drinks cold. All proceeds will go toward 1% of the Planet, a global network of nonprofits working to help the environment.
K-Beauty brand LAPCOS is donating 10 percent of all sales in the month of May to the Asian Mental Health collective. Everything from its site qualifies for the charitable donation, but if you're not sure where to start, we think these face masks are a crowd-pleaser — and something you and mom can do together.
Stella & Dot offers a lot of different give-back products, including classic Mother's Day gifts like jewelry. But we're especially fond of this affirmation tee that donates 20 percent of the proceeds to Dress for Success. Those who want to shop around can check out the rest of its charitable products here.
Mom deserves to pamper herself, and what better way to do so than with extremely fancy skin care? Fifty percent of proceeds from this limited-edition kit from Retrouvé — which includes a satin pillowcase, a serum, and priming pads — will go to YourMomCares. If you're unsure whether this set is quite right for Mom, know that Retrouvé's is also donating 5 percent of proceeds from everything else purchased on its site to YourMomCares. It's not quite as much of a donation as this set, but it's still something.
Until May 10, Grey State will donate 20 percent of proceeds to National Women's Health Network. These cozy but cute sweatpants seem great for the mom who isn't quite ready to jump back into "hard pants." If you're feeling extra generous, you can even go for the matching sweatshirt to complete the set.
Or give her something a bit more luxurious, like this cashmere sweater from Leret Leret. It's just as comfy as her trusty cotton loungewear but might translate a little better to out-of-the-house life. The brand partnered with the Loveland Foundation to give 25 percent of all sales to its Therapy Fund, which helps provide financial assistance to Black women seeking therapy across the country.
While less luxurious, this long-sleeve tee would be great for the mom whose uniform is a T-shirt and jeans. Zibby Owens, an author, mom, and Strategist contributor, created it with Citizens of Humanity, which is donating 100 percent of proceeds from sales to support vaccine research at the Susan Felice Owens Program for COVID-19 Vaccine Research at Mount Sinai Health System. (Owens's mother-in-law, Susan Felice Owens, lost her life to COVID-19 last summer.)
If your seltzer-loving mom doesn't already have a SodaStream, we think it would make a particularly nice gift. Not only will she reduce her need for single-use plastic, but 10 percent of the proceeds from this limited-edition set will be donated to ocean conservation.
Even if they've got a favorite bag of beans, coffee-loving moms typically enjoy trying new varieties from time to time. This sampler from Steeped will introduce her to five of its blends — and make her coffee routine more sustainable, because the grounds come in compostable sachets mom just has to pour water over to brew. Right now, 20 percent of sales from the brand's Packs for Good program will go toward Feeding America.
If, like many of us, a mom in your life has recently gotten really into baking bread, Bragard made a special edition of its classic blue "Travail" apron with food consultancy Polonsky & Friends. One hundred percent of proceeds go to the Restaurant Employee Relief Fund.
This charm, which is a collaboration between Aurate and Senreve, will make a nice addition to any basic chain or purse your mom already has in her closet. Plus, 10 percent of the proceeds will be donated to the Oceanic Global Organization.
Sustainable sneaker brand Avre will donate 20 percent of all proceeds to the AAPI Community Fund. This pair of slip-ons has a similar vibe to APL sneakers (a brand we've called a status gym shoe), but is made out of ecofriendly materials. They'd be great for everything from a morning jog to an afternoon trip to the grocery store.